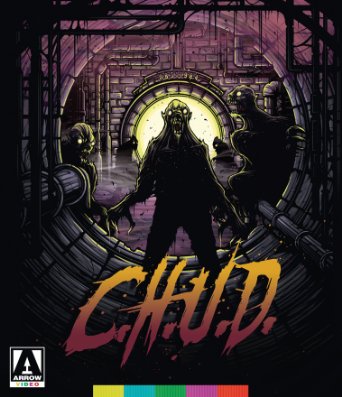 C.H.U.D.
directed by Douglas Cheek
starring John Heard, Daniel Stern, and Christopher Curry
New World Pictures, MVD, Arrow
The underworld is always a scary place, but in New York it's where the homeless go to get warm. George Cooper (Heard) photographs these unfortunates, and it's not the sort of gig that's making him famous. He hears rumors, and soon enough they are true: weird mutants are attacking the "under grounders." What sort of mutants? Why, illegally dumped nuclear waste mutants, what better kind is there? The crisis is so bad even Police Captain Bosch (Curry) hears about it, and when disappearing homeless people are hitting his radar, things must be drastic. Cooper and Bosch team up, and "The Reverend" (Stern) gives them some tips on the tunnels and down the rabbit hole we go. Reporters get eaten, Cooper's girlfriend Lauren (Kim Greist) takes a long, thoughtful shower, and everywhere we look its dirty, dark and horror film creepy.
The title stands for "Cannibalistic Humanoid Underground Dweller" which is as good a name as any. This Arrow reissue adds value; that's fortunate as the original film is rather forced and over-acted. The best work comes from Stern's humanitarian do-gooder, he's skeptical of help from authorities as they only offer it when they need something from him. Curry is a decent Made-For-TV cop, and Lauren looks the part of classic 1980s low budget movie dame. I really do like the special effects cheap as they are, and the commentary track gives some great pointers on shooting cheap and quick. But the moral message is weak and inconstant, and of course real radioactivity just gives you cancer and weird open sores, and never any useful super powers.
Cheesy films have their charms, and one or two a month does me well so I'll give this exercise neutral "not bad, but not great." I know some folks out there love this film, but I suspect that comes down to having seen it a critical juncture in adolescence. If you do love this subterranean glow-in-the-dark turkey, by all means get this excellent Arrow package. But be aware it's a 35 mm print rendered in Blu-ray, and it's got a certain "look" that does not say "4k sharp."
---