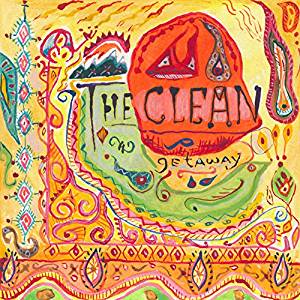 The Clean
Getaway
Merge
Long ago, in a land that would later play host to hobbits and orcs, three young men in Dunedin decided to form a band called the Clean. The brothers Kilgour (Dave on guitar and Hamish or drums) along with Robert Scott on bass were at the inception of a Kiwi music scene that burned brightly in the 1980s. Like a lot of punk inspired bands formed by young men, the Clean quickly fragmented into splinter groups the Great Unwashed and the Bats. Often, that's where the story ends.
The Clean follow their own unique career path. Even though each member has other projects you could call their main band, the trio comes together every now and then to record some music that feels like the Clean and to play some gigs. Their first proper studio album, Vehicle, came out in 1990, eight years after they first went their own ways.
Getaway came about after the Clean agreed to play a music festival in Dunedin in 2000. They played more gigs and then recorded the album (with some assistance from Ira Kaplan and Georgia Hubley of Yo La Tengo). This reissue includes the original album on disc one and the live discs, Slush Fund and Syd's Pink Wiring System, previously only available at gigs.
Having owned and loved Getaway since it's original release in 2001, I don't have a lot to say about it really. I liked it then and I still like it now. What attracted me to this new version of Getaway is the treasure trove that is the second disc. As the title suggests, Syd's Pink Wiring System tilts toward extended, lysergic jams. A tune like "Quickstep" gives Dave Kilgour room to weave his guitar mantras in and around the other instruments. These recordings capture the Clean, the hypnotic guitar band in their element.
The Slush Fund portion of the program finds the Clean in a loose and playful mood. "Rollo" and "Slush Fund" are brief interludes with David chatting over the music, welcoming people to the show and introducing the entire crew. I like the relaxed feel of this set as well as the prominence of David's keyboards. There is overlap in the songs covered by the Syd and Slush Fund sets that bring out entirely different aspect of the tunes and different dynamics within the band. These live sets show how the Clean continue to reinvent their songs to keep them fresh for their audience and interesting for themselves.
---