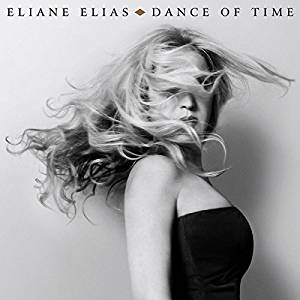 Eliane Elias
Dance of Time
Concord Music Group
Sometimes, you just need to chill. Sometimes, when the world is getting to be too much, you just need to retreat to a place where the pressures of the world can't reach you. So when I'm listening to Dance of Time, I image an intimate club hidden somewhere on a back street in some international city. I imagine a place where Elaine Elias holds the world at bay with her sprightly jazz renditions of samba classics and original tunes. I imagine an inviting space where friends gather to celebrate life and dance the night away to Brazilian grooves.
Dance of Time is Elias celebration of 100 years of samba. She brings friends together to make this a career spanning celebration. "An Up Dawn" finds Elias playing a piano duet with Amilton Godoy, an important Brazilian musician and educator who took on Elias as a student when she was just 13. Other early professional collaborators like trumpeter, Randy Brecker and vibraphonist, Mike Mainieri also guest on the disc. She invites Mike Kibble of Take 6 to join her on "Copacabana", "Em Maos" and "Speak Low". Brazilian singer-songwriters Joao Bosco and Toquinho add their talents to the record as they reimagine songs with Elias' soft, smoky style.
Dance of Time is a bit of welcome musical escapism. Elaine Elias flowing piano and sensual vocals are a welcome embrace and a refuge from a distressed world. In her hands, a collection of samba tunes is a reassuring reminder that art has healing power, and the power to calm the mind and ease the spirit. I wish I could spend more time in Elaine's world.
---