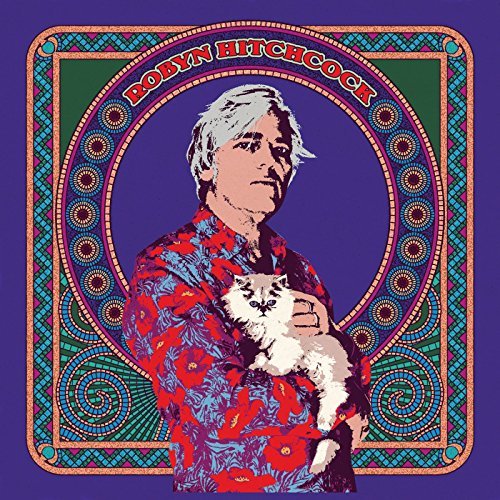 Robyn Hitchcock
Yep Roc
Robyn Hitchcock is a journeyman. He's a reliable craftsman who will always deliver the goods. Of course, over the course of 20 albums since getting started with the Soft Boys back in 1976, some of the good are better than others. You're going to get music with an appealing blend of folk, rock and psychedelia with songs that exist in some parallel universe of light bulb heads, sea creatures, ghosts and public transportation. On this self-titled release, Robyn drew inspiration from a talented crew of Nashville session musicians and they deliver a good One.
The weird dreams come at us right out the gate. "I Want to Tell You About What I Want" talks about wishing for world peace, non-invasive telepathy, cannibal over lords and robot minds all wrapped up in gently tripping rock and roll. "Autumn Sunglasses" and "Time Coast" make me think of Doctor Who (and also wonder what the show would be like with Robyn as the Doctor. I mean, the current Doctor plays guitar, so why not ?)
The Nashville connection is played out most obviously on the honky-tonk throw down, "I Pray When I'm Drunk". This is no piss take on country music, although it may well be a piss take on Robyn's drinking habits. I think it might go down well in a country bar if no one is paying too much attention to the lyric. "Sayonara Judge" makes good use of steel guitar to give color and texture to a sensual ballad about self-doubt.
What can I say about a catchy pop tune about suicide? "Virginia Woolf" sounds like something that could have been on Underwater Moonlight. Robyn sings about Virginia Woolf filling her pockets with stones and Sylvia Plath opening one final door. Robyn doesn't cast judgment, just observes that sometimes you feel what you don't want to feel.
"Raymond and the Wires" returns to Robyn's fascination with public transportation. In the past, Robyn has eulogized the trams of old London and dreamed of trains. On this tune, he reminisces about riding on a double-decker trolley bus with his father. Am I weird that I love songs about transport? (Probably).
I'll end with a comment on the album artwork. You'll never get to truly enjoy the '70s stoner chic of an image that, in another era, could have been a popular blacklight poster sold at head shops if you only stream the disc. On line services are great for what they are, but they'll never give you tactile pleasure of holding a surreal image of Mr. Hitchcock holding a cat while listening to his music from another reality.
---