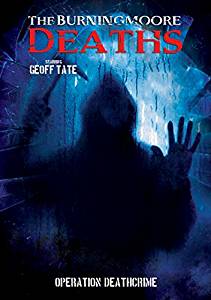 The Burningmoore Deaths
directed by Jonathan Williams
starring Geoff Tate
MVD Entertainment
There are two hooks that might get you to watch The Burningmoore Deaths. The first is that it stars former Queensryche lead singer Geoff Tate. The second is the way in which it is filmed – a combination of faux documentary and found footage. I don't know if either hook alone justifies the curiosity, but combined it was enough to get me to press play.
The movie starts out with the faux documentary, detailing the horrific murders that happened in 2005, and the fact that the father who perpetrated them had escaped capture for years. After this retrospective, we are told there have been more murders. Instead of archival footage and interviews, we are suddenly part of the filming of a new home improvement show, where the goal is to renovate a house in a nearby town on an abandoned Army base. What could possibly go wrong?
The first twenty minutes are spent on the retrospective, while the next twenty minutes are spent getting to know the cast of Gettin' Hammered, a delightfully quirky group of contractors and television production personnel. After that, the killings begin! The conceit allows for static cameras to be placed in every room of the house, resulting in murders being witnessed, but often in the shadows or just off screen, so folks who are not into gore should be ok watching it.
And what of the other hook? Well, Mr. Tate gets to serve triple duty, not only as the father-turned-murderer, but also as the narrator of the documentary, and performer of the song over the end titles. His main role as the antagonist is a silent one, which allowed him to also be the narrator. But his intense facial expressions in the footage from the various cameras, along with his menacing physicality, translate into an effective horror movie villain.
While there are a few plot holes, my main complaint revolves around a possible motive/reason for his actions early in the film that is never followed up on after his reappearance. Perhaps this was an oversight by screenwriters J. Andrew Colletti and Jonathan Williams, or the follow-up was lost during filming by Williams (who also directed and edited). Despite that quibble, The Burningmoore Deaths is an interesting take on several horror movie tropes and well worth your time. Note: Apparently this film was originally released in 2010 as The Burningmoore Incident, and while it is spelled Burningmoore on the DVD and the credits, the website and promotional materials spell it Burningmore with one 'o'.
---