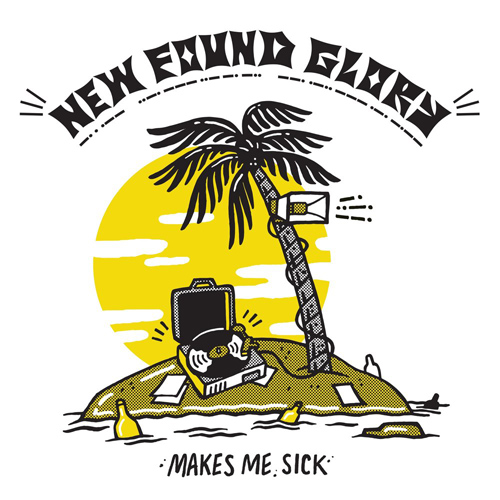 New Found Glory
Makes Me Sick
Hopeless Records
Listening to the new New Found Glory record (their 9th) is like diving into a bowl of your favorite cereal from childhood. That sugary smackdown of the first few bites of, say, Fruity Pebbles triggers instant joy and euphoria that's carefree, comforting, and simple. The first few songs of the record – "Your Jokes Aren't Funny," "Party On Apocalypse," "Call Me Antisocial" – are those initial heaping spoonfuls of candy colored joy. Around the time of the unexpected synth intro of "Happy Being Miserable," the brain starts to kick in and the high begins to fade. The song, a clear choice for a single, has all of the usual NFG mastery of pop punk, but something is starting to slip – the cereal is starting to taste like Red 5 and corn syrup. By the time the Caribbean steel drum island groove of "What I Want" kicks in, that idyllic taste of Saturday morning is gone.
Now, that Caribbean experiment… on one hand the bold attempt, for a pop punk band, to go all calypso is admirable. The Florida band has always had sunshine and summer time in their DNA, and their albums have always been beach records for me, yet this song just falls flat on its face. I don't know if they were shooting for a Clash-like punk/reggae crossover, or just going for a straight up Beach Boys vibe, but the result sounds like a backing track from the movie Cocktail. 1, 2, 3, pop punk – Go! Stick to what works, fellas.
After that, though they try to steer back into their usual pool of comfort (albeit with a lot of '80s synth pop slipped in), they never fully recover. "Say It Don't Spray It" and "The Cheapest Thrill" are fun enough, but even these offerings sound like knock-offs of their past glories.
The bad news is, this record is a less than stellar addition to the New Found Glory canon, but the good news is that this band is only getting better as a live performance act and they're still out on tour celebrating their 20 years in the business – playing, in full, their OLD albums. While this album may be skipable for all but the most die-hard fans, those shows are a must for all who enjoy the thrills of a good sugary high.
---