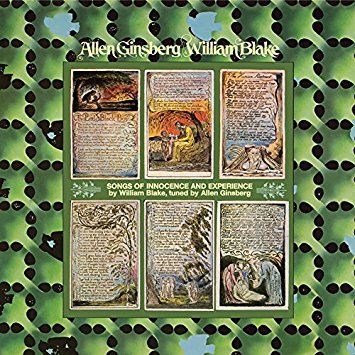 Allen Ginsberg & William Blake
The Complete Songs of Innocence and Experience
Omnivore Recordings
Allen Ginsberg claimed that the idea to put William Blake's Songs of Innocence and Experience to music came to him in a vision of Blake around 1948 but considering Allen's fondness for pot, it might have been somewhat less divine then that. But however it came to him, we're all the better for it. Allen Ginsburg was not only one of America's greatest poets, he was an ambassador for all things creative, and his "tunings" of Blake's epic poetry comes from the same passion that led him to create "Howl" and his initial record, First Blues from 1971. (Which was released in an expanded edition by Omnivore in 2016 as The Last Word On First Blues).
Ginsberg wasn't the first to conceive of putting Blake's words to music. Composers such as Ralph Vaughan Williams and Benjamin Britten, as well as artists as diverse as Jah Wobble, Tangerine Dream and folkie Greg Brown, who released 16 of the poems on a 1987 album- had done so before. What Ginsberg brought to the project was a poet's voice. If you've listened to his readings of his own works, such as "Howl" or the overwhelming emotive "Kaddish", you are continually struck by the dramatic cast he brings to the written word. With his New York accent he made the stanzas breathe, and Songs of Innocence and Experience gives many examples of this, from "The Shepherd" to "Ah! Sun Flower" to a great "The Grey Monk", where Allen holds his own with musicians such as drummer Elvin Jones and avant-gardist Don Cherry. It is truly wild.
This 2 CD collection contains the original recording from 1969 that Ginsberg recorded in New York City, as well as "Blake Songs", a largely unreleased work from 1968. Also included are 3 Tibetan mantras that he recorded in his beloved San Francisco in 1971, which are enthused with the same fervor and regard as the Blake works. Allen Ginsberg was without a doubt one of our most passionate geniuses, and kudos to Omnivore to remind us of this fact. As William Blake wrote – and Allen sang – on "Holy Thursday" : Now like a mighty wind they raise to heaven the voice of song.
Amen.
---