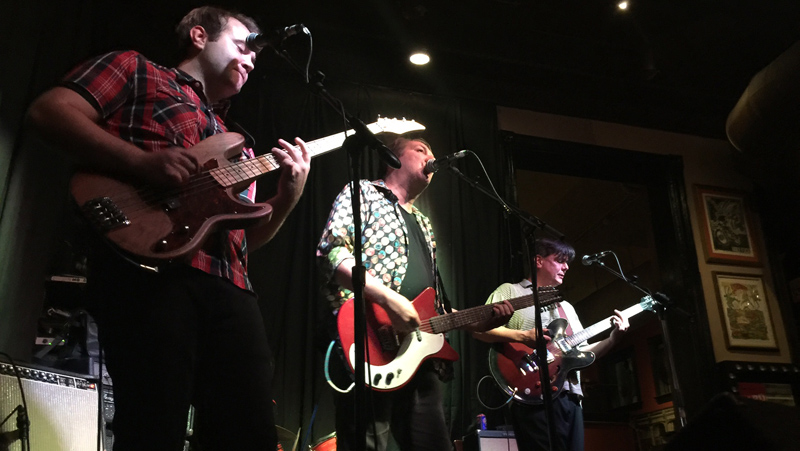 Elf Power
Cincinnati, OH • 7-17-2017
by Rick Harris
There are dates on a band's tour when the guitar riffs, drumbeats, lead singer and audience come together as beautifully as a 31-foot LeBron game winning jumper. It didn't happen at the Cleveland Cavaliers' Quicken Loans arena. It was Elf Power scoring big at the Motr Pub in Cincinnati.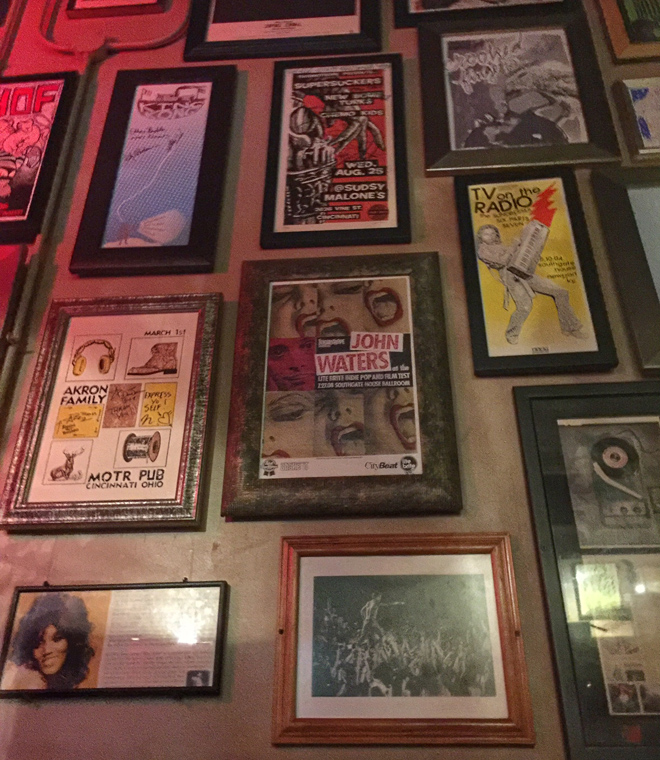 Elf Power is one of those bands that changes members like it changes ripe tour clothes. Some might call them an experimental band, and despite a rotating line-up, consistently and historically deliver a right-on-the-money 90's alternative rock sound. Some might say Elf Power have an R.E.M. vibe (think Murmur) and that comparison might be because their roots are sunk deep in the Athens, GA music scene. What they really are, is part of the Elephant Six Collective – an iconic, psychedelic pop label preferred by Southern alts for a sound that makes you feel proud that you have ears.
The 50 or so people who crossed the Monday night threshold to see Elf Power got a 55-minute set tighter than a double-knotted Doc Marten boot, with four musicians who gave enough of a damn to perform like they were playing a stadium show. Out supporting their 16th album, Twitching in Time on Orange Records, Elf Power's Andrew Rieger (guitars and lead vocals), Matthew Garrison (bass and vocals), Davey Wrathberger (slide guitar and vocals) and Peter Alvanos (drums) filled the stage while their sound enveloped the room.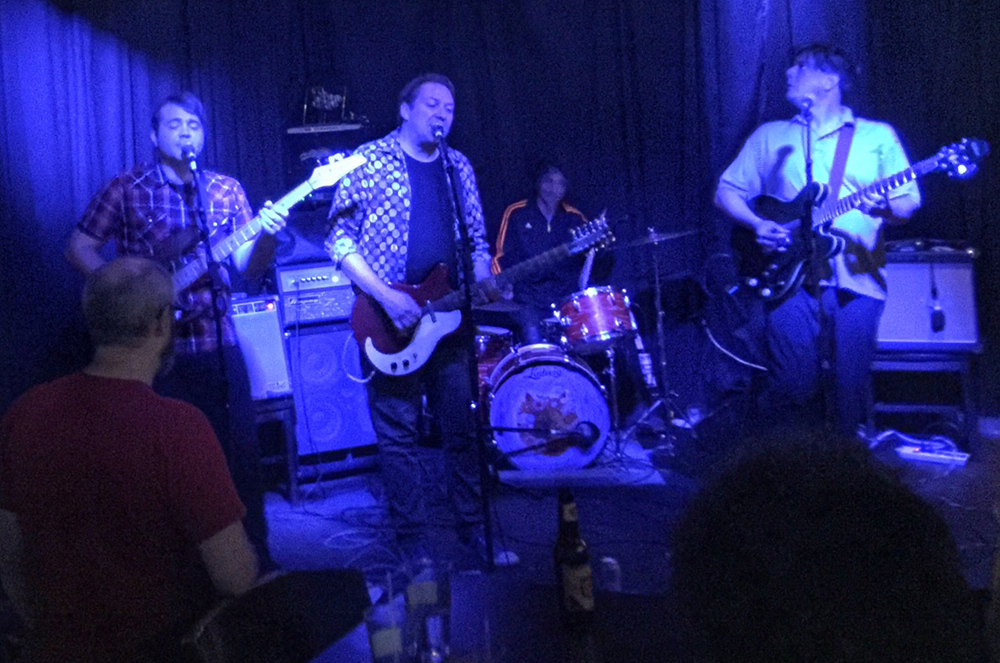 Elf Power could have mailed it in. They were in the middle of the country (Cincinnati) on a Monday night. They were across the street from the Woodward, Cincinnati's alternative music mecca. It has long been said that playing the middle of the country on a weekday can make or break a band. With 23 years of touring experience under its belts, Elf Power knew what it had to do and did it. Thank God for veteran alternative rockers.
Drawing from their first 1994 album to their last and with a sound ready for prime time, Elf Power delivered an 18 song, 55-minute set that featured eight songs off their 14-song Twitching In Time 2017 release. Highlights included "Sniper in the Balcony" featuring Rieger's soothing, story-telling voice and Wrathberger's beautiful slide guitar that sounded at times like a gorgeous violin dying to be heard. Borrowing from true life, Rieger and the Elves slowed it down with "Cat Trapped In the Wall", a true story about his pet cat that got trapped in the wall with a twist. Sounding more country than alternative, Cat was a bridge song that had the audience swaying and heads rocking in rhythm.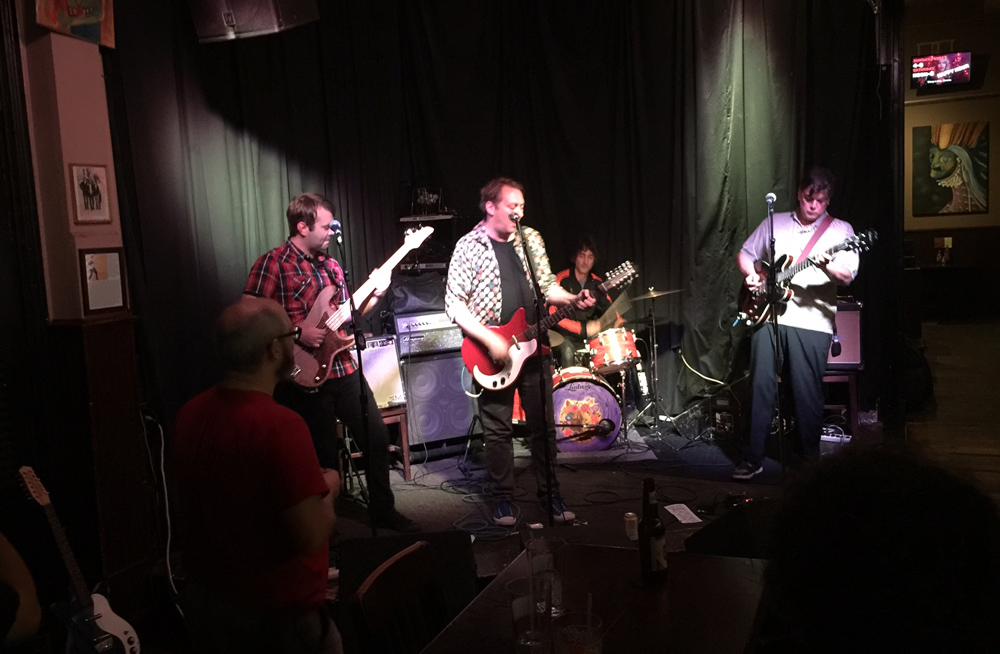 Other favorites were "Let the Serpent Sleep" from their 2002 Creatures album which was performed a half-a-beat faster than the original and it made the difference live.
Elf Power's two covers were beautifully selected and had knock-out punch quality. They roared into David Bowie's "Queen Bitch" and Robyn Hitchcock's "I Wanna Destroy You". Often a band with a lack of confidence will rely on more high profile covers (crap like "Don't Fear the Reaper" or a forced arrangement of something like Katrina and The Waves "Walking on Sunshine"), but these elves took a pair of songs well suited for their vocals which better matched their set. It also was when Wrathberger stepped from stage-left and performed directly in front of a quintet of po-goers.
Elf Power closed out the show with "Everlasting", featuring a machine gun drum riff that lasted more than 45 rapid-fire seconds from the amazing Alvanos who drove a consistently tight, methodically piercing and occasionally awe inspired drum line throughout the set.
The main thing to remember about Elf Power was their precision-like ability to entertain. Rieger's between song banter set up songs with a casual descriptive ease that made you want to listen to what was next. You had four guys who cared about their music who proved it for a little less than an hour in a town that rolled up the sidewalks before their 10:00 PM start.
All 50 fans (give or take a couple of stragglers) who turned out on a weekday in the Midwest got to see a band that knew how to handle an audience, sing their songs the right way and own a stage with the comfort of veteran alternative rockers from the chill community called Athens, GA.
For more information on Elf Power, Twitching In Time and tour Dates, please go to www.elfpower.com.
---