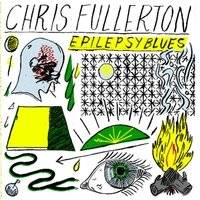 Chris Fullerton
Epilepsy Blues
Eight 30 Records
Thankfully for us Eight 30 Records has re-released Austin songwriter Chris Fullerton's debut record Epilepsy Blues because music this rare and gripping deserves a wider audience. It opens with "Bad Winds", 3:04 of pure Hank Williams desperation:
"Whiskey/You come wash over me/Cause I've been underneath/In the pastures of sin". Framed by a simple guitar strum and understated pedal steel by Ian Sutton, it sets the stage for this remarkable record. Remarkable, but hardly joyous – it's called Epilepsy Blues after all. Fullerton shares a Townes Van Zandt/Guy Clark love of sly language, such as on "Come to Texas" – "The whole town's a can of beer", or "I Feel Nothing", where Fullerton is joined by Luke Willis' lonesome fiddle. The album shows the grace under pressure of a man coping with both a disease and depression, and the simple fact that he was able to use his music to overcome the roadblocks life put in his way should be inspiring to us all.
If you're a fan of Texas songwriters – particularly the Butch Hancock/Lyle Lovett school of emotionally fraught glimpses of life- then Epilepsy Blues will be a welcome addition. Chris Fullerton is what they call the real deal, and one hopes this is the first step in a long career of magical moments. Sublime.
---