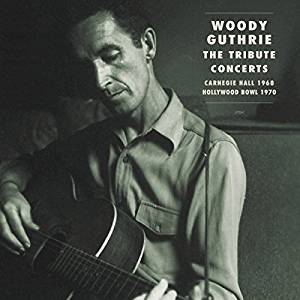 Woody Guthrie
The Tribute Concerts
Bear Family Records
When we need him the most, Woody Guthrie has a knack for showing up.
Steve Rosenthal, Producer
If ever a time needed the wisdom and enthusiasm of Woody Guthrie, it is now. The things that Woody wrote about – the power of people joined together in strife, the need for compassion for all, and the call for judgement of our leaders, well, no time like the present. When Guthrie wrote "This Land is Your Land", "Do Re Mi" or "Pretty Boy Floyd" – and literally thousands more – he etched the conscience of America into history. Hell, he wrote "Old Man Trump" about our President's father. Woody knew.
When he died of Huntington's disease in 1967, his children, both literally and figuratively, weren't ready to let him go, so a tribute concert was arranged for Carnegie Hall in 1968, followed by another at the Hollywood Bowl in 1970. The performers, ranging from Woody's son Arlo, to Bob Dylan, Odetta, Judy Collins, Pete Seeger and a host of others sang Guthrie's songs, while actors Will Geer and Robert Ryan read excerpts from Bound For Glory, Woody's semi-autobiography. Selections from both of the concerts were released in a rather slap-dash fashion shortly thereafter, but the entire concerts haven't been available until now.
The legendary German record company, The Bear Family, renowned for their exquisite box sets, have served the memory and magic of Woody Guthrie with The Tribute Concerts. Three CDs, and two exhaustive and lovely hardback books bring the message of Guthrie to a new age. The previous release combined songs from both shows into two records (while not showing which show they originated from), but this set gives us, as near as possible (some tapes of the first concert have been lost) both nights of the tribute, and it is glorious. Back when I was a kid, the set served as my introduction to Bob Dylan, rocking thru "Grand Coulee Dam" backed by The Band, and it still sounds as buoyant and free as it did all those years ago.
There are too many highlights to list but a few, ranging from Richie Haven's impassioned "Vigilante Man" to a rousing "Goin' Down The Road (Ain't Gonna Be Treated This A-Way)" from Country Joe McDonald joined by Arlo, Ramblin' Jack Elliot and Pete Seeger, or "Ramblin' Around" from Odetta. But this is a set to be listened to fully, both song and story, to transport yourself back to the joyous celebration of a man and a life that changed so much. You'll find the words of Woody Guthrie sound as if taken from today's news. Some folks still "rob you with a fountain pen" and this land is ours, from sea to shining sea. We just need to be reminded of that, from time to time.
---