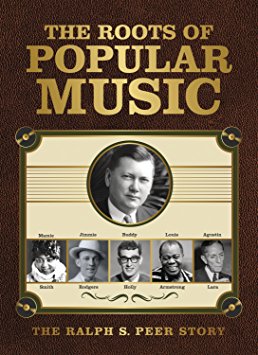 The Roots of Popular Music: The Ralph J. Peer Story
Sony Music
The name might draw a blank, but if you've ever listened to country or latin music, you know Ralph Peer. He wasn't a singer or songwriter, but rather a businessman who went looking for opportunities as a young marketing executive at Okeh Records. His first "find" was Mamie Smith, who he recorded singing "Crazy Blues" in 1920. This led to further sessions including Louis Armstrong's Hot Fives and Sevens, now regarded as a pivotal moment in jazz history. He helped establish "race records" – recordings by non-white performers – but he wasn't done yet.
He signed up with RCA-Victor and continued to look for untapped options, and in doing so, gave old time and country music it's jumpstart with the recording of Fiddlin' John Carson in Atlanta in 1923. But his greatest early achievement became known as the Bristol Sessions, two weeks of recording in Tennessee with the Carter Family and the great Jimmie Rodgers. Both performers had made names for themselves gathering local tunes from all around (A.P. Carter was known for recasting old Scottish and English folk songs as his own and collecting the publishing), and Peer's recordings launched country music as an industry. Later Peer looked outside the United States for acts, and discovered the vast Latin music market, ready to be brought to America, spawning the Latin music craze that occurred after WWII.
This great 3 disc box set gives you a glimpse into Peer's legacy, from the early country music of Jimmy Davis ("You Are My Sunshine") to the bluesy "Stealin', Stealin'" from the Memphis Jug Band, onto Latin selections from artists as diverse as Mario Lanza to Tito Puente, and modern stars such as Bob Dylan ("My Blue Eyed Jane") and Marc Anthony. The set includes an essay by Barry Mazor, adapted from his biography of Peer, and it provides an introduction to this monumental figure in modern music. We can all be thankful for Ralph Peer – and his good ears.
---