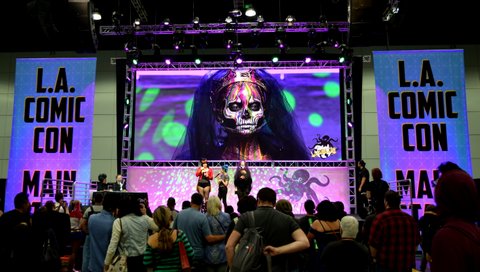 Stan Lee's Los Angeles Comic Con 2017
Los Angeles, CA • Oct. 27 – Oct. 29th
by Generoso and Lily Fierro
Photos by Generoso Fierro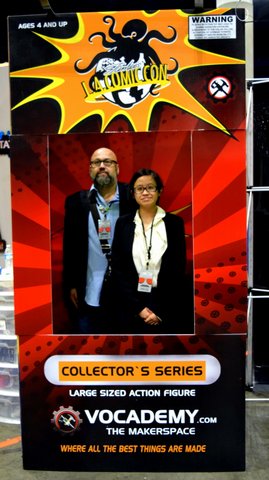 Since moving to Koreatown in the spring of 2015, whenever we begin seeing the jack-o-lanterns adorning the lawns of the homes on our drive to work, we know that Stan Lee's Los Angeles Comic Con (SLLACC) is just around the corner. Usually held in the days before Halloween, if not Halloween itself, this con is now becoming a fall fixture here, with this year's installment (the seventh in its short existence) being the biggest one yet in terms of its Guests of Honor, which ranged from The Rock to Kevin Smith to Stan "The Man" Lee himself. Of course, Stan's appearance is never a surprise, but it is always thrilling as he has begun every one of his cons that we have attended with a personal appearance to give an update on new projects by his company, POW! Entertainment. A friend described our SLLACC attendance as one of being "panel heavy," and this is indeed true that we do love the panels a bit more than those who indulge on the one on one experience that is available on the expo floor or in the gaming rooms, but we feel that we did more than our fair share of admiring the work of cosplayers, talking to comic and show creators at their tables, and even buying the odd Rick and Morty pin too, as the popular Adult Swim show was well represented in every material form available at the con. We selected our favorite moments from this year's edition of SLLACC to share with you.
It usually takes some resolve to wake up super early on a Saturday morning, but when presented with an opportunity to see Stan Lee in person, it becomes a much easier task to avoid hitting the snooze button for an extra fifteen minutes because that bit of extra sleep might cost us a prime spot near the main stage. The Stan Lee Panel did not disappoint, as we were all informed of the status of two upcoming projects being helmed by Luka Contents and Lee's Pow! Entertainment: Chroma and Prodigal. Jim Krueger, the winner of the Eisner Award for the DC Comics series, Justice was on hand to introduce Lucy Kim from Luka and Gill Champion, who was representing Pow!. Krueger soon expressed his excitement for being able to write a new hero with the comicbook, Chroma, which the book's sizzle trailer later described as Korea's first superhero. Kreuger described his inspiration for Chroma as coming from reading the first thirty six issues of Stan Lee's Spiderman and imagining how to create a character using modern writing techniques while capturing the spirit that went into Stan Lee and Steve Ditko's partnership, and the dynamic images that we saw for Chroma in the sizzle reel gave us a preview of the work that artist Drew Johnson of Midnight Society: The Black Lake and DC Comics contributed to the series. The story begins with Chroma as a young boy who is traumatized by the killing of his sister, who was burned to death. When the boy turns into an adult, he becomes a scientist who experiments with the regenerative skin of octopi to help burn victims, but he soon stumbles upon a corporate conspiracy and an attempt is made on his life. We then were told that the Chroma comicbook will soon become a Korean-language superhero film, the first of its kind, and the film will be directed by Jee-woon Kim, who is best known for the 2008 neo-western, The Good, The Bad and The Weird. Kim was unable to attend the panel, but he sent a highlight video of clips from his previous films, and an interview where he expressed his deep admiration for Stan Lee.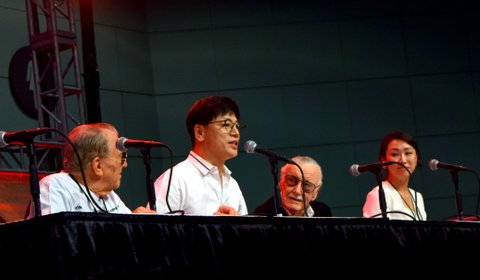 Prodigal, based on an original idea from Stan Lee, was next up for discussion on the panel. As described by Kreuger, Prodigal is about a young adult named Warren, whose dad is a vigilante superhero, but Warren soon finds out that he is adopted, and that his birth father is a supervillain, which takes the narrative into the age-old questions surrounding nature versus nurture, with the two fathers battling over their son's transformation into an agent of good or evil. It was at this point that Gill Champion invited Stan Lee to take the stage before any further discussion about the project. Stan was as sharp and funny as ever when he set up the Prodigal trailer by asking the crowd to "pay attention, as there may be a test afterwards." A trailer with some storyboard images followed and ended with the announcement of the release date of summer of 2019. It was then that the director chosen to helm Prodigal, Yong-hwa Kim, was introduced to the audience. The director explained that his wife recently gave birth to their first child, so he has naturally channeled his personal experiences as a father into this project, which will be unlike what you normally see through DC or Marvel, as family is such an integral part of the Korean way of life.
Since the toy's release some forty years ago, there have been many rumors about the production of a media property to couple with the popularity of everyone's favorite rubbery hero, Stretch Armstrong. Films were slated to be made by Disney and Universal in the '90s and 2000s, respectively, but alas, nothing came to fruition. Now, Netflix has picked up the gauntlet with the production of the animated series, Stretch Armstrong and the Flex Fighters, which follows frantic teen, Jake Armstrong and his two best friends, who all have been exposed to a chemical that makes them super stretchy, and in response, they use their rubbery powers to fight evil. The sneak peak of the series that we saw had a '67 Spiderman feel about it as Jake and his pals wisecrack away whilst performing superhuman feats like turning themselves into human slingshots so that they can launch cars at giant monsters. Netflix seems to be going all out with this venture, as they have recruited some big name voice talent in the form of Steven Yeun, Wil Wheaton, Keith David, Kate Mulgrew, and Henry Rollins.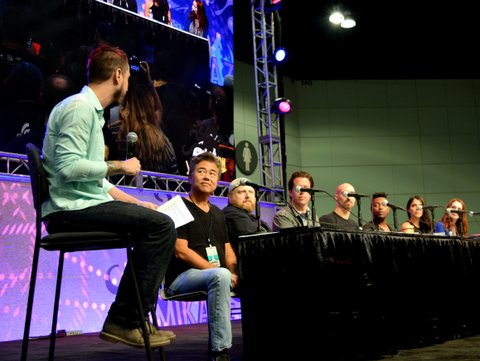 As much as Stan Lee's appearance brought out cheers from the crowd around the main stage, it wasn't at deafening as the higher-pitched screeches of joy that emanated from the crowd when the original voice actors of The Powerpuff Girls: Tara Strong (Bubbles), E.G. Daily (Buttercup), Cathy Cavadini (Blossom), and Tom Kane (Professor Utonium, and HIM) were brought onto the stage. Released almost twenty years ago, this trio of kindergarten-aged superheros took the world by storm and are still enjoyed in reruns on the Cartoon Network. The quartet discussed their auditions for the series and the extended length of time it took before the series began to hit TV screens. Our favorite part of the panel occurred early on when the moderator asked our actors to give their favorite voice from their main character on the show and then a voice of a different character that they had done on The Powerpuff Girls. It was startling to watch adults instantly transform into four year olds right before your eyes, especially when the women sang "Love Makes The World Go Round" in their Powerpuff Girl voices.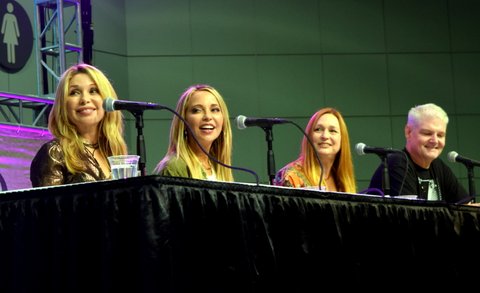 So, if you did not have enough of a '90s nostalgia injection with The Powerpuff Girls reunion, the cast of the crown jewel of ABC's TGIF programming, Sabrina the Teenage Witch, arrived at Comic Con! Yes, they were all there onstage to represent their much-beloved show that was based on the Archie Comics series: Sabrina Spellman herself (Melissa Joan Hart), her aunts, Hilda (Caroline Rhea), and Zelda (Beth Broderick), her cat, Salem Saberhagen (Nick Bakay), Sabrina's sweetheart, Harvey Kinkle (Nate Richert), The Quizmaster (Alimi Ballard), her coffee shop boss and crush, Josh Blackhart (David Lascher), her college roommates Roxie (Soleil Moon Frye), and Morgan (Elisa Donovan). First, they all spoke of the international appeal of the show, as evidenced by the cast's ability to know the word "witch" in the different languages of the nations where the show aired around the world, and yes Caroline, "strega" is indeed the Italian word for witch (it is also a very tasty liqueur as well). We learned about the sometimes negative reactions of fans to Sabrina's onscreen boyfriend selections and the cool tidbit that surprised us – Melissa Joan Hart's mother, Paula Hart, was the executive producer of the show, and she was responsible for getting the show added to ABC's Friday night lineup, a fact that Melissa was more than proud of to share with the attentive audience at SLLACC.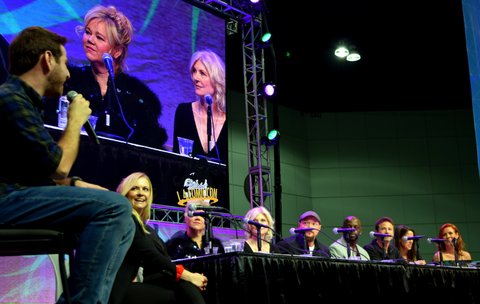 It was soon back to present day for us, as no SLLACC would be complete without a stop at one of the Troma panels, and this year we selected the Troma Entertainment Presents: Toxie's Friendship Celebration panel, which was moderated by Megan Silver and included a brief visit from Toxie himself, who, after a brief introduction (without his signature broom which had sadly been confiscated at the con's weapons check), had to run back to the Troma booth. After Toxie departed, it was the Lloyd Kaufman show for a bit, as the President of Troma regaled the crowd with some dark stories of their group's banishment from this year's Cannes Film Festival where they had been a fixture for over forty years. Hugo Award nominated author and Tae Kwon Do Master, Dr. Chuck Tingle, spoke of his recent writings, and battles with his Jerky Neighbor Ted. Also on the panel was professional wrestler and former WWE/NXT Tag Team Champion Simon Grimm, who talked about his experiences leaving the world of wrestling for life with Troma. As the panel veered towards its conclusion, we saw what we had all been waiting for, a trailer for the soon to be released Troma feature, Return to Return to Nuke 'Em High aka _Volume 2_Nuke 'Em High series, and this one looks to be the goriest and silliest one yet. A more somber Troma panel than the ones we've seen in years past, but it was one that was still full of great laughs, stories, and encouragement to create independently. We also caught up to Lloyd Kaufman after the panel for an interview to soon be published here on Ink 19, where he expressed his thoughts about his former collaborator, director John G. Avildsen, who passed earlier this year, and what exactly occurred at the Cannes Film Festival that got Troma banned.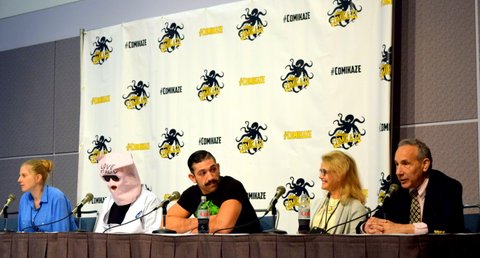 After the Troma panel, it was back to the main stage for one of the most loveliest moments of this year's SLLACC, A Tribute to Adam West. Moderators Kevin Smith and Ralph Garman sat with the late actor's real life friends and Batman cohorts, Burt Ward (Robin) and Lee Meriwether (Catwoman) for a charming, sad, and at times, funny conversation about working with the late actor on the seminal 1960s TV show and the feature film. Ward brought up how West made him laugh from the very first moment they met at the screen test for Batman and told audiences that "the last thing that Adam would ever want you to do is cry for him, as he spent his whole life trying to entertain people." Meriwether, who replaced Julie Newmar in the role of Catwoman for the feature film, revealed in a story of how badly she wanted that part, and how sad she was that West was not present at her audition for the role as she admired him on the television show. Story after story told onstage by those who knew West confirmed one fact over and over, and that is that West was the same funny and irreverent person off-screen as he was on it. Smith and Garman were excellent in their roles as moderators as they calmly straddled the line between excited fanboys and thoughtful interviewers.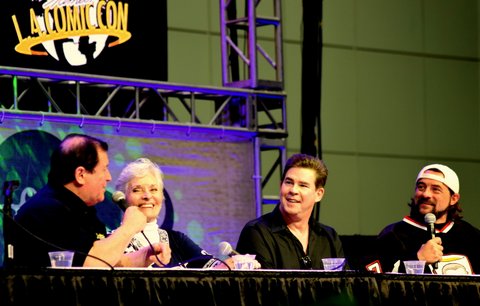 As the heart of any comic con lies in the spirit of creating comics, we were eager to attend the Publishing Your First Comic Book panel which was led by Rylend Grant, the writer/creator of Aberrant for Action Lab Comics, who smartly led a discussion with five comic book, television, and film professionals. It never ceases to amazes us that no matter how many of these nuts and bolts panels we attend, we always come away with some new pieces of information about this very complex process. Much of the early conversation of this panel centered around the art of the pitch, specifically on what should be the length of what you submit to publishers: Is this a few pages, a few issues, or a completed book? Most of our panel fell on the side of a completed issue so that the publisher can see clear ability to tell a story with sequential art. This is the first time that anyone actually acknowledged and discussed the exact avenues to enter comics in a clear way, going so far as to having panelists who have experiences with publisher submission, independent publication, and anthology contribution. In the end, the Publishing Your First Comic Book panel was one of the most well moderated and helpful panels that we have attended at a con in some time.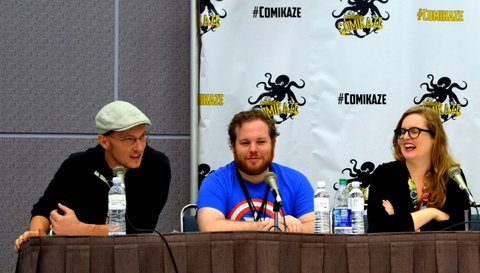 There are three absolutes for us at Stan Lee's L.A. Comic Con: Seeing Stan The Man in the flesh for our first activity there, spending some time with the denizens of Tromaville, and the antithesis of the blood-spurting, four-letter word throwing activities that are akin to the world of Troma, Jordan B. Gorfinkel's Heroes and Faith panel. For all of our years of attending both professional and pop culture conventions, this panel is hands down the most consistently strong in terms of moderation and discussion, and much of that credit belongs to Gorfinkel, a former editor for DC Comics who supervised Batman for over a decade. The panel, which normally discusses the role of a specific motif from faith and religion (including atheism) in media and culture, chose as their focus this time around: hymns, rhythm and music. On the panel was David Sacks, writer/producer for The Simpsons, Lisa Klink, a writer/producer/novelist who has worked on Star Trek: Voyager, film composer Kurt Farquhar, who is working on music for the CW drama, Black Lightning, and composer James Covell, who is currently scoring Fast N' Loud for the Discovery Channel. The panel was hit by Gorfinkel with intense thoughtful questions like the following: within the Old Testament, can you speak about a specific time when music is important to faith? Can you give some examples of where religious-type music is successful in enhancing and movie or television show? The answers that followed such questions created engaging conversations throughout the panel, and led up to the always exciting and illuminating lightning round of short questions that closes this event every year.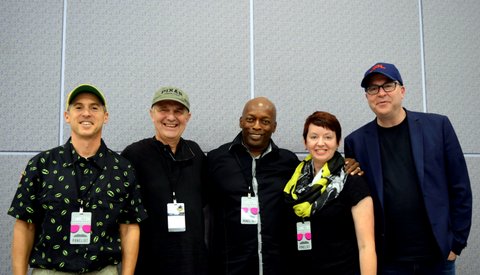 For our final panel of SLLACC 2017, we selected The Kaiju Kingdom Podcast Live: Tribute to Haruo Nakajima, and we were so glad that we did, as hosts Chris Eaton, Jessica Tseang, and Mark Jaramillo provided endless astonishing facts about the man who brought to life not only Godzilla, but also Rodan, Moguera, and many other kaiju in over one hundred films during his illustrious career. In fact, our respect for Nakajima grew exponentially as we heard stories of his struggles wearing costumes that weighed over 200 pounds, being submerged in icy water for hours upon hours while wearing those overweight suits, and even, on an occasion, being severely electrocuted while filming, yet still working later in the day. It indeed was a loving tribute as our hosts not only dispensed intriguing facts, but they also shared their personal memories of meeting the late actor at various events over the years. Sadly, the audio visual department at the con failed our panelists as they were unable to show the clips that they had collected for their presentation, but that didn't matter as the love and respect that they gave to the actor, who passed away earlier this year at the age of 88, was felt by all of the attendees in the room.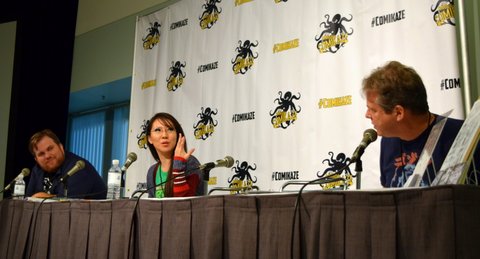 We were somewhat lighter on the panels on Sunday (we only did the three), which did allow us significant time to travel down artist alley and the adjoining creator booths in order to spot emerging projects, and two have caught our eye that we would like to share with you.
The new science fiction comicbook, Oasis, attracted our attention due to the absolutely stunning cover art by Breno Girafa. We actually stopped by the Oasis table just to acknowledge how impressed we were with what we saw, and we were greeted by the comicbook's writer, Alex Wills, who gave us an enthusiastic overview of the series which spans four volumes, with each volume containing two issues. Based on our conversation with Wills, we picked up volume one, and so far, we have been very impressed with not only the art, but also the writing as Wills and Girafa create a dystopian world that is somewhat reminiscent of the world Ballard creates with High Rise, for Oasis is the name of a protected city that is removed from the harsh reality of a futuristic downtrodden Los Angeles. After reading the first two installments, we are curious to read the subsequent volumes as our main character, Miranda, has assembled a sort of dysfunctional family à la Fagin of Oliver Twist, a master who guides his "children" in the same dubious manner, but here set in futuristic and more violent world with the class struggle being at its core. The situations our "family" are put into and the choices they make that challenge their own emotions are compelling after just a few pages.
Like many attendees these days at comic cons, we are always on the lookout for new cartoons that would fit into the realm of Adult Swim's idiosyncratic, if not disturbing programming, so we were intrigued when we saw concept art on a monitor for a new animated pilot that is looking to be funded on Kickstarter entitled, The Oracle Of Outer Space, which is about the last-existing AM radio station in the cosmos that is about to explode and crash into the earth. We spoke with the show's creator, musician and writer Carl King, who like us is a huge fan of the legendary CBS sitcom, WKRP in Cincinnati, which turns out is one of the key inspirations for the show that he wants to create. Assembled by King for this project is veteran animator Lance Myers, who amongst his credits, was the lead animator for Richard Linklater's feature film adaptation of Philip K. Dick's A Scanner Darkly. Also on board is famed voice actor Jon Schnepp, who has worked on Adult Swim shows such as Metalocalypse and Aqua Teen Hunger Force. Given that we have been doing a radio program for the last twenty plus years ourselves and the fact that we love The Swim, we found this project to be one we would love to see come to fruition.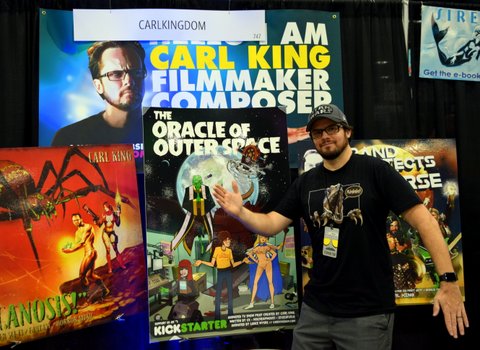 In 2015, when we attended our first Stan Lee's Los Angeles Comic Con (then called Stan Lee's Comikaze), it was housed in two exhibit halls at the Los Angeles Convention Center, and during that year's three day run, both halls were fairly packed with the robust attendance. For 2016 and this year, SLLACC has been relegated to just the one exhibit hall, which we found somewhat odd given its growing popularity. We wonder if last year's one-time decision by the group that handles San Diego Comic Con to move Wondercon, which is normally held in Anaheim, to the Los Angeles Convention Center was the cause for this downsizing of space. As Wondercon is now back in Anaheim, we hope that future editions of SLLACC go back to an even larger space as before as this is one of the most entertaining and eclectic collections of panels and speakers about pop culture in the Los Angeles area.
[[Entrance Goodbye]] ◼
---