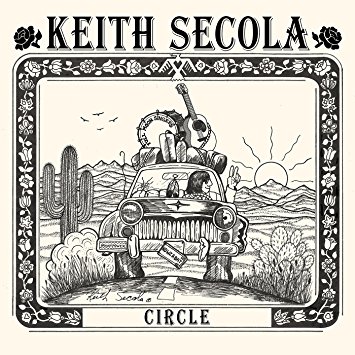 Keith Secola
Circle
Don Giovanni Records
If you aren't familiar with the Native American songwriter Keith Secola (he's an Ojibwa from Minnesota), no time like the present. His new release, Circle, is a compilation of songs from his various albums such as 2007's Native Americana, Wildband of Indians from 1997 and more.
You might have heard his most recognized number "NDN Kars" from the film Dance Me Outside which kicks off this disc in both humorous and ultimately sobering fashion ("I've got a sticker/Says NDN Power/I stuck it on my bumper/That's what holds my car together"). Secola is a great songwriter and nimble guitarist who doesn't feel tied down to any one sound. "NDN Kars" is a rocker, but "So Many Dreams" that follows is a gentle breath of Native American sounds, with Brent Micheals Davids on crystal flute and "Native singing" from Moontee Sinquah and Tallee Redbird. Next up is "Life (Yes)", which Secola's guitar sounds almost as crystalline as Jerry Garcia's, and the vocals are a spot-on take on Bob Weir. Good stuff.
The themes of the record are taken from Secola's Native American activism, which gives valued insight into Native American life in this day and age. But then he throws "Andy Was A Bat", all about the Andy Griffith Show – it's hysterical. Circle is a great introduction to a renowned Native American poet and artist, and is one of the most enjoyable discs of the year.
---