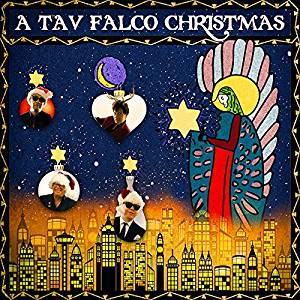 Tav Falco
A Tav Falco Christmas
I am a Grinch.
I admit it. Christmas evokes traffic jams at the mall, foolish people at the post office who don't know how to mail a package and the unrealistic expectation to be happy all the time. It's the time of year when stores have a non-stop loop of the sappiest versions of the sappiest holiday tunes playing. I think my head would explode if I worked retail. I really don't think we need a 450,000th version of "White Christmas". I see most Christmas records as cynical cash grabs by mostly washed-up recording artists. I am the Grinch and Scrooge rolled into one.
Why am I reviewing a Christmas record then?
Well, A Tav Falco Christmas ain't gonna wind up on the sound system of your local Walgreens. Tav Falco came out of the same wave of Southern punk roots music that gave us the Cramps and the lost decade of Alex Chilton's career. Tav has assembled a band that includes Mike Watt of the Minutemen/Stooges and Toby Dammitt from the Bad Seeds. It sounds like it could be a hellacious mess. I had to check it out.
Well, Tav isn't being ironic. He's not messing with the classics. His versions of holiday fare like "Blue Christmas" are done with sincerity. Tav Falco really does want you to have a nice Christmas! The tunes are pretty straight forward, stripped-down affairs. I wouldn't be surprised if they were all first takes. I really do like the skeletal funk of "Soulful Christmas". I like how Falco channels Burl Ives on "Holly Jolly Christmas".
For the seasonal curmudgeon, Tav gives us "Christmas Blues". "When someone wants you, when someone needs you Christmas is the joy of joys. But friends when you're lonely, you'll find that it's only a thing for little girls and little boys… until it's January, I'll just go and disappear."
Have a cup of cheer people. I'll see you in January.
---