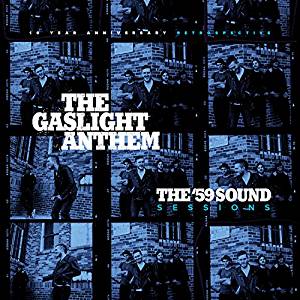 The Gaslight Anthem
The '59 Sound Sessions
Sidewinder
10 years ago, The '59 Sound catapulted The Gaslight Anthem from local New Jersey contenders to national breakthrough act. Now, on the eve of a reunion tour to celebrate that landmark release, fans have the chance to hear the songs that paved the way for such a classic rock 'n' roll record.
The '59 Sound Sessions gives a glimpse into how the band crafted the songs that producer Ted Hutt honed on the band's second album. It's clear from the demos of songs like the stylish "Miles Davis and the Cool" and the raucous "Great Expectations" that he had a great base to work with.
As evidenced by the superb "'59 Sound" The Gaslight Anthem already had boundless energy, terrific songwriting chops and an unbelievably talented and tight band. Sure, the parent album had a refined sheen that these demos hint at but as the blue-collar rock of "Patient Ferris Wheel" shows, it's easy to see why Bruce Springsteen took the band under his wing.
So the demos will hold a certain appeal for fans interested in the anatomy of the classic record, but what will really hold their interest are previously unreleased tracks like the country tinged "Our Father's Sons", the spellbinding cover of "God's Gonna Cut You Down" (made famous by Johnny Cash) and the brilliant "Placeholder".
The latter is a brilliant hook-laden track that somehow didn't make it onto The '59 Sound in full save for the middle eight which eventually morphed to become the chorus of the classic "Old White Lincoln".
The Gaslight Anthem tour this summer unfortunately won't lead to a permanent reunion or a new record, but The '59 Sound Sessions at least does a stellar job of breathing new life into a record that thrust the band to the success and acclaim that was, on this evidence, richly deserved.
---