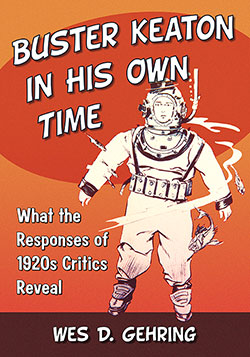 Buster Keaton In His Own Time: What the Responses Of 1920's Critics Reveal
by Wes D. Gehring
McFarland Publishing
If anyone knows film, its Wes Gehring. With over three dozen titles under his belt, he's produced a steady stream of film analysis books covering eras, stars, genres, and directors. If anyone has seen everything on IMDB, its this guy. Sitting on my desk is his latest effort; Buster Keaton In His Own Time peers deeply into the career and reception of The Great Stone Face (as Keaton was known in the day.) Along with Charlie Chaplin, Harold Lloyd and Harry Langdon, these guys defined comedy in the silent era. While today many of their works feel trite or obvious, they all broke ground as the world came to cherish film.
Keaton came from a vaudeville family and spent his youth tossed about on stage by mom and dad in their physical comedy act. He learned to fall without hurting himself and wore a neutral, stony face on stage that improved his laughs. Keaton did a stack of shorts and then went on to an even dozen features. I've seen one (The General) and it was still a fresh physical comedy a hundred years after it's premier. But Gehring goes deeper. In this volume he focuses on the contemporary reviews of Keaton and his competition and what their most immediate impact was. The amount of reading and research is breathtaking; I'm not sure all these old newspapers have been digitized, so its back to the stacks and microfilms to read what The New York Herald said the morning after his films hit the screen.
Film is a persistent media, and while we today are influenced by CGI and post-Hayes Code mores and relentless marketing, the same things sold film back then sat today: Word of mouth and critical praise. Here we see these forces in depth: quotes and reviews are parsed and dissected source by source. Film structures are compared and dissected. Gehring shows how Keaton and his rival's methods of developing new material drew from public opinion, box office and their own evolving artistic sensibility. But mostly, this book has made me go out and look for copies of Our Hospitality, Sherlock Jr. and The General. There's a commitment here for you, the reader. This book is dense and well-reasoned, but not a breezy read. But it will make you see these antiques in a new light, and maybe get you to look back to see how we got to where we are.
---