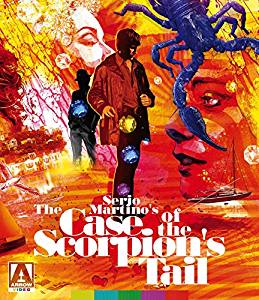 The Case of the Scorpion's Tail
directed by Sergio Martino
starring George Hilton, Anita Strindberg, Ida Galli
Arrow Video
The Case of the Scorpion's Tail is an Italian giallo movie that sits squarely in a transition mode between the traditional giallo films of the 1960s and the mind bending excesses of the psycho-sexual hysterical giallo that dominate the 1970s. The Case of the Scorpion's Tail was produced in the wake of Dario Argento's The Bird with the Crystal Plumage, the 1970 film which reinvented the genre. It became one of the most influential movies of all time. Horror and thriller movie tropes that started with Argento's films are still in evidence to this day.Â
The giallo genre was based on cheap crime novels that were nicknamed giallo because of their yellow paperback covers.   The films prior to The Bird with the Crystal Plumage, were pretty standard tales of kidnapping or murder often involving beautiful.women inheriting money or with some dark but rather banal secret life. Basically a pedestrian genre of unremarkable but marketable fare. That is until Dario Argento flipped the tables on the genre and the film world in general. His film was a seemingly mundane murder mystery but with unreliable narrator thrust into a world where nothing is quite as it seems and everyone on screen and in the audience is questioning their sanity. Â
Sergio Martino's film, The Case of the Scorpion's Tail, centers around Lisa, the young and unfaithful wife of a wealthy, older man who inherits a million dollar life insurance policy when her husband dies in a plane explosion. She collects the money in cash and runs away to Greece. She is soon brutally slashed to death by a figure in black and her money is stolen. As the investigation into her murder unfolds, seemingly everyone close to the case starts turning up dead. Now it is up to the handsome insurance investigator and his plucky reporter girlfriend to discover the identity of the killer. Although not as insane as many that followed, Sergio Martino still throws in many a twist and turn and more than his fair share of red herrings to keep the action lively.
Although the story of an unfaithful heiress and a determined investigator feel a bit stodgy,, Martino's efficient style maximizes the glamorous locales and early Seventies style to good effect and when the time comes isn't afraid to throw around plenty of red paint gore and gravity defying breasts. In addition to the requisite androgynous killer in black, sudden outbursts of graphic violence as well as the ubiquitous product placement for J&B Scotch. A scene that was absolutely lifted from Argento's Bird with the Crystal Plumage but has been copied not just in this film but countless giallo and horror films around the world, most famously in Stanley Kubrick's The Shining, is a scene where a woman cringes terrified behind a door while the killer hacks through the door.
Although far from the genre's most memorable or creative entries, The Case of the Scorpion's Tail is a solid work sure to delight fans who haven't seen it before. It boasts a script from Ernesto Gastaldi who is one of the giants of screenwriting in Italian genre film with titles like Vampire and the Ballerina, All the Colors or the Dark, and Torso. He's also done sword and sandal peplum, spaghetti westerns, and even Airport 79: The Concorde. The film also features a strong case of familiar faces to Italian movie fans including George Hilton, Anita Strindberg, and Ida Galli.
The Arrow Video Blu-Ray features a brand new 2k restoration with English and Italian language versions of the movie, a commentary track with screenwriter Ernesto Gastaldi (subtitled into English) and a number of other featurettes and interviews the highlights of which is a discussion of Sergio Martino's giallo films by author Mikel J. Koven.
---