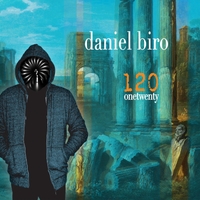 Daniel Biro
120 Onetwenty
Sargasso
London-based composer and sonic architect Daniel Biro has been in awe of '70s-era electronic music since his late brother Nico introduced him to such progressive sounds. Biro spent six years crafting this album to celebrate his sibling's life and affection for pioneering artists such as Kraftwerk, Tangerine Dream, and Herbie Hancock. Eschewing the short attention spans of casual listeners, Biro aims for ears that want to be challenged, echoing the mind-blowing aesthetics of his idols.
Nevertheless, while Biro's compositions are very sophisticated, they are heartwarming and accessible, seamlessly appealing to listeners from all walks of life. His sound could be described as a combination of jazz fusion, ambient, and prog. One of the most intriguing aspects about this release is the way Biro can seamlessly switch between deeply articulate melodies and memorable segments, while also filling the space with beautiful melodic drones, textures and other sounds that really help him build thick atmospheres.
In addition to the beautiful performances and unique instrumentals, Biro is also carefully attentive when it comes to the sheer quality of the production.
---