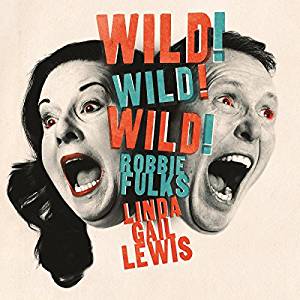 Robbie Fulks + Linda Gail Lewis
Wild! Wild! Wild!
Bloodshot Records
Damn, this is some hillbilly heaven right here! The union of Chicago's country tunesmith Robbie Fulks with the Louisiana-born country singer and pianist Linda Gail Lewis is a winning throwback to the days when Wanda Jackson and Lewis' brother, Jerry Lee Lewis regularly hit the charts. Wild! Wild! Wild! boasts some of Fulks' best songwriting in ages – give "I Just Lived A Country Song" a spin for proof. Fulks, who wrote most of the record as well as producing and playing guitar has assembled a top-notch band, including NRBQ's Scott Ligon on guitar, Flat Five and NRBQ bassist Casey McDonough and on a few cuts, the master of the Telecaster Redd Volkaert.
This is rockin' country the way it should be, from the wry "That's Why They Call It Temptation" to the heartbreak of Don Gibson's "Who Cares", where Linda's voice shines (along with the great Kelly Hogan on backing vocals). "Till Death", an Fulks original along the lines of his earlier work such as "She Took A lot of Pills (And She Died)", where Linda smacks down an errant lover with her definition of "till death do us part" – which is apparently right now. Classic stuff.
After a stomp thru the Bill Lloyd/Al Anderson song "It Came From The South" the record ends with a somber "Hardluck, Louisiana", which recounts Lewis' background to the sad fiddle of Hank Singer and Linda's beautifully understated piano. This is traditional country done right, and it's such a joy to hear. Wild, indeed!
---