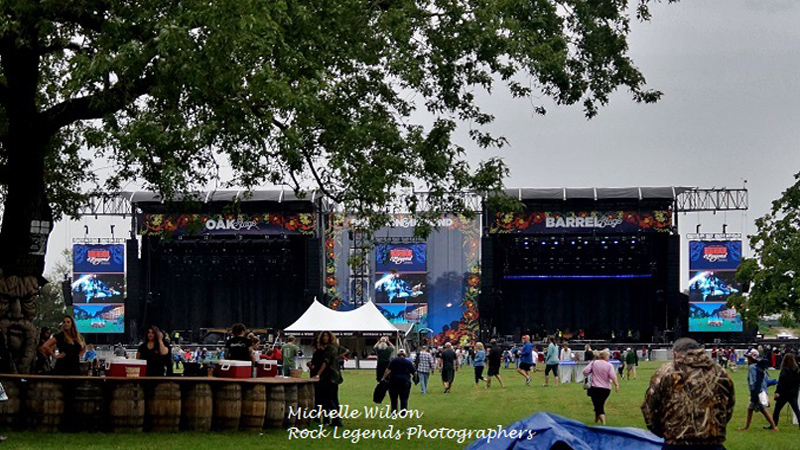 2018 Bourbon & Beyond Festival
with
Louisville, Kentucky • September 22, 2018
by Michelle Wilson
When Danny Wimmer Presents announced the lineup for the Second Annual Bourbon & Beyond Festival at Champions Park in Louisville, Kentucky, I took one quick look at the eclectic group of A-listers and up-and-comers on tap and knew that this would be THE festival of the year, one not to be missed. Along with the main stage entertainment, there also would be a smaller Bluegrass Stage as well as master chef presentations and bourbon workshops/tastings for every discerning palate. For months I looked again and again at that lineup, drooling over the fabulous prospect of not only attending this two-day event, but covering it as a writer/photographer as well. When I got approved, I felt as if I had won the lottery. The weekend couldn't arrive soon enough, but unfortunately Mother Nature had her own plans. NO ONE could have imagined that the unwitting "stars" of the festival would be RAIN and MUD, forcing the cancellation of Day 2. Gone was my excitement over seeing the 12 scheduled bands including The Last Bandoleros, The Magpie Salute (one of my absolute favorites), Del McCoury Band, The Record Company (another fav), Don Felder, Benjamin Booker, Blackberry Smoke, Kaleo (a true, huge disappointment for me – this band is IT! Seriously.), Gov't Mule, Counting Crows, Robert Plant & The Sensational Space Shifters (sigh), and STING (literally, my all-time favorite, EVER – my only consolation was that I had covered his co-headlining show with Shaggy in Florida the week prior). I mean, in your wildest dreams, could you ever conjure a lineup such as this one, only to have it wash away with the rain and mud? Major props must be given to everyone involved "behind the scenes" as they made every effort to keep things flowing. This was a top-notch, professionally run event that met with a patch of very bad weather luck. Well, at least there was Day 1 and despite the major weather issues, the music was phenomenal.
The four-piece, Austin-based indie/alternative rock band Swimming With Bears kicked off the first (and only) day of the festival with thirty minutes of fun, high-energy originals including their popular hit, "French Girls." Comprised of singer/bassist Joe Perry, drummer Ryan Hannasch and guitarists Alec Conte and Jon Kerr, they were the perfect opener to get the crowd pumped for all the acts to come. Check out Rock Legends Photographers' interview with the band following their great set.
https://www.youtube.com/watch?v=wbadoFBuIRE&feature=youtu.be
With perfect precision the side-by-side stages were ready to go for the next act, which is the way a festival should operate. Larkin Poe, the up-and-coming multi-instrumentalist sister act sensation out of Atlanta, blew away the Louisville crowd and were a true highlight of the day. Rebecca (lead vocals/guitar) and Megan Lovell (vocals/lap steel) are about as badass as they come, belting out killer harmonies and giving the most seasoned guitarist a run for the money. These two can sing a beautiful ballad, a blues number or a hardcore rocker and nail it every time. Highlights included covers of "Preachin' Blues" (Son House) and "Black Betty" (Lead Belly), both from their last album, Peach, and "Blue Ridge Mountains," an original from their forthcoming record, Venom and Faith. Backed by touring bassist Brent "Tarka" Layman and drummer Kevin McGowan, their thirty-minute set was over WAY too fast and left the crowd (and me) wanting MUCH more.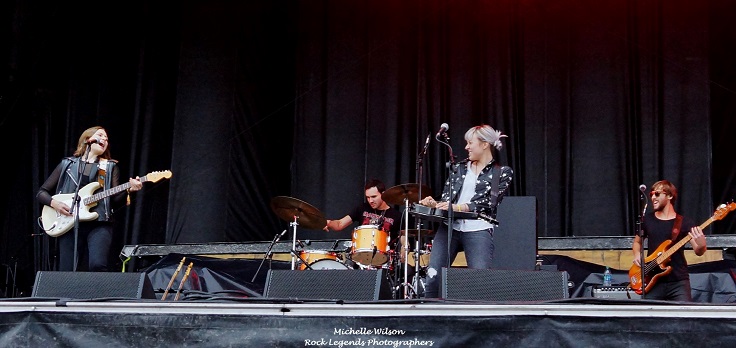 Mindi Abair and The Boneshakers rocked the park with their thirty-minute set of jazz-laced blues/rock. Abair, mainly a saxophonist/singer but also a multi-instrumentalist, is as talented as they come and has worked with countless A-listers in the music biz in many different capacities. She and guitarist/vocalist Randy Jacobs of The Boneshakers formed their collaborative effort in 2015, and the resulting music is pure magic. A great champion for female empowerment, Abair co-wrote "Pretty Good For A Girl" with Jacobs and used it as the launching pad to create PrettyGoodForAGirl.net, a website devoted to the celebration of exceptional women. It was a treat to hear the band perform this one live. Abair exudes joy and passion while she skillfully performs, and you can't help but smile as you are completely taken in by her charm. The call and response between Abair's sax and Jacobs' guitar was riveting. I for one cannot wait to see them again.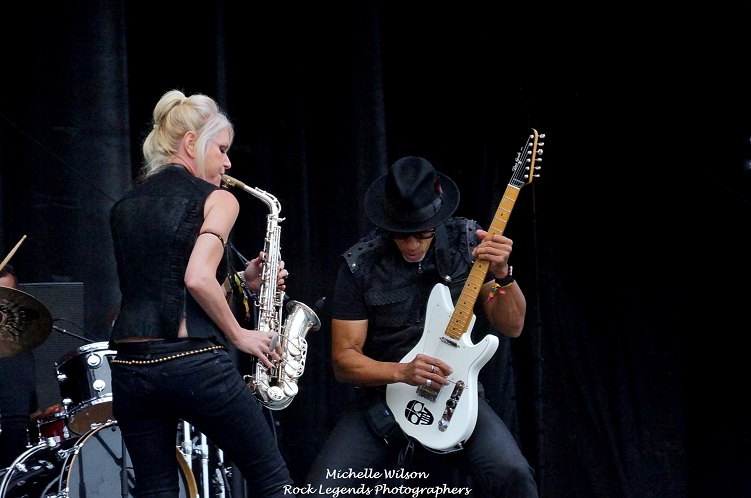 While the Portland-based, folksy sister trio, Joseph (Allison and Meegan Closner and Natalie Closner Schepman), offered beautiful, stirring harmonies backed by only a guitar, their set may have been a bit sleepy for a festival main stage, particularly after following the fast-paced, edgy sets of Larkin Poe and Mindi Abair and The Boneshakers. That is in no way a criticism of the band – I thought they were fabulous – but their dreamy, slower-paced style may have been better served on a smaller stage.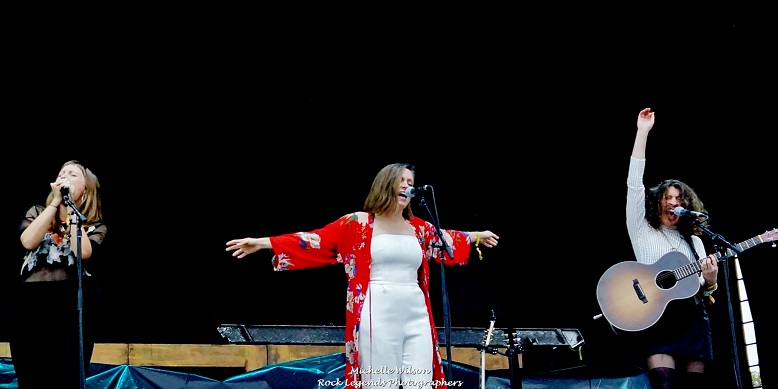 Perennial favs JJ Grey & Mofro fired up the rain-soaked fans with choice cuts from their catalog. Grey has always known how to work the crowd, and there was no way that the rain was going to put a damper on people dancing to the band's funkadelic grooves on songs such as "Ho Cake" and "99 Shades Of Crazy." Slowing it down with a moving rendition of "The Sun Is Shining Down," the droves of drenched concertgoers slowly swayed and sang along with the band classic. JJ Grey never disappoints, and this set was another real highlight of the day.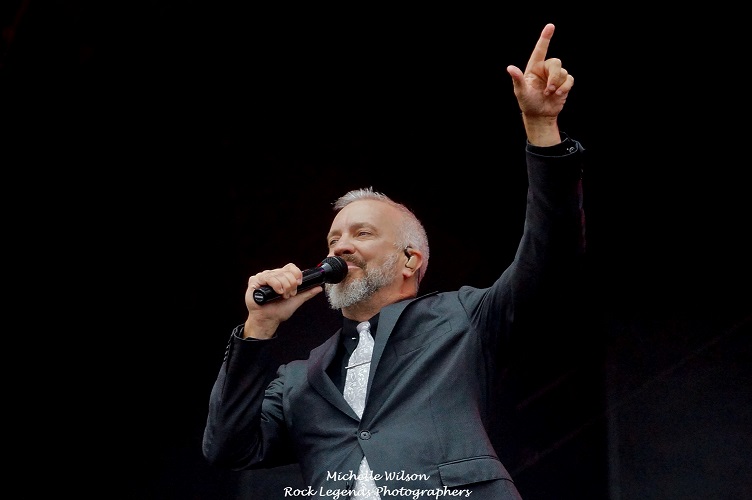 I can't think of a better one-two punch than Keb' Mo' following JJ Grey & Mofro, even in the rain. Mr. Kevin Moore is an artist who brings joy wherever he plays, and he tops my list of personal favorites. With his unique blending of contemporary roots rock and blues, he tells a story through his music as no one else can. Highlights from his one-hour set (backed by a full band) included "More Than One Way Home," "Government Cheese," "Shave Yo' Legs" and "Rita." If you aren't yet familiar with Keb' Mo', do yourself a favor and check out his music.
[[Photo 6 Keb' Mo']]
Brian Setzer did not allow photography, so we took the opportunity to slosh through the mud and rain in search of dinner. There were culinary choices for every palette spread throughout the grounds, along with craft beer, wine and bourbon vendors galore. Tent-covered bar areas with multiple screens of the stage were able to accommodate hundreds of people as they sheltered from the inclement weather while still enjoying the music.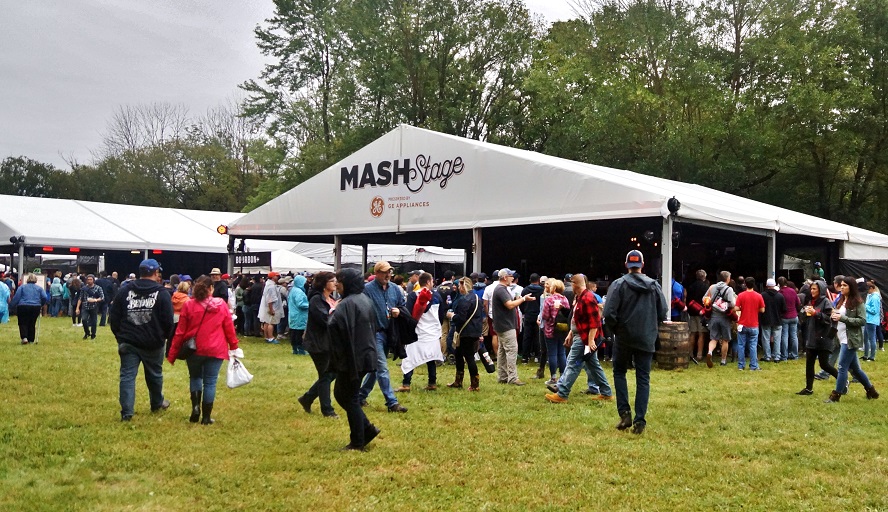 Sheryl Crow's one-hour set was just glorious, and I don't think there was a person there who didn't love it. Opting for high-top sneakers, she ran and slid across the slippery stage as contagious joy rippled through the crowd. I worried that she would slip and fall (as Lenny Kravitz did later during his set), but the veteran rocker handled it like a seasoned pro. Subtly getting in her social and political commentary between songs, she offered up many of her hits as everyone sang along, including "If It Makes You Happy," "Every Day Is A Winding Road," "All I Wanna Do," "My Favorite Mistake," "Soak Up The Sun," and "The Na Na Song/I've Got A Feeling." Crow played guitar, keyboard and harmonica at various points during the set, and she never sounded better. I had never seen her live, and I was truly impressed.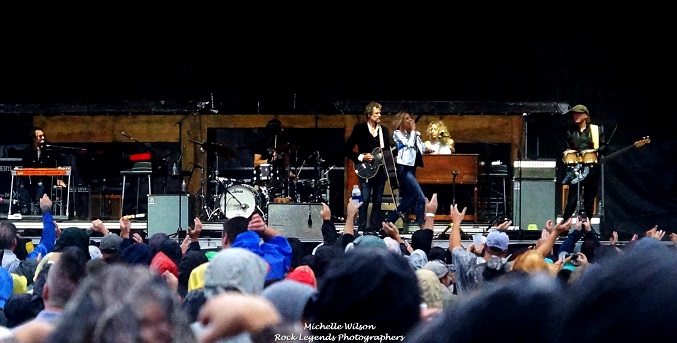 With only a small table holding a "brain," the stage was set for David Byrne and his grand entrance. Whether or not you are a Talking Heads/David Byrne fan, you cannot deny Byrne's inherent musical genius and all-around appeal. Who doesn't know songs such as "Burning Down The House," "This Must Be The Place" and "Once In A Lifetime?" The entire musical ensemble was comprised of barefoot men and women carrying their instruments and dressed alike in simple gray suits. They performed completely mobile in a tightly choreographed format. It was quite a spectacular performance. I looked around during the set and to my profound amazement, I saw twenty-somethings singing along to these decades-old Talking Heads songs. Byrne is passionate about encouraging people to get out and vote, and he used this forum to continue that effort. Along with his older material and a few covers, Byrne offered several cuts off his latest album, American Utopia, and his sixty-minute quirky set was nothing short of brilliant.
Realizing the literal inherent danger of the flooded clay-based grounds, we chose to leave the park just as Lenny Kravitz was taking the stage (also a no-photography artist for this event). It took us 45 minutes to trudge from point A (main stage area) to point B (lockers) as we gingerly navigated our way and tried to avoid losing our footing in the muddy rivers. When we finally cleared out our locker and left the venue, we knew that we had made the extremely wise decision to do so. It took people hours and hours to get out after John Mayer's headlining set, and while we were disappointed to miss it, we were relieved to be safely out of the fray. Many people went down in the mud and had vehicles get stuck, but there were tow trucks ready to help those in need. By early the next morning, the city of Louisville made the prudent decision to call off Day 2. Everyone truly came together to help those in need. Once again, I have to commend everyone involved behind the scenes for helping this dire situation flow as smoothly as possible under the circumstances. Will people be deterred from attending next year's event? Heck no! I'm already excited about the bands and I can't wait to see the lineup and return to Louisville again.
Check out the full gallery of photos from Rock Legends Photographers with crowd shots and individual links to all the bands.
https://rocklegendsphotographers.smugmug.com/BAND-PROMOS-AND-MEET-AND/BOURBON-BEYOND-Louisville-KY-9-22-18/ ◼
---