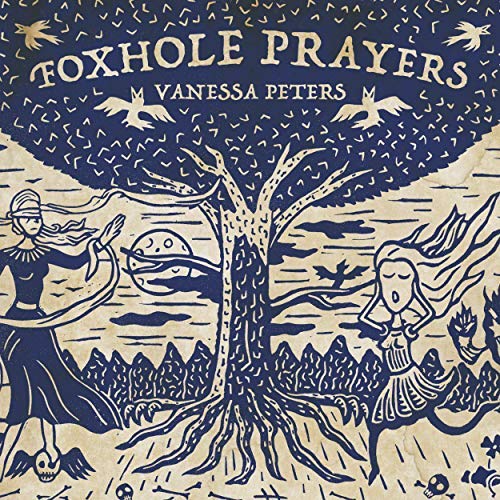 Vanessa Peters
Foxhole Prayers
Idol Records
Truth be told, if I was forced to spin the "Cupid Shuffle," the "Wobble" or anything else from Maroon 5, I was gonna put a drill bit straight through my skull. As a result, I went out on a limb. There still were 15 minutes remaining 'til "last call" when I reached for the intriguing new promo release I'd just received. I took a deep breath and popped it into the CD player of my DJ sound system. This better be good. In short order, the guy who ran sound for the band that evening caught my attention and offered an enthusiastic thumbs-up. In a very rare moment, the nightclub manager made a beeline to the DJ booth and complimented me on the music and inquired about the artist. Hmm. Note to self – dive deep into Vanessa Peters' record, PRONTO.
Simply put, Peters' latest release is an engaging treat from start to finish. Produced by Rip Rowan (Old 97s, Rhett Miller) and John Dufilho (The Apples in Stereo, MOTORCADE), the 10-track collection has been touted as boasting "big songs" – all of which are written by Peters.
Described best (by me) as a "cozy coffeehouse feel-good," Foxhole Prayers drips with magical, classic-style singer / songwriter allure.
Kicking off strong with the uniquely hypnotic, "Get Started," the record zings with honest purity and delivers an array of other noteworthy highlights. Laced with ambient electronic effects, "Before it Falls Apart" offers Peters' transparent "Everyman" perspectives of facing life's struggles. In the delicate Sara Groves-flavored standout, "Fight," the native Texan bares her soul bravely – revealing deeply personal frustrations and insecurities. Arguably the record's most compelling moment, the title track is an epic – a powerful cry that smolders with hope. A masterful storyteller and supremely gifted lyricist, Peters' words sparkle like diamonds in the lines of "Carnival Barker." While the accompanying video suggests that Peters is pointing to the past, it can easily be perceived as a clever commentary on current events.
"The best songs are the universal ones that somehow tell a specific story, yet manage to mean many things to different listeners," Peters commented recently. "Those are the songs I'm searching for, the stories I'm trying to tell," she added. Well, to that point – mission accomplished!
---