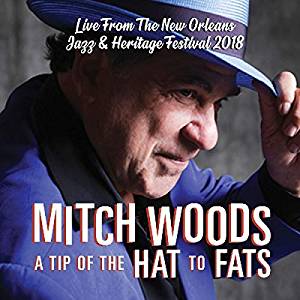 Mitch Woods
A Tip of the Hat to Fats: Live From the New Orleans Jazz & Heritage Festival 2018
Blind Pig Records / the Orchard
This year marks the 50th anniversary of the New Orleans Jazz & Heritage Festival. I'm sure there will be a lot of celebrating going on. There is a lot to celebrate every year. Last year, the 2018 festival was dedicated to the memory of Fats Domino, one of the cities iconic musicians and mentor to San Francisco-based piano man, Mitch Woods. Woods has been under the spell of New Orleans piano professors since his first gig in the city sharing a bill with the legendary James Booker 40 years ago.
Tip of the Hat to Fats is Woods set from the Blues Tent at Jazz Fest. A recording like this is about as close to being there as you can get. We get all the stage banter and audience interaction. You can almost smell the gumbo cooking. Mitch put together an all Star edition of his Rocket 88's band, including alumni from Dr. John and Fats bands. So the set really rocks.
Mitch kicks off the set with one of his tunes, "Solid Gold Cadillac", a jump blues number with a lot of swing. A few songs later, he's paying tribute to Professor Longhair with his tune "Mojo Mambo." It's a Woods composition that has the snaky keyboard trills and Latin syncopation that marked Fess' best work. Mitch gives a heartfelt dedication to Mr. Domino before launching into a mess of Fats songs. Woods makes the Big Man proud with renditions of "Blue Monday," "Jambalaya" and "Walking To New Orleans." Of course, when you call your band the Rocket 88's, you just have pound out a killer version of the tune they got the name from.
I like that at the end of the set, Wood sound genuinely surprised when he says to the stage manager, "What? We have so many more songs! We only have time for one more?" before launching into the classic boogie-woogie burner, "House of Blue Lights." That's the thing about Jazz Fest, there is so much wonderful music and it seems like there is never enough time to see and hear everything you want.
---