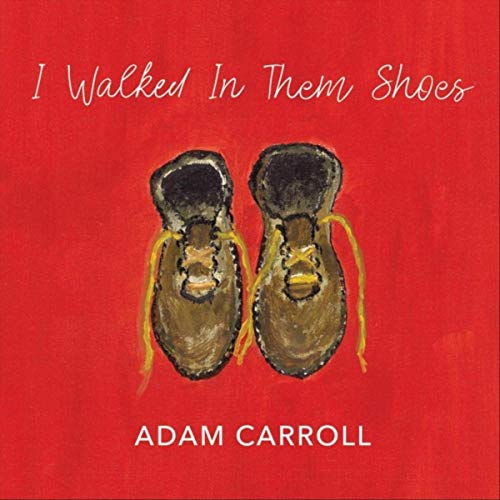 Adam Carroll
I Walked In Them Shoes
Down Hole Records
The greatest painters in some cases are those that create a moment with a few deft strokes. No need to slather the canvas with gobs of paint, when a silhouette will do. Adam Carroll is just such an artist, but he uses a six-string guitar and a minimum of well-chosen words on his ninth release, I Walked In Them Shoes. Carroll has long been a cult favorite ala Townes Van Zandt or Blaze Foley, and his latest will hopefully endear him to the world at large.
Recorded in one day back in December of 2018, Carroll, with producer, guitarist and pedal steel luminary Lloyd Maines have summoned near perfection on the albums ten cuts. Carroll has a low-key manner, writing about common events that occur to real people such as on "Iris and the Lonesome Stranger", about a "used to be" woman, or his tribute to Kent Finlay, the late owner of the Texas listening room the Cheatham Street Warehouse on "Night At The Show". He paints quiet guitar voicings, and every now and then Maines adds a touch of pedal steel, and for that moment, all is right with the world. Take "Cordelia" – "She'll light up hell with the sound of her laughter". By the time Adam is finished, you'd swear you know the girl in question – or wish you had made her acquaintance.
If you listen to a lot of songwriters, you can find yourself benumbed by it all. It takes a rare talent to emerge from the pack with heart, passion and above all, subtlety. Adam Carroll has demonstrated that for over twenty years, garnering critical acclaim and the envy of his fellow songwriters. He's a rare, rare jewel. Treat yourself and give I Walked In Them Shoes a few plays. You'll thank me.
---