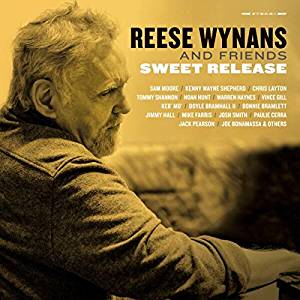 Reese Wynans and Friends
Sweet Release
J&R Adventures
Every once in a while a record falls into your lap that literally blows your mind. Reese Wynans and Friends' Sweet Release is one of them. Wynans has been a driving force on the music scene since the 1960s, but he has never recorded a solo album until now. He was part of the late '60s Jacksonville scene, jamming with Duane Allman, Dickey Betts and Berry Oakley as part of Second Coming, a precursor to the birth of The Allman Brothers Band. Once Gregg Allman joined his brother's newly formed band, there was no room for a second keyboard player, so Allman himself helped Wynans land a job with Boz Scaggs. Eventually, Wynans would end up as part of Stevie Ray Vaughan's Double Trouble along with Chris Layton and Tommy Shannon. After the Texas bluesman's untimely death, Wynans relocated to Nashville (where this album was recorded) and has worked with a vast array of artists from country to blues. Currently the touring keyboardist for Joe Bonamassa (who also produced this record), Wynans got a little help from his musician friends to create a veritable 13-song masterpiece. Not only did Bonamassa produce the record, but he also appears on it along with past and present members of his touring band, a true testament to the respect they all have for Wynans as a musician.
Paying homage to SRV, Wynans opens with the one-two punch of "Crossfire" and "Say What!" Both feature Layton, Shannon and Kenny Wayne Shepherd, plus "Crossfire" includes the horns of Darrell Leonard and Joe Sublett (The Texicali Horns), who played on the original. Shepherd's searing guitar solo would do SRV proud while Jack Pearson (who plays on seven of the tracks) holds down the rhythm. As if this isn't enough, Sam Moore of Sam and Dave absolutely kills the vocal. The instrumental "Say What!" really allows Wynans to shine on keys and offers more tasty solos from Shepherd. It's an extremely inspired way to kick off a basically perfect record.
"That Driving Beat" offers dual lead vocals from Mike Farris and Paulie Cerra, who also plays saxophone. I guarantee that this song will have you up and dancing, no matter where you are. It simply sizzles.
A real standout among all of these gems is "You're Killing My Love," written by Mike Bloomfield and Nick Gravenites but famously recorded by Otis Rush. Doyle Bramhall II on guitar and lead vocals is the icing on the cake. His father, Doyle Bramhall, was Vaughan's writing collaborator, so it is only fitting that the younger Bramhall would be an integral part of this record.
The title cut, "Sweet Release," a Boz Scaggs/Barry Beckett composition, is a shining example of what happens when a group of amazing musicians collaborate. Wynans says that of all Scaggs' songs, "it was the most memorable to me. I thought it was a great song, something about it spoke to me." Well, I'm glad it did because it is just brilliant and often overshadowed by its album counterparts, "Loan Me A Dime" (featuring the iconic guitar work of Duane Allman and written by Fenton Robinson) and "Waiting For A Train" (Jimmie Rodgers). "Sweet Release" features a slew of lead vocalists including Cerra, Keb' Mo', Farris, Jimmy Hall, Bonnie Bramlett, Vince Gill and Warren Haynes. Equally as important are the backing vocals of Mahalia Barnes, Juanita Tippins and Jade MacRae, all of whom have backed Bonamassa live and sing like angels.
"This one is a real house rocker. I loved the Arc Angels." Wynans is not alone. So did I. "Shape I'm In" (Marc Benno/Doyle Bramall/ Doyle Bramhall II) has been a staple in Kenny Wayne Shepherd's set list for years, so it's only fitting that he played lead guitar and shared lead vocals with KWS Band lead vocalist, Noah Hunt. Layton and Shannon also have toured and recorded with Shepherd, so the whole thing came together smashingly.
Keeping with the upbeat vibe, Hall and Bramlett tackle lead vocals on "Hard To Be" (Vaughan/Bramhall) with Josh Smith, Bonamassa and Pearson on guitar and great horns from Cerra and Lee Thornburg. Wynans' keeps keyboard pace with the horns and the whole thing just gives you happy feet.
What can really be said about "Riviera Paradise" except that this version is every bit as good as but vastly different than the original masterpiece. There is a richer, more doleful essence to this interpretation, particularly with The Bova Orchestra adding the depth of strings and Wynans' keys more pronounced. Start with Wynans, Layton and Shannon, the three surviving members of Double Trouble who played on the original, throw in Shepherd/Bonamassa solos and Pearson's licks holding it all down and it WILL move you to tears. It's one of SRV's shining jewels and Wynans himself confesses that "this iconic ballad has long been a favorite of mine" but that it was "scary to try it so different." Well, it paid off because it resonates as pure aural delight.
I love that Wynans chose Les Dudek's "Take The Time" for this record, stating that it reminded him of those early Jacksonville days jamming with various members of the future Allman Brothers Band. Haynes was the obvious choice for lead guitar and vocals, and Bonamassa even plays rhythm on this one. There is some very tasty slide from Haynes complemented by Wynans' keys.
With Bonamassa's lead guitar and vocals, Mike Henderson's harp and Wynans on piano, Tampa Red's "So Much Trouble" becomes an amazing blues number, followed by another Tampa Red cover, "I've Got A Right To Be Blue." This full-on delta blues number features only Wynans on piano and Keb' Mo', the latter being one of today's finest resonator players. Wynans states that Mr. Kevin Moore "played and sang this tune with a feeling." I couldn't agree more.
Throwing some NOLA funk into the mix, The Meters' groovy, infectious instrumental "Soul Island" is the perfect penultimate song.
Saving the poignant, grand piano instrumental ballad for last, Wynans creates something quite elegant with just a hint of jazz on the Lennon/McCartney iconic creation, "Blackbird." It is the absolute perfect album closer and Wynans sums it up best: "This is a perfect song expressing freedom and sadness."
Be sure to read the liner notes that accompany this album. They are as much a part of the record as the music itself. When I first listened to this, my immediate thought was "Grammys." I still stand by that conviction. Reese Wynans, you should be very, very proud of your first solo record. Blues fans, if you don't buy this record, you are missing out on an extraordinary creation.
---