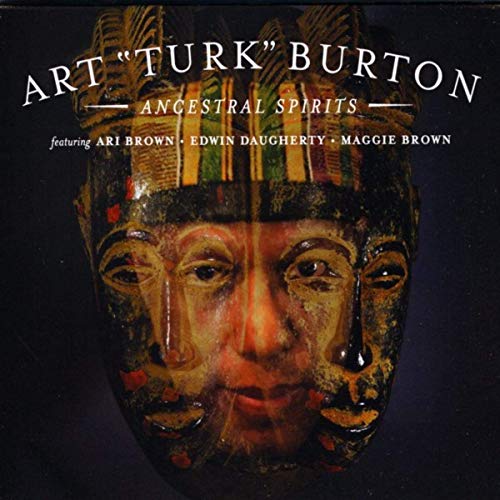 Art "Turk" Burton
Ancestral Spirits
T N' T Music
The punk rock movement gets a lot of credit for their DIY attitude. It's deserved. The punks had to carve out a niche in a musical ecosystem that wasn't ready for their brash style. "Do It Yourself" didn't begin with punks of course. A great example of creative musicians coming together to make opportunities for themselves was (and still is) the Association for the Advancement of Creative Musicians – AACM. Back in 1965, Muhal Richard Abrams and other forward thinking players created a non-profit organization for "nurturing, performing and recording serious, original music." The AACM launched innovators such as the Art Ensemble of Chicago, Fred Anderson, George Lewis and many others. Percussionist Art "Turk" Burton has been a long time member of the AACM and has played with many of his higher profile peers over the years.
Ancestral Spirits finds Burton looking back on tunes that were standards for great percussionists who came before him. Being a conga and bongo player, Burton pays particular attention to the masters of Latin Jazz. His song selection pays tribute to masters including Mongo Santamaria, Willie Bobo, Tito Puente among others. Fellow AACM veterans, saxophonists Ari Brown and Edwin Daugherty help Burton bring these tunes to life. Selections like "Summertime" and "All Blues" are time tested standards that Burton infuses with Latin rhythms and a bit of swing, then gives his companions room to improvise around the themes.
Maggie Brown has a commanding voice and sings on "Freedom Jazz Dance" and "Night In Tunisia." I've never really liked when vocalists graft words to jazz standards. These are very nice tunes, if you like that sort of song.
I like Burton's two original songs, "Ancestral Spirits" and "Soul Drummers". The title cut is dedicated to Muhal Richard Abrams and Kelan Phil Cohran who were two of the original five members of the AACM. The song is built around a percussive groove that gives the horn players room to stretch out and get just a little bit skronky. "Soul Drummers" features a spoken word poem by Patrice "Peresina" Burton laying down a bit of knowledge, naming the drummers who inspired this record. Her history lessons are layered over a bass riff and various forms of percussion.
---