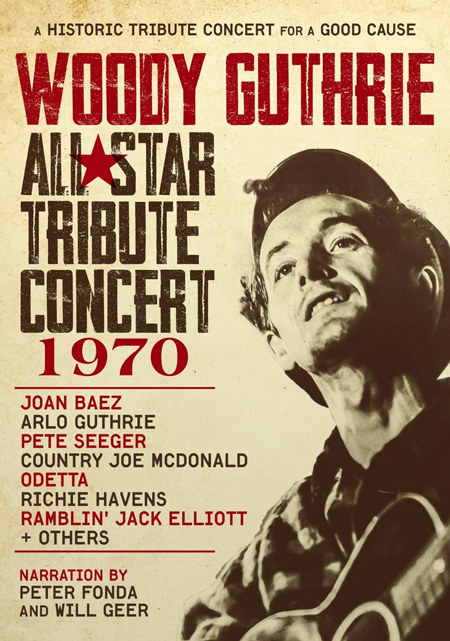 Woody Guthrie All Star Tribute Concert 1970
directed by Jim Brown
starring Arlo Guthrie, Joan Baez, and Pete Seegers
MVDVisual
People have been singing folk music since, well since there folks to sing. It's just that not many people paid any attention to it, and for centuries it either disappeared, or morphed into a new tune as needs and tastes dictated. But in the early 20th century, ethnographers set out to record this music, and one of those was the famous Woody Guthrie. Born into the dust bowl, his entire life was spent traveling and talking to miners and migrant workers and cow hands and learning tier songs and melodies.
After his death in 1970 Guthrie's friends and co-musicians got together and celebrated his life and work and left us this amazing disk. It's nearly cinema quality, both visually and sonically, and it shows us many of the movers and shakers of late 20th century rock and roll. It's shot at the old Hollywood Bowl, and the songs are pure American folk music, unencumbered by over-production and fancy audio tricks. Woody's son Arlo gives us a bracing "Oklahoma Hills" to open, and then Country Joe McDonald follows it with the snappy "Pretty Boy Floyd". Joan Baez teams up with Pete Seeger for "So Long, it's been good to know you". We get all sorts of combinations of the artists, it's like they join in when they can help and fade away when they can't.
The concert wraps up with everyone teaming up for "This Land is Your Land." Along the way we see archival footage of workers and the depression, along with a reading of some of Seeger's writing about the migrants and the dustbowl. Ah! to be an aging hippie; these truly WERE good old days, but no one knew it at that moment.
---