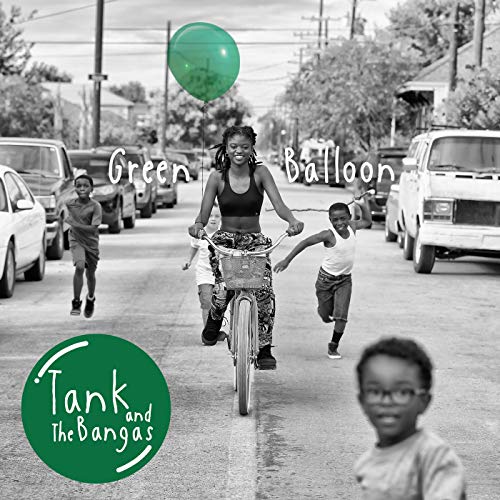 Tank and the Bangas
Green Balloon
Verve
2019 has been hard on the New Orleans music community. We've lost David Bartholomew, Spencer Bohren, Art "Papa Funk" Neville and Dr. John. But the thing about New Orleans is that the musical culture is bigger than any one person. The tradition is there is the muck under the streets. The music is always there. The music is always changing, always mutating always expanding to incorporate new influences and spinning them into some new iteration of the New Orleans gumbo. Tanks and the Bangas are rising from the streets of New Orleans to add their own flavor to the New Orleans roux.
Tarriona "Tanks" Ball is the moving force behind the band. Her background in slam poetry ensures that the wordplay is always top shelf and always compelling. While the band is classified as a rap act, the word play is worlds away from the typical trap sounds (yet Tanks and the Bangas also sing about blunts, money and material things like other rappers). "Spaceships" is a fantasy about having lots and lots of money that sounds like the orphans from the musical Annie escaped the workhouse to hang with street hustlers. "Happy Town" sounds like the shady side of Sesame Street. Although I know many women will relate to the sentiment of "weave out, bra off, chill out." "Nice Things" is a chill out tune that strikes me as a Findom (Financial Dominatrix) anthem. Tanks sings about how "you should buy some nice things for me."
Green Balloon has a love hate relationship with weed. Overall, it's a love affair. "Smoke, Netflix and Chill" is an ode to what the title says. It's a good time to hang out, get high and watch streaming video. While, ultimately, it sounds like Tanks still likes to get their smoke on, there are a pair of tunes, "Too High and I Don't Get High" about the down side of the stoner lifestyle. "Too High" is a spoken word prelude about the paranoia that sometimes comes with getting high. "I Don't Get High" elaborates on that story with a mellow, jazz inflected tune about how not being high all the time let's her be more productive. It's not a preachy anti-drug song. It's just an observation that getting high works until it doesn't.
Musicians may die, but the music never will. Welcome Tanks and the Bangas and the next generation of New Orleans musicians of all genres who carry the music forward.
---