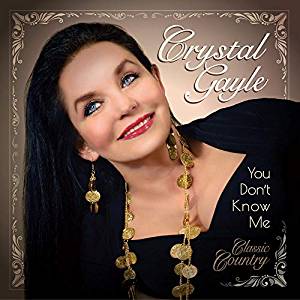 Crystal Gayle
You Don't Know Me
Southpaw Musical Productions
She's an all-American treasure. And this month, one of country music's greatest living legends, Crystal Gayle, returns with You Don't Know Me, her first new studio record in 16 years – a peculiar stretch for a Grammy-winning artist who has racked up a heart-stopping string of 35 Top 10 country singles – including the massive crossover hits, "Don't it Make My Brown Eyes Blue," "Half the Way" and "Talking in Your Sleep."
Gayle's seductive, signature-style vocals drip like honey off a warm homemade buttermilk biscuit throughout this sweet set of 14 timeless standards recorded originally by such country icons as George Jones, Patsy Cline, Buck Owens and Eddy Arnold. "These are songs I grew up singing," Gayle confesses. "They are very much a part of my history."
Produced by Christos Gatzimos and Crystal Gayle, You Don't Know Me kicks off strong with the lead-off single, the Gordon Lightfoot-penned "Ribbon of Darkness." A hit in the 1960s for both Marty Robbins and Connie Smith, "Ribbon" zings with the Tex-Mex-flavored guitar picking of Mike Severs. Driven by Mike Johnson's steel guitar and Billy Contreras' fiddle work, Hank Williams' "You Win Again" is particularly noteworthy, while the 1960 Hank Locklin hit "Please Help Me I'm Falling" makes for a magically delicious treat.
Glossed gloriously from start to finish with Floyd Cramer-inspired piano styling, You Don't Know Me features other shiny highlights including Gayle's faithful recreations of Willie Nelson's "Hello Walls," Patsy Cline's classic "Walking After Midnight" and the Dolly Parton-penned "Put it Off Until Tomorrow" – a chilling first-ever collaborative between Gayle and sisters, Loretta Lynn and Peggy Sue.
In a day when hunky, party-hardy fratboys with backward snap backs and digitized pin-up princesses in tiny belly shirts seemingly rule the roost, You Don't Know Me offers fans of authentic country music a welcomed and much-needed breath of fresh air.
---