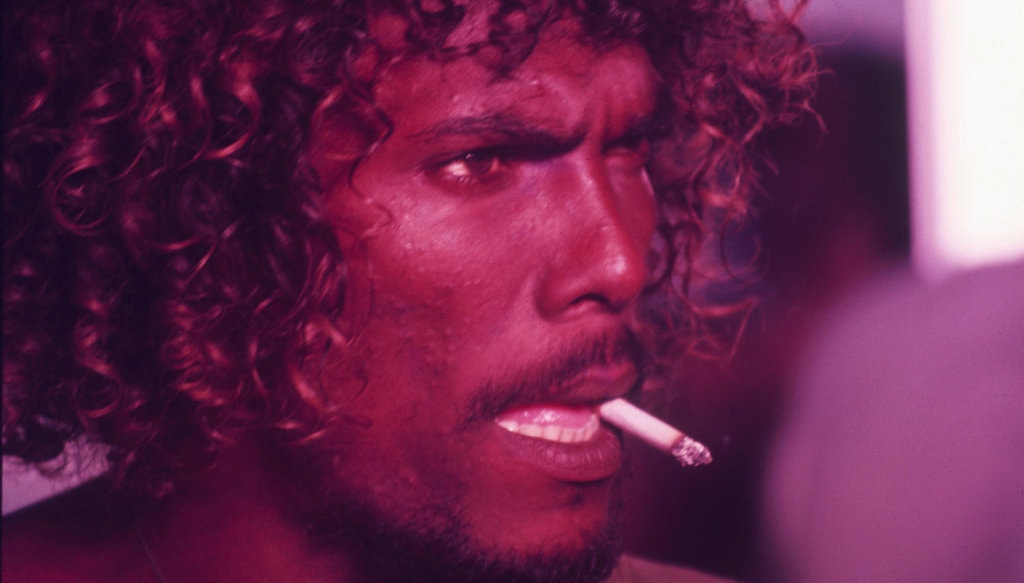 No Place Like Home
directed by Perry Henzell
starring Carl Bradshaw, Susan O'Meara, and P.J. Soles
Shout! Factory
Having spent three decades living in Boston, I always have felt a special attachment to Perry Henzell's groundbreaking debut feature film, The Harder They Come, the movie that shepherded the growth of reggae into a phenomenon in the United States, whilst simultaneously turning the film's lead actor, singer Jimmy Cliff, into a global star. Though Henzell's exciting adaptation of the real life exploits of the notorious Jamaican outlaw, Vincent "Ivanhoe" Martin, was released in 1972 in the States with screenings in New York and Los Angeles that resulted in positive press and a distribution deal with Roger Corman's New World Pictures, Henzell chose to promote the film on his own terms, and in 1973, the director cleverly sent a print to film programmer Larry Jackson of the Orson Welles Theatre in Cambridge, Massachusetts. The theater, which had just opened its doors in 1969, was looking to program daring cinema for its midnight film series, so when Jackson saw Henzell's intense, reggae-fueled crime film, he was floored. Midnight screenings of The Harder They Come began in April of 1973 with a word of mouth campaign that elevated the film to a local phenomenon, which resulted in packed houses at each screening at the theater for the next six years, a trend that would soon spread to other cities around the country, making The Harder They Come a bonafide cult classic and its soundtrack album close to a necessity.
Unfortunately, the Orson Welles Theater, where the film continued to show regularly for years following its initial six year run, burned down in 1986, only a few short months before I moved to the city where I would call home for the next 29 years. I became a reggae disc jockey at a Cambridge radio station for twenty of those years, and I saw firsthand the long term effect that The Harder They Come had on the city. Boston was a cultivator for homegrown reggae bands, and given the city's fertile Jamaican music scene as well as its large West Indian diaspora communities, Boston was also a mandatory stop for touring bands who performed Jamaica's national music. So unsurprisingly, given the success and the pervasive influence left by The Harder They Come in my adopted city, the question that I would often hear many ask and then would ponder myself was: "Would there ever be a second feature from Perry Henzell?"
For years, many of us had read rumors of a follow up film that Henzell had begun to direct, but completion funds were difficult to raise, and thus, the project remained dormant. That is until 2006, when Henzell, then at the age of 70 and in poor health, painstakingly recut his existing footage of his second feature which was also shot in 1970s Jamaica entitled, No Place Like Home. In September of that same year, with a finished cut of his follow-up feature finally ready to be shown, the director accompanied his film along with its two stars, Carl Bradshaw (The Harder They Come, Countryman) and Susan O'Meara to the Toronto International Film Festival for a screening in front of an enthusiastic full-capacity audience where it was met with a positive reception only two months before Henzell sadly succumbed to cancer. For the next thirteen years, No Place Like Home would be next to impossible to view, but thankfully a new restoration of the original 16mm film elements hit theaters in New York City and Los Angeles this past August, and those screenings were even sometimes coupled with a new 4K restoration of the original 16mm negative of The Harder They Come.
With a plot that is somewhat reminiscent of John Boorman's excellent and seldom-seen debut, Catch Us If You Can, No Place Like Home begins with that certain feeling of unease which can only exist whilst under the artificial pall over reality created by advertising execs. Here, a film crew from New York is brought to the beaches of Henzell's Jamaica to film a "naturalistic" shampoo advert for television centered around the forced waterfall and beachside frolicking of an American actress named P.J. (P.J. Soles of Rock 'n' Roll High School and Halloween fame). At first, P.J. is up for the shoot, but after a day of monotonous fabricated naturalism, she is soon faced with the daunting task of repeating that day's efforts once the newly rebranded product is rushed to the island. Dreading having to go through that endeavor once again, P.J. takes off without notice to discover the real essence of Jamaica, but like our protagonists in Boorman's film, she soon faces a military-led raid on the peaceful people who are housing her, and consequently, she flees once again.
As the commercial's sole actress has gone missing, the production becomes halted, which forces the hand one of the shoot's producers, Susan (Susan O'Meara) to ask Carl (Carl Bradshaw), a well-connected Jamaican who is assisting with the filming, to accompany her in retrieving our missing star. At first, as the pair gleefully travel around the island in search of P.J., their joy increases as they speak candidly and begin to understand one another while they take in the scenic beauty of the landscape and the people with whom they encounter, but as they travel further and discover the ugly truth behind P.J.s disappearance, the harsh reality of the co-opting of Jamaica for massive commercial development, along with Carl's and Susan's growing complicit roles in that endeavor, veers the film towards a finale that is now eerily prophetic and in many ways is even more grim than the bullet-ridden ending of our protagonist in The Harder They Come.
Born in Jamaica in 1936, Henzell left his homeland as a teen to attend McGill University in Montreal, and then he subsequently went to Europe where he became a stagehand at the BBC, before eventually returning to Jamaica in the 1950s to direct television commercials. While viewing No Place Like Home, it is abundantly clear that the influence of Henzell's ad work experience combined with his personal feelings about the subversion of his native country plays heavily into the narrative, and although the pacing of No Place Like Home does not possess the same relentless intensity of Henzell's debut feature, it is no less compelling and vivid in displaying the dark reality that lurks behind a media fabricated image.
As Boorman had done in the mid-1960s with Catch Us If You Can in his examination of that era's perversion of "the pop musician identity" for profit, and as Robert Downey had done with Putney Swope just a few years later in showing that even "soul" was for sale, Henzell's final film pokes gaping holes into the 1970s commodity for all things "natural" by presenting its seldom-seen destructive consequences that extend far beyond the marketing of a product. All three of these exceptional films erratically utilize music and slick advertising visual sensibilities to further underscore the inevitable subversion of an authentic element for profit, and although it took No Place Like Home many generations to finally come together and get a proper release, the underlying message of the film is no less relevant than it was when Henzell first began shooting it over forty years ago.
◼
The new restoration of No Place Like Home is available now alongside a restoration of The Harder They Come in a Blu-ray Collector's Edition box set released by Shout! Factory.
http://www.shoutfactory.com/product/the-harder-they-come-collector-s-edition?product\_id=7140
---