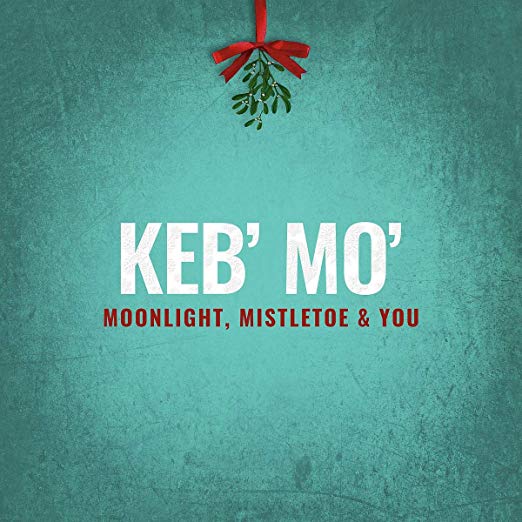 Keb' Mo'
Moonlight, Mistletoe & You
Concord Records
I'm a sucker for Christmas records, and several months ago I mentioned to someone how I wished that Keb' Mo' would record a holiday album. Well, my wish came true and not surprisingly, it's spectacular. Moonlight, Mistletoe & You, Keb' Mo's first yuletide release, is a self-produced, ten-track treat for young and old alike. It is joyous and uplifting, in the true spirit of Christmas. And that is exactly what the Grammy-winning artist was hoping it would be. Seven tracks are Kevin Moore originals co-written with or solely written by others, while three are freshly inspired covers. The songs range in style from R&B to blues to American Songbook. And of course, there is a sprinkling of that sly, witty Keb' Mo' edge we all know and love. This will become a favorite in your holiday rotation. I know it will be in mine.
Who doesn't love the Charles Brown/Gene Redd standard, "Please Come Home For Christmas," a re-imagined holiday favorite that opens the record with an upbeat, contemporary R&B flair and quickly sets a hopeful vibe. Followed by the simply stunning title track, "Moonlight, Mistletoe & You," Keb' and company wrap you in the warmth of the season with beautiful strings accompaniment arranged by Lendell Black and featuring stellar saxophone from Gerald Albright. There's also a lovely sax/piano flourish at the end. This will be an instant favorite.
The first single released from this album is "Better Everyday," an original composition that Keb' Mo' himself describes as "a song that has the holiday spirit but you can play it all year round." And after all, everyone could use a little year-round inspiration. With engaging keys from Phil Madeira and Michael B. Hicks (also one of the backing vocalists) as well as subtle horns, this feel-good tune is certain to be an immediate ear worm.
Switching gears to the ultra-bluesy "Santa Claus, Santa Claus," Keb' adds serious stank with his blistering guitar work. Once again, Madeira's keys add the finishing touch.
Let's face it – we all get overwhelmed during the holiday season, and Keb' sums it up perfectly on "Christmas Is Annoying." From the simple joy of childhood Christmas dreams to the adult reality of it all, this humorous piece will resonate with everyone.
Somewhere Koko Taylor is smiling down on Keb's funky, groovy reinterpretation of her "Merry, Merry Christmas." This version opens with a nod to "O Come, All Ye Faithful" and then segues into a faster tempo than the original. Smooth guitar and tasteful keys culminate in a feisty blues explosion.
Irving Berlin's jazz-infused "I've Got My Love To Keep Me Warm" has been recorded by countless artists, but what has been created on this record is refreshing. Joined by Melissa Manchester on vocals and backed by strings (arrangement once again by Black), keys and horns, this is a veritable jazz highlight.
Bringing back the good ol' blues, "Santa Claus Blues" is a stripped down, in-your-face Christmas juke joint number complemented by David Rodgers on keys. This is sure to be wonderful in the live show setting.
Likely the best gift of all on this record is "When The Children Sing," a touching original co-written with Mac Davis and featuring The Children of NIA House Montessori School (Nashville) and Carter Moore, Keb' and Robbie Brooks Moore's son. Hicks' vocal arrangement is beautiful and the simplicity of acoustic guitar and children's choir will pull at your heartstrings and fill you with Christmas spirit.
In true jazzy, American Songbook/Americana style, "One More Year With You" (co-written with Beth Nielsen Chapman) finishes this remarkable holiday offering with hope, joy and love. Subtle piano, horns and percussion permeate this Christmas love song. The jingle bell fade out at the end is the perfect touch.
If you're like me and you really enjoy Christmas music, then this is a must-have for your collection. It has all the colors and flavors of Christmas, with that quintessential Keb' Mo' spin. Plus, it imparts wisdom for any time of the year. Keb' Mo' will be touring with a full band in support of this record throughout December. Anyone lucky enough to attend one of these shows will walk away feeling the light of the holiday season and quite possibly a renewed faith in the human race itself.
---