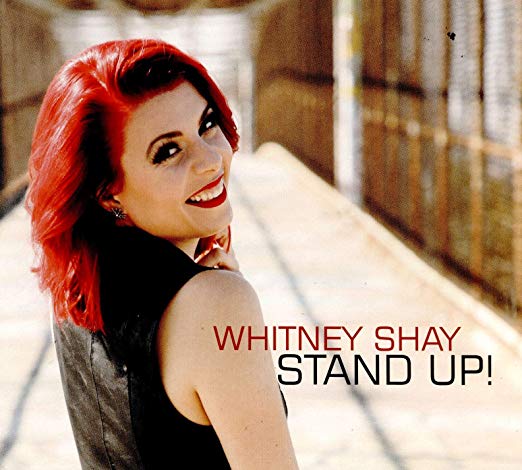 Whitney Shay
Stand Up!
Ruf Records
From the first note of Stand Up!, Whitney Shay's super-charged, funk-infused, R&B freshman release for Ruf Records, I was hooked. I was NOT expecting the powerhouse, mega-range vocal that Shay belts out. The San Diego-based singer/songwriter exhibits great control and effortlessly alternates between bluesy hard rocker and sultry songstress. The entire record packs an intense punch and includes 12 cuts, 10 of which Shay co-wrote with writing partner, Adam J. Eros. Guitarist Laura Chavez (Candye Kane) also plays on all tracks of this stellar Ruf debut and co-wrote one of the songs with Shay and Eros. Produced by Austin-based icon, Mark "Kaz" Kazanoff, Shay is backed by an impressive array of Austin musicians as well including Red Young/keys (Eric Burdon), Chris Maresh/bass (Eric Johnson, Kenny Wayne Shepherd), Brannen Temple/drums (Eric Burdon, Robben Ford, Ruthie Foster), and Tommy Taylor/drums (Eric Johnson), plus special guest appearances on individual selections.
Just from the album title itself (which is also the name of the opening track), Shay makes it clear that she is very much in charge of her own destiny. "Being a strong, independent woman, raised by my single mother and grandmother, many of the songs on this album deal with themes of equality and female empowerment." "Stand Up!" offers crisp horns, fiery keys and a groovy beat backed by Chavez's clean guitar licks and Shay's mighty vocals.
Co-written with Eros and Chavez, "Someone You Never Got To Know" was very personal for Shay. She wrote it about the difficulty of mourning a person who she never really knew, and she was in tears while recording it. The end result was an emotion-packed, one-take keeper.
Chavez's blistering axe work and Derek O'Brien's subtle slide complement each other brilliantly on "Equal Ground" while the horns and keys dazzle on "P.S. It's Not About You," all topped off with Shay's outstanding voice.
Slowing it down and showcasing her wide-ranging yet restrained vocals and featuring a great sax solo, "I Thought We Were Through" is a real standout.
The funkified "Far Apart (Still Close)" kicks off with a David Bowie/"Fame" vibe and features a spicy duet between Shay and Guy Forsyth followed by the upbeat, horn-laded cut, "You Won't Put Out This Flame."
Another album treat is "Boy Sit Down," with the fat sound of The Texas Horns including Al Gomez on trumpet, Forsyth's resonator, and Marcia Ball on piano with a great solo. It has a real New Orleans vibe to it and is a definite highlight.
I am a big fan of Shay's cover of "Tell The Truth," which has been recorded by everyone from Otis Redding to Ike and Tina Turner to Johnny Winter. It is a perfect showcase for Shay's strong R&B vocals, with a slower tempo and some great horn work.
With such a potent voice, it's no wonder that Shay chose to cover "I Never Meant To Love Him," famously recorded by Etta James. She completely slays it and holds a note towards the end that comes from another world.
"Getting In My Way" really allows Young's iconic keys work to shine as Shay belts outs her no-nonsense vocals, as she also does on "Change With The Times," a strong closer.
Whitney Shay's time to shine definitely has arrived, and this album proves that she is a force to be reckoned with. She has just wrapped up touring Europe as part of the Ruf Records Blues Caravan with Jeremiah Johnson and Ryan Perry, two other extraordinary talents. After listening to this killer record, I really look forward to catching her live in the future.
---