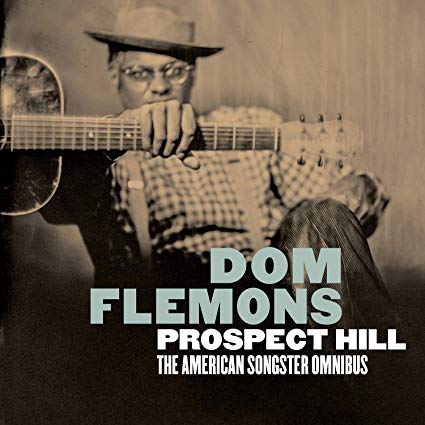 Dom Flemons
Prospect Hill: The American Songster Omnibus
Omnivore Recordings
Dom Flemons was, along with Rhiannon Giddens and Justin Robinson, a founding member of the groundbreaking string band Carolina Chocolate Drops that formed after the trio attended the first Black Banjo Gathering in Boone, North Carolina in 2005. Flemons remained with the group until 2013, when he left to focus on his solo career which started with his first release, Dance Tunes, Ballads and Blues in 2007.
In 2014 Flemons released Prospect Hill, in conjunction with the Music Makers Relief Foundation, and the album cemented Flemon's legacy as an "American songster". He is a musical historian, tracing the roots of popular music, particularly the works of black musicians. Flemons, who is proficient on banjo, guitar, jug, bones and who knows what else, is adept at showing how older forms (such as string band, hollers and jug band music) have led to modern music, such as hip-hop and rap. This expanded release features the original Prospect Hill recordings, as well as What Got Over, a 2015 Record Store Day release featuring early demos, alternate versions and unreleased tracks from the sessions. The second disc also includes The Drum Major Instinct, 12 instrumental cuts that, as Flemons writes in the liner notes "…that told its own distinctive statement when stripped down to its bare essence. "The beats" showcase the folk roots of hip-hop with bass drum and snare drum duets."
From the East Nashville funkiness of "Hot Chicken" to Flemon's take on Jessie Fuller's blues with "San Francisco Baby" and more, Prospect Hill showcased his diverse musical force – an "American songster" you might say. The songs he rescues from old 78s and faded sheet music are just as vital in the 21st century as they were in the 19th, and his modern take on folk music shows just how relevant songs of the common man remain in these trying times. Essential.
---