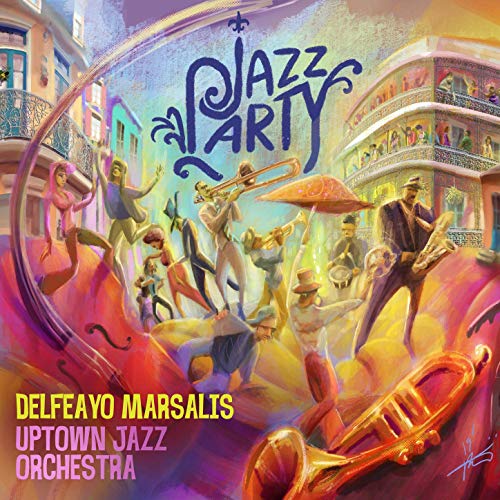 Delfeayo Marsalis and the Uptown Jazz Orchestra
Jazz Party
Troubadour Jass
When Delfeayo Marsalis invites you to the party, put it on your calendar, make sure you have the next day off from work and get on down to wherever the party is happening. Knowing this is a New Orleans jazz party, it could very well be one of those movable feasts. It might start in the ballroom of the Royal Sonesta Hotel at one of the Mardi Gras balls and it might end up on the streets of the 6th Ward as the sun comes up. Just call up some friends and roll with it.
Jazz Party is a rambunctious jaunt through New Orleans traditions. The show starts off with a sultry, jazz vocal number, appropriately called "Jazz Party," with a late night cabaret feel. "Raid on the Mingus House Party" sounds like several bands crashing a party, all playing their own things while still making it all hold together. There's a little bit of big band swing, a few moments of Trad Jazz (a la Dr. Michael White), some head cutting solos, a bit of piano jazz and a bass riff taken from an old Spider Man cartoon. "Blackbird Special" and "Caribbean Second Line" bring the feel of brass bands on parade to the party.
I had the most fun with two of the vocal tracks. First up, we have the sultry, "Miboya's Midnight Cocktail." In this flirty, cocktail jazz number, Karen Livers purrs come on lines to her man of the hour. I predict this tune will become a favorite of Nuevo Burlesque troupes everywhere. "So New Orleans" is both a parody of musician's tendency to get hyper-local in their songs "I'm so New Orleans, I be pretty as Wild Tchoupitoulas. I'm so New Orleans, I really miss those Hubig's lemon pies." While Dr. Brice Miller's rap is having fun with how many "so New Orleans" things he can cram into one tune, it is still a love song to the Big Easy. In fact, Jazz Party is one giant love letter to New Orleans.
---