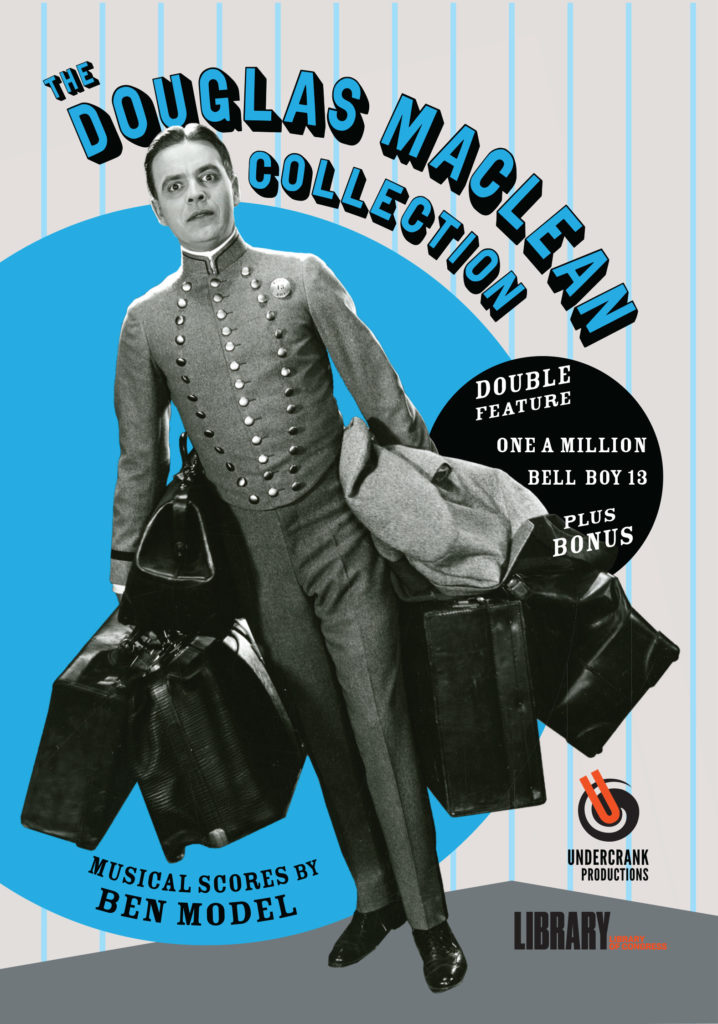 The Douglas MacLean Collection
directed by William A. Seiter, Jack Nelson
starring Douglas MacLean, Margaret Loomis
Undercrank Productions
Douglas MacLean is today a forgotten name from the mostly forgotten era of silent movies, but in his time he was a popular movie star with strong comedy chops. His films from the Ince Studios tended to a slightly more sophisticated palate than what we generally think of silent comedies. MacLean bypassed the high powered slapstick of Mack Sennett Studio stars like Charlie Chaplin, Fatty Arbuckle, or the Keystone Cops for a style that depended more on quick wit than thrown pies. MacLean also realized the power in not alway being the funniest person in the scene and allowing his supporting players to steal some of the biggest laughs. MacLean is a boyishly handsome and endlessly charismatic everyman. His characters are instantly likable and relatable, due in no small part to his much ballyhooed "million dollar smile".
Bell Boy 13
Poor Harry (MacLean) all he wants to do is marry his actress girlfriend Kitty (Margaret Loomis) and live happily ever after on his rich uncle's dime. His uncle has arranged a more sensible (if far less appealing) bride for young Harry. Harry does the only sensible thing and escapes to Philadelphia to elope with Kitty. His plans are shattered when Kitty decides that elopiing is a bad idea and will only marry Harry with his uncle's blessing. Penniless and scorned Harry takes a job as a bell boy in the hotel where Kitty is staying in Philadelphia. Misdirections and misunderstandings ensue when Harry's uncle also arrives at the hotel. Harry organizes a union of the hotel staff and threatens a revolt that is only called off when rich Uncle Ellrey sees the light and gives his blessing to Harry and Kitty.
The film is a jam-packed 45 minute rush that also contains a weird B story/runner about a mysterious man trying to steal bonds from Harry. The whole affair borders on anarchy at times and is aided by MacLean's excellent timing and precision direction from prolific director William A. Seiter who directed films and television from 1915 until the late 1950s. Seiter and MacLean do a great job building the lunacy until the anarchy of the finale.
One a Minute
Drawing its title from the infamous non-quote from P.T. Barnum about a sucker born every minute, this whip smart comedy blends rom-com tropes with social satire. Although made in 1921 its target of satirizing patent medicines still works today as the marketing has gotten slicker, but people are still clamoring and being duped by promises of any number of magic remedies. Jimmy Knight (MacLean) is a young lawyer on his way back home to Centerville, Iowa to take over his late father's failing pharmacy. On the way he has a meet cute with Miriam Rogers (Marian De Beck) who is naturally the daughter of Silas P. Rogers, the owner of the fancy new drug store trying to put the Knight family's operation out of business. Jimmy decides not to sell out and sets out to create a cure all panacea drug. His placebo, which he hawks as Knights 99 and is seemingly curing all the towns ills while driving his rival mad as he keeps offering Jimmy more ridiculous sums of money for his discovery. Eventually the whole affair ends up in a hilarious court trial. Prolific character actor Carl Stockdale nearly steals the movie as a stone faced judge providing literal laugh out loud reaction shots to the absurdity afoot in his court.
The plot is simple and has been done in countless movies and TV shows in the past hundred years, but One a Minute remains an endearing comedy full of hearty belly laughs. It doesn't lean too hard into corn pone humor or making fun of the hicks, or minorities for that matter. There is a touch of racial humor that doesn't come off as racist or mean. There is a sight gag where a Chinese character's words are displayed in a massive string of kanji title cards to eventually be translated and "Yes". This gag would later be replicated in Chuck Jones's 1943 Bugs Bunny cartoon Wackiki Wabbit.
In addition to the double feature of Douglass Maclean features, the DVD also contains A Trip Through the World's Greatest Motion Picture Studios (1920), a contemporary short feature showing Thomas H. Ince Studios. Sadly today Ince is best remembered for his mysterious death, possibly murder, involving William Randolph Hearst, Marion Davies, and Charlie Chaplin on board Hearst's yacht in 1924.
Since 90% of all silent movies have been lost to time, be it through accident, neglect, or willful destruction, it should come as no surprise that Douglass MacLean's filmography is scarce. Two of his features – Bell Boy 13 and One a Minute have complete prints that have been restored and preserved by the Library of Congress. Bell Boy 13 survives on a single 16mm version and One a Minute in 35mm and both films have been given 2k transfers and released with original organ scores by Ben Model on DVD from Undercrank Productions. These films look so good it is nearly inconceivable they are nearly a hundred years old.
---