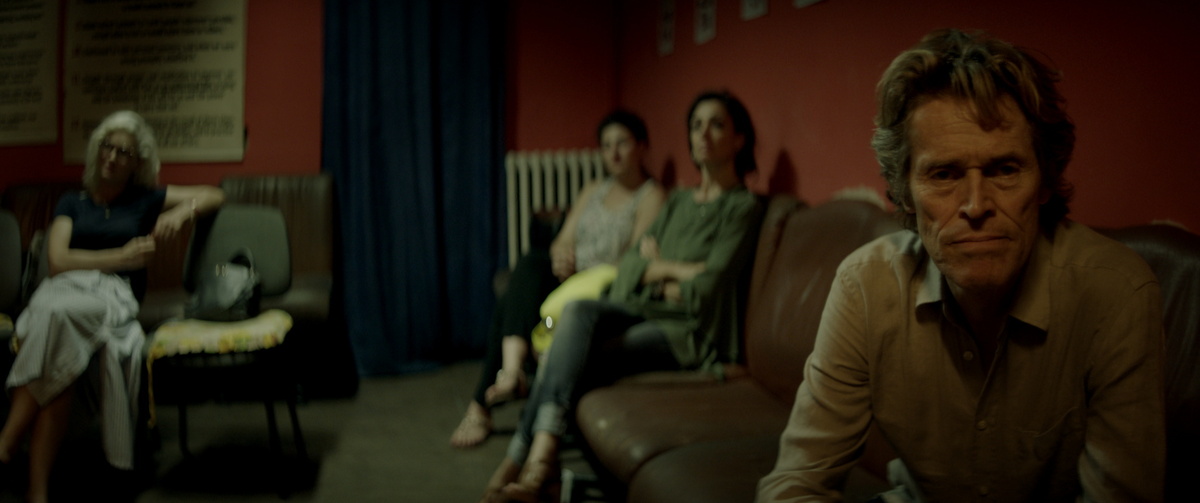 Tommaso
directed by Abel Ferrara
starring Willem Dafoe, Anna Ferrara, Christina Chiriac
In one of the more bizarre twists to occur to me as a critic, I am forced to reference two songs released by The Monkees in 1967 in back-to-back reviews. Just a few days ago, I stepped outside of my normal comfort zone of critiquing film for Ink 19 to share my thoughts on the latest offering from Sparks, A Steady Drip, Drip Drip, which includes the wonderfully poppy cut, "Lawnmower." It was there where I referenced, "Pleasant Valley Sunday," the Monkees-sung, Goffin-King hit, which like the aforementioned Sparks track, is a bouncy tongue-in-cheek ode to suburban splendor with a healthy dose of sarcasm. Astonishingly on that same Monkees-wavelength, director Abel Ferrara's film Tommaso, his latest effort with frequent collaborator actor Willem Dafoe, made my thoughts turn to the Neil Diamond-penned, Monkees classic, "A Little Bit Me, A Little Bit You." For those who are familiar with Ferrara's filmography, you might be wondering how this mental phenomenon could've happened in me, and I believe that my cognitions lie somewhere in the realistic design Ferrara implemented in Tommaso that culminates in a constant tension and moments of vitriol between the titular character (played by Dafoe) and his wife Nikki (played by Ferrara's real-life spouse, Christina Chiriac). It is these ugly verbal moments that mirror Diamond's iconic song the most, where more than one partner must share the blame for their collapsing relationship. The major difference between Tommaso and Diamond's song is that you never entirely know whether the culprit sparking the conflict that transpires in the film is Tomasso, Nikki, or the remnants of Ferrara's and Dafoe's personal and artistic pasts being dredged up through the experimental process that formed their characters.
For Abel Ferrara, this new merging of memory, performance, and process with fiction comes on the heels of his last five years of filmmaking, which largely saw the director creating feature-length documentaries on subjects ranging from a portrait of the eclectic neighborhood in Rome that Ferrara currently shares with Dafoe (2017's Piazza Vittorio), to a look at the vital and raw 1970s filmmaking that was spawned from Ferrara's hometown of New York City (2019's The Projectionist). Both filmmaking and Rome are at play in Tommaso, which has a Dafoe/Ferrara hybrid, an American director conceptualizing a film entitled Siberia (yes, that same fiction feature that Ferrara has been working on for the last few years) whilst at first living seemingly contently with his much younger wife Nikki and their toddler daughter Anna (Ferrara's actual offspring) in the Eternal City. Tomasso goes about his days sharing his parental duties with Nikki, taking Italian language classes to allow him to assimilate into his new country, while running acting workshops for young thespians. But during multiple evenings, Tommaso confronts the grim moments that occurred during his years of substance abuse at Alcoholics Anonymous meetings where he appears to have cathartic releases while sharing his experiences and listening to others recall their issues with addiction.
As night turns back into day over and over again and Tommaso voices more of his demons, he continues going about his routine, but concerning images start to appear around him, and he rapidly magnifies them in his mind, causing him to lose control of his emotions. Perhaps his moments of anger are due to the witnessing of actual harbingers that threaten his family, but as we the viewer question whether these precarious moments are real or not, there is one thing that is certain: Tommaso's actions reveal a man who is falling deeply into destructive behavioral patterns which could potentially cause irreparable harm to the family he loves.
It would be easy to assume that Dafoe is merely a stand in for Ferrara, given the casting of Ferrara's own wife and child and that our protagonist is a film director, but the constant references throughout the film that harken back to Dafoe's own career, most notably one scene involving Dafoe's role as Jesus in Martin Scorcese's The Last Temptation of Christ, indicates that perhaps this character study is more than just the case of an actor portraying the verité of his director's life: it is a psychological exploration of the actor and director relationship and the collaborative, but possibly personally destructive, process of storytelling. Furthermore, Tommaso directly references one of Ferrara's previous efforts, a feature that also blurs the line between fact and fiction and deals with certain facets from his own career, 1993's Dangerous Game, where Ferrara tabbed Harvey Keitel, who starred in Ferrara's iconic Bad Lieutenant, to take on the role of maniacal director Eddie Israel, who destroys his own family when he obsesses over the underlying truth in a story he is filming about a couple's disintegrating marriage.
Like in Dangerous Game, Ferrara also presents a film within a film in Tommaso by incorporating ruminations on Siberia, the film that is consuming Tommaso and likely Ferrara himself. The frustrations from this rumored overdue production from Ferrara are brought up in conversations between Tommaso and Nikki and through storyboards that he shows her, and us the viewers, on multiple occasions. Siberia's focus on a rugged main character, one who battles the savage elements of nature, suggests to us that Tommaso may be having doubts about his own masculinity due to his advanced age, which contributes to his mistrust towards Nikki. In addition, as we see Nikki's face appear as inspiration in the production materials, we begin to suspect that his lack of trust in her as his wife may also be a projection of his lack of confidence in his own artistic abilities to finish his project, which adds an additional layer of tension to the narrative and to their imploding relationship.
As Ferrara expounded upon during interviews when Tommaso premiered at Cannes in 2019, the techniques used for this film were greatly informed by the director's recent documentary work. Given the improvisational methods incorporated here, cinematographer Peter Zeitlinger, who has worked extensively with Werner Herzog since 1995, having lensed notable Herzog documentaries such as Grizzly Man, Into the Abyss, and Encounters at the End of the World, was brought in to film in a documentary style in order to maintain the feeling of realism and to capture honest reactions from the actors. One key scene that exemplifies the benefits of this production approach occurs when Dafoe's Tommaso is sent downstairs from his apartment to engage with a homeless man who is howling outside of his window. According to Ferrara and Dafoe in interviews, that scene was virtually unscripted, with Dafoe meeting the offending character/actor for the first time during their filmed confrontation when they were both forced to improvise the moment.
Though distinctly different in terms of their respective production processes, Tommaso in many ways brings to mind Jafar Panahi's superlative 2018 film, 3 Faces, a film that also incorporates fiction and non-fiction elements to focus in on both a filmmaker's distinct personal dilemmas in conjunction with the shift in attitudes in that society while continuing the contemporary trend of examining the significance of traditional narrative storytelling. With Tommaso, Ferrara has clearly gained much from his recent forays into documentary film, and the final result is a vital and contrasting type of intense living portraiture of two creative people whose lives have become intertwined geographically, personally, and artistically.
◼
Tommaso will be available beginning on June 5th through multiple local theaters' virtual screening rooms, with half of the ticket proceedings going directly to the available theater of your choice.
---