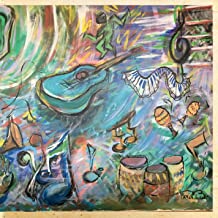 Sarah and the Swinging Richards
Rollercoaster
Florida-based Sarah and the Swinging Richards bewilders and astounds on an unpredictable Rollercoaster of a new LP. The album is extremely well-produced, showcasing a distinctive and dynamic sound that's inspired by rock, soul, indie, R&B, and so much more.
The album features eight songs, including the opening track "Feels Good," which has a distinctive and personal touch. The sultry vocals match the blues-rock inspired arrangement, which makes me think of groups such as Menahan Street Band or even The Jimi Hendrix Experience. The second track, "Back Away," is kind of opposite when compared to the first. While the opening song says "I've been feeling good since you've been coming around," this one is an ode to independence and looking for your own path in life and getting rid of toxic people: "There's only so much a person can take. You pushed me to my limit, and that I can't forget."
"The Whiskey Song" is another distinctive track with a retro-inspired sound that almost reminds me of Paul McCartney and Wings, with a cool set of melodies and some great arrangements. "Funny Feeling" begins with a catchy bass riff, and it dives into a completely different arrangement, bringing more depth to the sound with some bluesy vibes. The title cut is one of my favorite songs on the record, particularly due to its sophisticated drum beat and smooth melodic arrangement inspired by jazz and neo-soul.
"Betting Girl" is a highly energetic song with a special touch and a melodic twist. I love how the bass interacts with the electric piano and guitar, not to mention the vocals! "Lyin' Love" is a fresh song with a warm and blues-driven style, almost making me think of legends such as Stevie Ray Vaughn. Last, but definitely not least, "Rising Water" is a perfect song to end the record, with its smooth textures and masterful work on the drums.
The album is enjoyable from the first note to the very last, and it is an incredibly textural record with a superb production and some memorable songs that hit the mark on all fronts. This is catchy music which also holds a bit of an experimental touch and the willingness to explore.
---