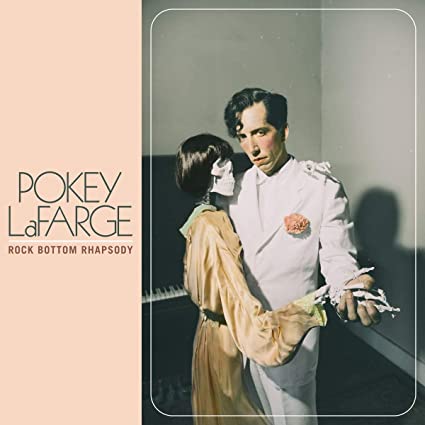 Pokey Lafarge
Rock Bottom Rhapsody
New West Records
Rock Bottom Rhapsody is Pokey LaFarge's newest album at New West Records and is an amazing 13 track album that takes you through the paces of self destruction, hitting rock bottom, and emerging with a new outlook light that shines through on the other side. Pokey wrote the album during a turbulent time in his life but, thankfully, lived through it and came through the experience with a new perspective as he went in the studio to record. Pokey says "The man singing the songs isn't exactly the same man who wrote them."
The first track, "Rock Bottom Rhapsody", is a smooth instrumental that puts an image in my head of Pokey on stage getting ready to pull back the curtain of the past couple years. It's the introduction to where he is now as much as the second track "End Of My Rope", seems to be an introduction to the past. Pokey starts the chorus "let me die on stage singing the last song I know" and ends the chorus with, "Well, I'm a long way from normal and not much left to go, til I get to the end of my rope".
"Fuck Me Up" has a swing tempo with amazing lyrics as he croons, "Well I might go get drunk and stoned. Cause it's better than being armed and crazy, If I never come back, wherever I end up at, is where I was supposed to be". Luckily where he was supposed to be was back in Chicago with friend and collaborator Chris Seefried. Chris and Pokey did an amazing job of stripping the music to precisely what was needed and letting the vocals and lyrics lead the way as the rest of the musicians provide the foundation.
Pokey LaFarge makes albums that are a mix of all the traditional guys like Sinatra, Martin, and Crosby but, as Pokey says, "I also consider people like Roy Orbison, Nick Cave, Bob Dylan, and Tom Jones crooners as well." You can hear all those influences in the skillful way he maintains a vintage sound but isn't bound by those influences as he creates something fresh from them. And, as you travel from song to song, the album will take you in different directions and different emotions for each song.
"Lucky Sometimes" is a chance encounter that ends in a love story that sounds like it played out in a 1950's Broadway storyline. "Just the Same" is the opposite of "Lucky Sometimes" as the character tries to fix those "two broken hearts" but with a vague ending that might not go the way he hopes. "Fallen Angel" is a true masterpiece of the album with a catchy Latin, Rockabilly, French-ish groove and razor sharp lyrics that you just can't help but sing along with.
The album has a long list of players and each one is felt throughout the album. Alex Hall is on percussion, keyboards and backing vocals, Joel Paterson on guitar, Scott Ligon on piano, guitar and backing vocals, Jimmy Sutton on bass, Deron Johnson on piano, Johnny Flaugher on upright bass, and Chris Seefried on guitar and keys. Marley Munroe, Casey McDonough, and Marieme Diop all take backing vocals as Paul Cartwright, Lucia Micarelli, Vanessa Freebairn-Smith, and Andrew Duckles all contribute with the amazing strings. All the songs were recorded at Hi-Style Studio in Chicago, IL, except for "Lucky Sometimes", which was recorded at Valentine Studios in Los Angeles.
I honestly cannot pick a favorite track from the album as each one grabs you for a different reason and demands your attention in its entirety. If you haven't listened to any of his music, Rock Bottom Rhapsody is a great place to start and will instantly make you a fan as it did with me. The album is available everywhere online including his website, www.pokeylafarge.net.
---