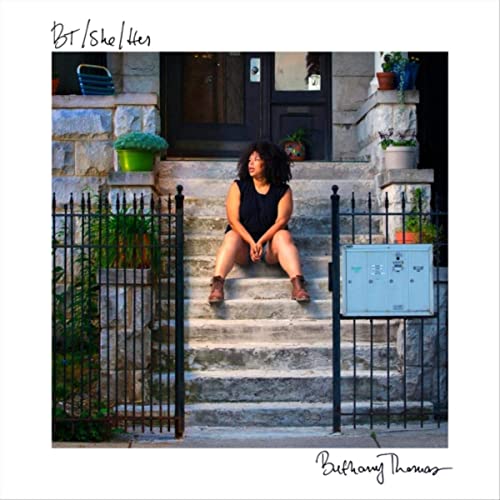 Bethany Thomas
BT/She/Her
Bethany Thomas is a force of nature. She's a singer who has backed up everyone from Chicago bar bands to the Mekons. She's an actor who has stared in productions of Porgy and Bess and played Billie Holiday in dinner theaters. Bethany came up on my radar when she went down to Muscle Shoals with Jon Langford. She shared lead vocals with Jon and Tawny Newson on the Four Lost Souls project. Thomas' soaring vocals were a revelation on that so I was really excited to see what she can do on her own.
The first sounds on the first song hooked me. "I'm Not Sorry and I'm Not Scared" is an act of defiance. Thomas makes it clear that it's not her problem if your not ready to accept a thick, bi-racial queer woman doing whatever the hell she needs to do. The song sets the expectation for an album that isn't afraid to go places you may no be comfortable with. "70th Love Song " is one of those places. It's a song about uncertainty and longing set to a beautiful brill building melody. Sounds nice, what's uncomfortable about that? Bethany is singing about the woman she's crushing on. (I really relate to the line, "if I can't be her lover, I'll try to be her muse").
"Walls + Ceilings" is something of a cross of Yes and Minnie Ripperton. This is a song about always being the odd one out in a crowd. She muses that "there must be a room where I'm not the other." Get used to it. Women and People of Color are here, they're capable and they aren't playing anymore.
Thomas wrote "De-Escalator" while watching the Kavanaugh hearings. She questions the motives of the people are always trying to smooth things over. She croons, "you can't walk this line forever" and is answered by guitar squall. I'm normally the one in favor of descanting conflict situations in order to calmly address problems. Bethany is calling bullshit on the folks who always want people to be civil so they can pretend there problems don't really exist.
BT/she/her is being self-released. It's hard enough for music on indie labels to find an audience, so it's going to be extra hard for Bethany. If I've learned anything about her from this album, it's that she's up for a challenge and she's willing to fight. To fans of thought provoking rock and roll, I say BT is a record worth hunting down.
---