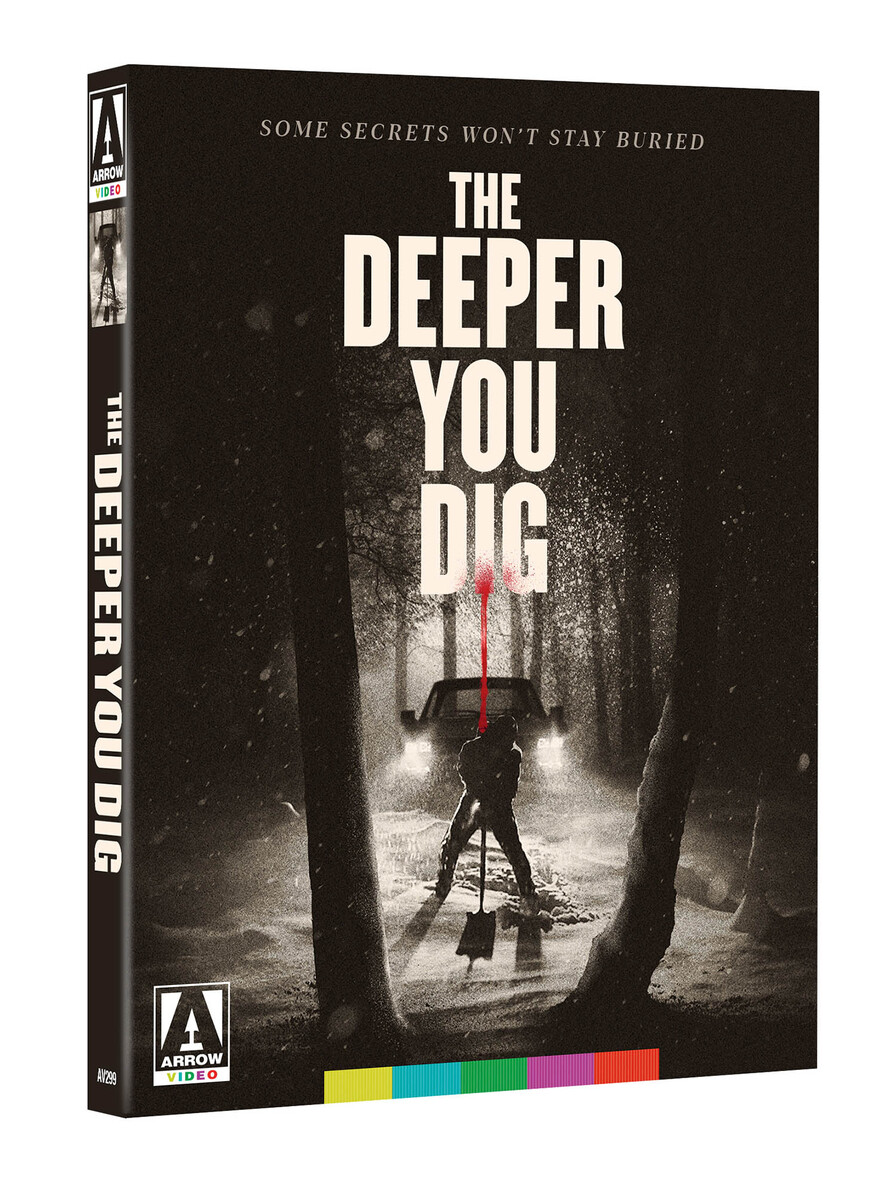 The Deeper You Dig
directed by John Adams & Toby Poser
starring John Adams, Toby Poser, and Zelda Adams
Arrow Video
The Deeper You Dig
The Deeper You Dig is a micro-budget 2019 horror film from the Adams Family (John Adams, Toby Poser, Zelda Adams) who wrote, directed, shot, and star in this snowblind tale of karmic retribution. Filmed in and around the Catskills hamlet of Roscoe, NY, The Deeper You Dig examines the effect on three lives through the heartless actions of one thoroughly self absorbed man.
Hard drinking house flipper Kurt is driving home, drunk, on a dark snowy night when he accidentally runs over teen girl Echo who is sledding in the dark. In his panic and desire for self preservation, Kurt scoops up Echo's body and hauls her to the farmhouse he is renovating. When Echo regains consciousness, Kurt coldly strangles her in a bathtub and buries her in a shallow grave in the hard frozen ground. Meanwhile Echo's mother Ivy is searching for her daughter and in her desperation she turns to the occult in an attempt to find her lost Echo. Meanwhile, Echo has her own ideas and begins to haunt Kurt starting out by messing with the radio, then getting into his head before ultimately taking up residence in his body to force him to confront his deeds and her grieving mother. In the end Echo and her mother are able to reunite and reconcile, albeit in an unorthodox arrangement.
Although on surface The Deeper You Dig is a pretty straight forward haunting/revenge tale, the deeper you dig into this film you find under the surface is a powerful exploration of guilt and grief. Echo's mother, Ivy is a flawed character who abandoned her gift as a medium and took the cheap, sleazy path of a huckster fortune teller working old ladies out of their money 50 bucks at a time with the promise of contact with their departed loved ones. She is forced to return to her mentor for help to guide the spirit realm to find her daughter and is forced to deal with grief and guilt over her death before she can find peace and allow Echo to find peace as well. It is not the spooky stuff that stays with you in this movie it is the unexpected journey the three characters, forced by circumstance, embark on together.
The Blu-ray release is a jam packed affair with loads of extras including an interview with the Adams family, a video essay with film critic Anton Bitel diving into familial horror and a terrific audio commentary with The Deeper You Dig's filmmakers John Adams and Toby Poser. The husband and wife team provide some thoughtful insights into the symbolism of the film, as well as giving the viewer a crash course on guerrilla filmmaking including the pro tip that a Toyota Prius on battery power runs really smooth as to allow for effective and easy tracking shots.
In addition to the commentary and some behind the scenes featurettes, Arrow Video's release of The Deeper You Dig comes with a second disc featuring The Hatred, another microbudget western/horror film starring Zelda Adams, but this one is directed by John Law instead of being a full on Adams Family joint.
The Hatred (2018)
1863 a group of Union soldiers escorting a prisoner through Blackfoot Territory get lost in the snow. They hang their prisoner to save on rations and slaughter a family when they cannot provide enough food for them. The lone survivor of the massacre is a teen girl, Zelda Adams, who takes her father's guns and prays for vengeance. Her prayers are answered when the lynched prisoner rises from the dead and aids the girl in tracking down and exacting bloody revenge on the men who wronged them. The story is told mostly in flashback as an Army officer tries to get to the bottom of what happened to his men while interrogating Zelda Adams, who is listed in the credits as Hatred. The rest of the characters in the film are only identified by their virtue or inequity, so Sloth, Greed, Envy, and Righteousness populate the screen. There is heavy voiceover narration and limited dialogue, but when the voiceover contains lines like "As long as there is a god, there is a devil and where there is no god, there is the devil" it is effective and actual dialogue feels jarring and intrusive. The snowy landscape becomes a frozen hell frequently splattered with the crimson gore of hate and old testament retribution.
The Hatred is a visually striking affair but make no mistake it is carried by Zelda Adams. Although she was memorable in The Deeper You Dig she didn't have a great deal of screen time. The Hatred is all her with her narration and long, slow close-ups that feel increasingly intrusive as her quiet rage and loss boils over and through every freckle slashing across her face. This film could easily have gone off the rails without a potent performance from its lead.
We truly live in a special time when a film with so little pedigree is given such a lavish Blu-ray release. It may not have the names, but for fans of interesting horror films. The work on display from the Adams family has been flying under the radar, even the indie horror radar, and it is a shame because they are making some fine brew that demands to be seen and is well worth your attention.
---