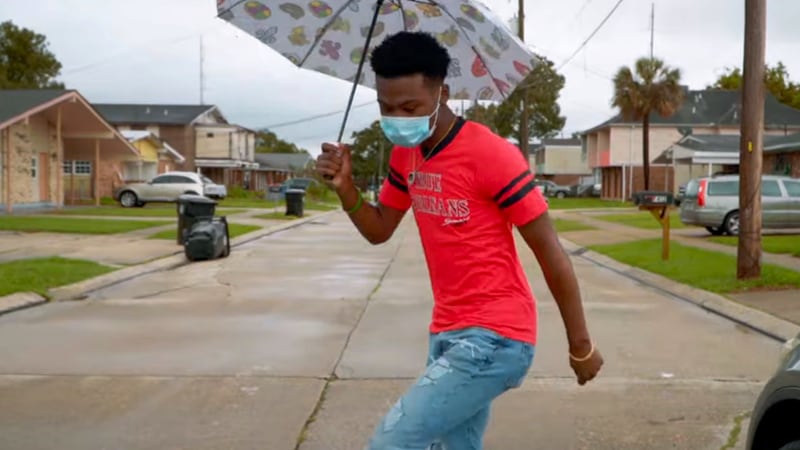 Visions of 2020
Favorite videos of the year
by Bob Pomeroy
I'm about ready for this socially distanced, masked up, isolation marathon called 2020 to end. I know that January 1st is not going to see a miraculous reset putting everything back to normal. With the vaccine and taking the virus seriously, maybe we'll see an approximation of normal by summertime.
2020 has been a year experienced through the computer screen to a huge extent. I've put together this far from definitive list of visuals that have sparked my fancy this year. It's been a good year for live streaming, zoom collaborations and less is more video production. These are some of the visions that helped keep me going this year. I hope you enjoy them too.
• •
Music Videos
Shamarr Allen
Quarantine and Chill
2020 has been a rough year for all of us. Shamar Allen's "Quarantine and Chill" shows the people of New Orleans showing off their best dance moves in social isolation. . We won't have any Mardi Gras parades in 2021 and e Jazz Fest is looking dodgy. Shamarr and his friends show their resilience and help us keep our spirits up until we can Second Line again.
• •
Matt Wilson & his Orchestra
When I Was A Writer
There is something beautifully weird about the "When I Was a Writer" video. You've got a faux talk show, an interpretive dance troop, some performance footage of the Orchestra and Matt having some sort of existential crisis. I love it. Wilson balances midlife pessimism with just enough hope and perseverance to keep on going.
• •
Emma Swift
I Contain Multitudes
I confess, I have an attitude about Bob Dylan. Yeah, he did a lot of important stuff in the 60's, but by the time I was introduced to him, his current work was really hit or miss. Then I saw him live. Every song sounded the same and I couldn't understand a word. So it's good for someone like Emma Swift to come along and remind me that Dylan has some excellent songs. "I Contain Multitudes" is from Dylan's 2020 album, Rough and Rowdy Ways, and this rendition comes from Swift's album, Blond on the Tracks. The video looks hand made using cut out illustrations and stop motion animation. Emma reminds us not to write off the old dogs. They can still surprise.
• •
The Hu
Yuve Yuve Yu
The Hu are a Mongolian metal band. They do metal using traditional instruments as part of their head banging sound. The metal community has embraced the Hu. Jacoby Shaddix of Poppa Roach and Lzzy Hale of Halestorm appear on their album, The Gereg. This song shows off their throat singing and traditional instrument shredding in all its glory. The musicians are seen inhabiting the desolate, beautiful landscapes of rural Mongolia.
• •
The Jerry Cans
Swell (My Brother)
The Canadian Arctic is the star of "Swell." The band members are shown playing on ice flows, on rocky outcrops and in a small venue in their Nunavut hometown. The song takes on the epidemic of suicide affecting native communities in the far north. It is a lament for those lost and a plea to those remaining to hold on through another long night.
• •
The Chicks
March March
Who would have thought when the Dixie Chicks first hit the airwaves with frothy country pop that they would morph into one of the more socially conscious bands in any genre? March March splices together images of protest movements over the past century with 2020 being front and center. This is as powerful a protest song as I've heard in this awful year. The first time I watched this video, I got choked up seeing the names of victims of police violence flash across the screen. Black Lives Matter, y'all. We are all in this together.
Live Stuff
Live streaming has been a lifeline to both musicians and fans. Musicians are able to reach their audience and generate a little revenue. Robyn Hitchcock has his weekly Sweet Home Quarantine shows. Jeff Tweedy has his weekly Tweedy Show where he invites people to join him and his family for living room shows. I can't really cover everything. Truthfully, there were a lot of cool streaming shows that I missed. Here are a few that realty stuck with me.
• •
Sweet Crude's Socially Distanced Album Release Show
I am an unapologetic booster of this band that blends eclectic, electro pop with the deep traditions of Francophone Louisiana. Sweet Crude were poised to make their move on the mainstream with their major label debut Officiel/Artificiel. Covid put a spanner in those plans. Sweet Crude went ahead with their record release concert using streaming and social distancing. The band set up on the front porches of two cottages in their New Orleans neighborhood. The band members are masked and socially distant and still rock the socks off the brave souls hanging out across the street.
• •
Helen Gillet's Monday Night Live Stream from New Mexico
Belgian born cellist, Helen Gillet uses her voice, cello and an arsenal of electronic gadgets to create her distinctive blend of traditional folk song and cutting edge Avant-garde music. Helen's Monday Night Live shows were one of the things that kept me somewhat sane during lock down. During the pandemic, Gillet made a pilgrimage to New Mexico to pick up a new instrument and continued her live streams from the road. I really loved the shows she did from New Mexico, playing outside with the vastness of the desert as her stage.
• •
Hamid Drake and Michael Zerang 30th Anniversary Winter Solstice Concerts.
Hamid Drake and Michael Zerang are highly respected jazz drummers. For 30 years, they have been gathering before dawn on the Winter Solstice to welcome the sun. I've been hearing about these shows from friends in Chicago for ages. I've never been able to travel north to attend one of these events. I've heard them described as being a spiritual renewal. With Covid, gathering on the shores of Lake Michigan wasn't safe, so the pair switched to a streaming format, which allowed me to attend finally. ' The Solstice Concerts consist of two performances: the morning performance to welcome the sun and a more traditional evening concert. Both performances were streamed by the Constellation performance space.
The Morning performance began before sunrise with Hamid and Michael in an apartment overlooking Lake Michigan. The room was dark, save for some candles and whatever light came through the windows. Drake and Zerang improvised on a range of hand drums, bells and other percussion instruments, building in intensity as the sky slowly brightened. The live stream ended before the performance. Nature doesn't play by the schedule of streaming services.
The evening performance took place at the Constellation. Drake and Zerang played behind their standard drum kits with long time collaborators Josh Abrams on Bass and gumbri and Ayako Kato's movement providing a visual counterpoint to the music. The evening performance also had spiritual resonance and celebrated rebirth and new beginnings.
• •
Things That Just Amused Me
The Dave Grohl Vs. Nandi Bushell Drum Battle.
What happens if a 10 year old challenges a rock star to a drum battle? If the rock star is Dave Grohl, you accept the challenge. Grohl let's the world see what a phenomenal young player Nandi is. When touring restrictions are finally lifted, I fully expect to see Nandi sitting in with the Foo Fighters at a London gig. It will be fun.
• •
8 Trombones & 8 Babies
This is just fun. The video is described as "Edvard Greig's "Ave Maris Stella," arranged by Stephen O'Bent and performed by eight babies manipulating their parents, Ratatouille-style, into playing trombones." I smiled. It's something very affirming to close out this difficult and strange year. ◼
---