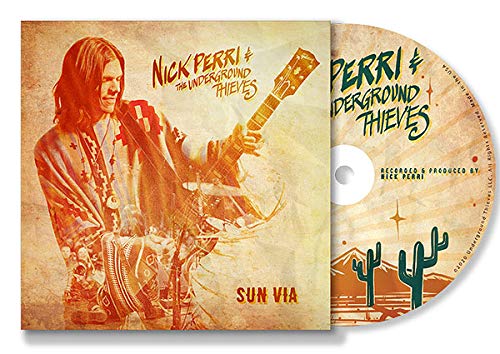 Nick Perri & The Underground Thieves
Sun Via
Underground Thieves LLC
Nick Perri is no stranger to rock and roll but, for the first time in his 20 year career, he's doing it his way. He's gathered up some life long friends, The Underground Thieves, and self funded the entire album, Sun Via, exactly the way he has always wanted. It's a big labor of love but tastefully crafted and focused on some great songwriting.
The first track from the album, "Feeling Good", is about as well crafted and rock and roll as they come. Nick wrote the song to really spread some positivity and between uplifting lyrics, well crafted guitar parts, a funky Hammond organ, and a band that is tightly locked in, it hits the mark. It's not a tune you can listen to without wanting to hit repeat numerous times, which I do each time I play the song.
When I spoke to Nick about the songs on the album he explained that between his time in California, and his roots in Philadelphia, he's drawn on all those experiences and sounds during the writing process. "I Want You" has a real upbeat, California vibe, while a song like "Fall" is deliberate and psychedelic. "Daughters & Sons" is a very personal song for Nick that's taken 13 years to see the light of day and as Nick says "was finally time to share it."
Recorded at a variety of studios as the songs were ready, Nick recorded and produced the entire album. In addition to Nick Perri on lead and backing vocals, electric and acoustic guitars, the band is made up of Anthony Montesano on vocals and percussion, Michael Montesano on vocals and acoustic guitar, Justin Difebbo on backing vocals, Hammond organ, piano, and synthesizer, Brian Weaver on bass guitar, and Zil Fessler on drums. John Bach also lends his drumming on the live track "5.0.1", which Nick says they play each show and believes that the take on the album may be their best recording of the instrumental track.
Available on all streaming platforms and online retailers, you can also purchase the album in cd or vinyl formats directly from their website. Their tour schedule is listed at the website as well, or you can always catch Nick on any of their social media pages. Sun Via is a killer first album for Nick Perri and the Underground Thieves and, rock and roll gods willing, it wont be their last.
---