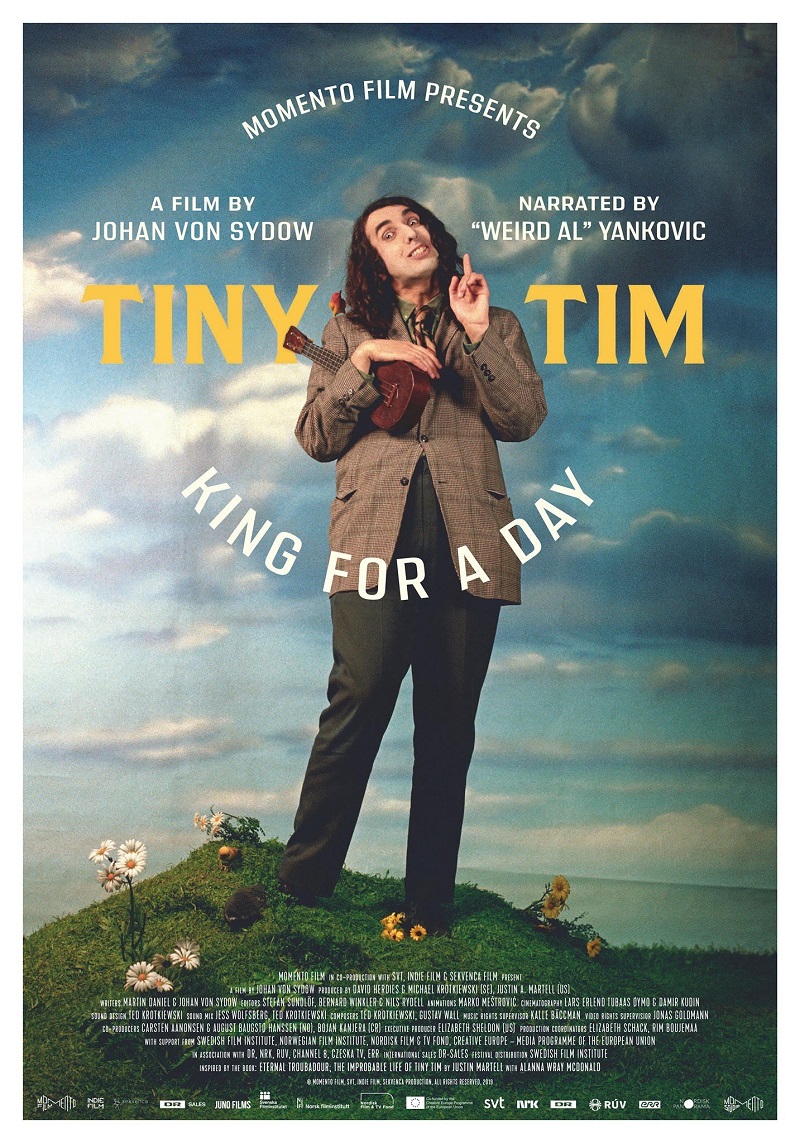 Florida Film Festival
Documentaries, Part 2
Florida Film Festival Documentaries Part 2
30th Florida Film Festival, Maitland, Florida
Reviewed by Carl F. Gauze
Now let's take a look at some darker, more personal films. The pick of the litter is the dark Tiny Tim: King for a Day, directed by Johan von Sydow and starring Herbert Khaury. In a decade of flamboyance and spectacle, Herbert, "Tiny Tim," Khaury stood out on the technicolor stage of that era. From The Tonight Show to Ed Sullivan to the hipster bars of Greenwich Village, Khaury stood out with his long locks, falsetto voice, and ukulele. The old songs were his milieu with "Tip-Toe Through the Tulips" his signature. A middling entertainer, he was a master at generating publicity and outrage. Everyone thought: "Gay." That's not clarified here. He was outrageous, but after a while outrage becomes discomfort, and discomfort becomes "last year's model." Khaury had a good ten-year run, went through three wives, and even worked for the mob singing in Vegas show rooms while starving out back. But I'll give him this: He died on stage, entertaining and singing to the end. Tiny Tim: a trouper to the end.
Another subculture of the American pageant is Workhorse Queen, directed by Angele Washko and starring Ed Popil as Mrs. Kasha Davis. I don't know that drag pays much, but the amount of gear you need to buy seems outrageous. That's what we learn in this intimate film along with the fact Rochester, New York may well be the biggest drag market in the U.S. Meet Ed Popil. He runs a call center during the day, then blossoms at night as Mrs. Kasha Davis. Mrs. Davis has a dream—the dream of every Drag queen with a set of falsies and false eyelashes—an appearance on Ru Paul's Drag Race. Ed tried unsuccessfully to get on seasons four and five but finally made it on for season seven. It was the thrill of his life, but he washed out quickly and was sent home a wiser, sadder performer. Where does that leave him? Brokenhearted but resolute, doing whatever shows he can in his hometown. As we leave him in a cloud of glitter, he may be brokenhearted, but he's still out and about and entertaining upstate New Yorkers like a trouper.
Along the way his partner seems incredibly supportive, and they take on this campaign like an invasion of the Japanese homeland. Songs rehearsed, dance numbers choreographed, outfits fine tuned for maximum over-the-topness. Modestly is NOT a drag goal. We visit the wardrobe room, the falsie locker, and the pinwheel of cosmetics and glitter all needed to support Kasha's alternate reality. This isn't a weekend giggle; this is a serious commitment to looking and acting out an alternate reality. Competition is stiff, hours are long, and rewards small. But the small size of the reward isn't the prize, it's the chance to out-glitter the competition, and it's a high class, well-trained competition. Come for the glitz and stick around for the heartbreak. I promise it will make your mascara run. WorkHorseQueen
Lastly, let's visit Me to Play, directed by Jim Bernfield and starring Dan Morando and John Christopher Jones.
The play may be the thing, but executing an hour's worth of Beckett is a taxing job for a young man. For these two elderly thespians, opening night is also closing night. Dan Morando and John Christopher Jones have been troupers on the New York scene for most of their lives. But old age and plaque in their brains make memorizing lines a challenge—a challenge nearly as difficult as getting performance rights from the Beckett estate. The rehearsal process takes months, but the lines eventually are all packed in nice and tight. The resulting one-night production tells a wonderful self-referential drama as the men struggle with process, the medications, and wear and tear on families. Filmmaker Bernfield treats the process with a light touch, allowing the caregivers and friends to weave a wonderful supporting cast.
Beckett's play is a summing up and an exploration of mortality, and the production mirrors those same emotions. Once you were a God among men, beautiful and lithe, able to master any skill you chose. Your world was your oyster, and you the pearl. But the years went by and you traded risk for comfort. You chose a mate, maybe several. The fight for food eases and staying at home appealed more than hitting the bars. You can't remember your lines, your mark, your name. You seek one last hurrah, acknowledging that you are defeated. But uncertainty is gone, along with taste and friends. You go into battle one more time, knowing you will lead the charge and not return. That's the film, that's Beckett, that's life.
---