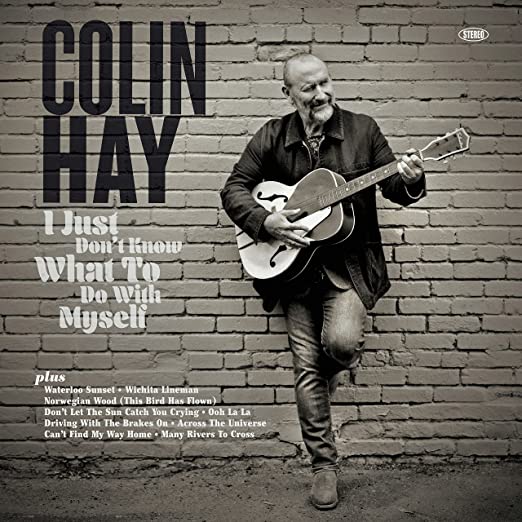 Colin Hay
I Just Don't Know What To Do With Myself
Compass Records
The Lockdown/Shelter In Place orders spawned a lot of creative projects. Many cover songs were performed and recorded in bedrooms and basements. Some were amazing. Some were amusing. And then there's Colin Hay. The voice behind Men At Work heard of the passing of Gerry Marsden and began strumming the Gerry and the Pacemakers tune "Don't Let The Sun Catch You Crying". He hit record and sent the file to his producer, Chad Fischer, who then asked for more. Nine tracks later and we have I Just Don't Know What To Do With Myself, ten songs from varied artists that are tied to specific memories from Hay's life.
Hay's acoustic guitar and vocals are the focus here, with Fisher adding in subtle drums, bass, and keyboards where appropriate. The title track is a classic Dusty Springfield track from when Hay worked in his parents' record store in Scotland. His spin brings a new restless quality to her pop hit.
Taking on two Beatles songs in one album could be a daunting task, but Hay manages to make "Norwegian Wood" and "Across The Universe" sound distinct from each other, and yet perfectly matched to his playing. I especially like the take on "Norwegian Wood" as now it's not a young bloke talking with his mates about an interesting night, but a mature man reminiscing about a special memory from his youth.
Sometimes it feels like "I Can't Find My Way Home" is a simple song. And then I listen to Colin Hay sing it, and I marvel at the depth of the lyrics written by Steve Winwood as delivered here, sung in a basement during a pandemic, by a Scot who made his mark in music in Australia, and then moved to California. Other tracks pay tribute to The Kinks, Glen Campbell, The Faces, and Jimmy Cliff. But the highlight might be the most recent song, "Driving With The Brakes On" by Del Amitri. I haven't thought about this band in years, but Hay's soulful rendition has made me seek out more than their few radio singles I had heard before.
Isn't that really one of the best things about covers – introducing fans of one artist to another? Whether you are already a fan of the original and are intrigued by the artist doing the remake, then seeking out their originals; or whether you are a fan of the artist performing the cover, and you seek out the original artist to learn more about them, a good cover song should heighten your curiosity. And a good cover album should send you on a quest for more. I Just Don't Know What To Do With Myself is a long way from "Who Can It Be Now" and "Down Under" but it honors the music that made the man who made those hits. Take a listen and enjoy, while I go seek out more of Hay's solo work and some Del Amitri.
---