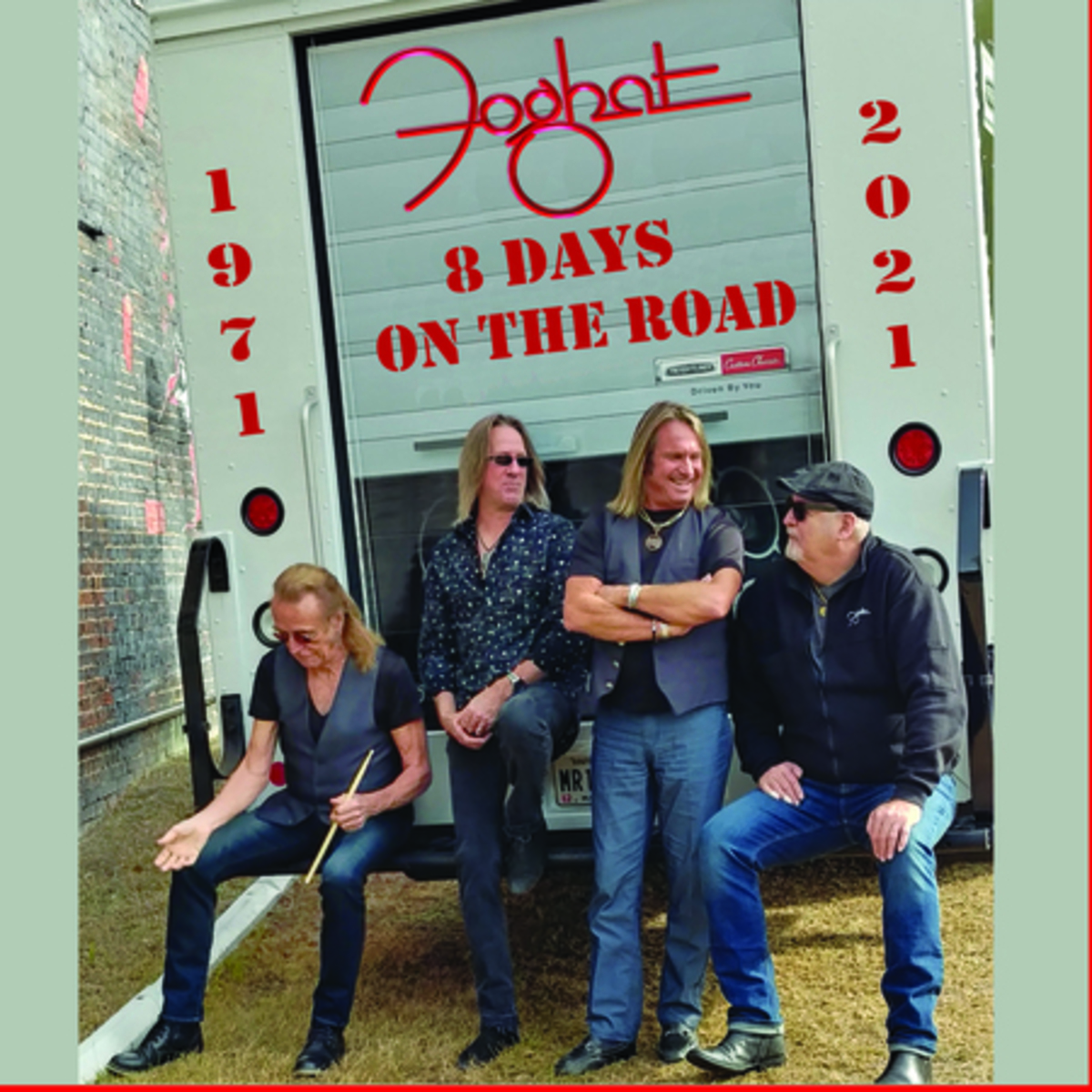 Foghat
8 Days On The Road
Foghat Records / Select-O-Hits
From the smoldering embers of Kim Simmonds' legendary British blues / rock combo, Savoy Brown, frontman / guitarist "Lonesome" Dave Peverett and drummer Roger Earl stepped up and struck out to launch their own boogie-based brigade in 1971. Along with co-conspirators, guitarist Rod Price and bassist Tony Stevens, rock powerhouse Foghat went on to become one of the preeminent bands of the '70s. With fabulously feathered coifs, well-cultivated staches and ultra-groovy velvet fashions, the band built an enormous international concert audience while racking up a slew of gold and platinum albums and a fistful of FM radio hits. And just in time to commemorate their milestone 50th anniversary, Foghat has just-released an impressive new live record, 8 Days on the Road.
To track the band's post "glory days" ('71-'81) lineups accurately would require a super-sophisticated GPS. However, the 8 Days roster has been longstanding. Leading the charge — patriarch drummer, Earl. Former Wild Cherry member Bryan Bassett has been handling Foghat's lead guitar duties for more than 20 years, while one-time Ted Nugent vocalist Charlie Huhn has fronted the band since Peverett's passing in 2000. Classic era bassist Craig MacGregor hand-picked his successor, Pat Travers Band alumni Rodney O'Quinn prior to his death in 2018. As a result, the Foghat 2021 lineup is a seasoned, all-star cast, indeed.
Recorded live at Daryl Hall's New York-based House Club in late 2019, the album is a career-spanning 14-song set that features many of the band's best-known staples — kicking off with a pair of smokin' Peverett / Price-penned classics, "Drivin' Wheel" (1976) and "Road Fever" (1973).
Known for embracing a fair share of covers over the years, Foghat drops a buttload of their best throughout the record's 85-minute running time, including a legit remake of the Elmore James tune, "It Hurts Me Too," as well as energized versions of Al Green's "Take Me to the River" and Chuck Berry's "Maybellene." However, it can still be argued that 50 years later, it's the cock rock recreation of Willie Dixon's "I Just Want to Make Love to You" that stands tallest among Foghat's most renown remakes.
The record also serves as a high-octane tribute to Peverett's master songwriting talent, as 8 Days boasts a bounty of his all-time best, including "Stone Blue," "Fool for the City" and the massive, ten-minute record-closing version of the iconic "Slow Ride."
The band is firing on all cylinders, and the record sounds great — a fitting tribute to the timeless Foghat legacy. For more tech-savvy enthusiasts, 8 Days on the Road is available across all the digital / streaming platforms. For purists, it's also available NOW on CD and DVD. The double LP version drops in November. Wait! What? No 8-Track? How's a guy supposed to play that funky music in a '71 Chevrolet?
---