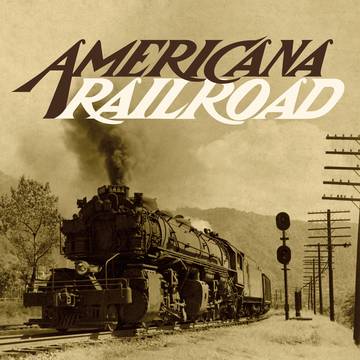 Americana Railroad
Various Artists
Renew Records
Once upon a time, the United States ran on rails. They may have been dirty and dangerous, but they were the only way out of the sticks or a bad love affair, and without the railroads, well, you were stuck in the mud until dry season. The wonderful Americana Railroad gives us 19 covers about the Iron Horse, all tightly sung and produced. I'll skip though the collection, but rest assured that any tune I fail to mention is not due to any flaw, save for my typing time.
Let's pull out of the station with Robert Rex Waller Jr. jumping in with both feet to blast through "The Conductor Wore Black." He takes you to your promised land — the one you deserve, not the one you want. Rolling on down the track, we next run into an acoustic "This Train" which carries no jokers, thieves, nor gamblers. Instead, it takes all the honest and slightly boring on the road to glory. Peter Case makes the passenger list sound attractive, and I might consider jumping on or at least riding the rails with this guy.
Next a sprightly John Fogerty covers a tune Arlo Guthrie made famous: "City of New Orleans." This classic captures the beat down economy of rail transit left after the interstate system and cheap aviation could get you where you wanted to go quicker and cleaner, leaving the rails for the down and out and disenfranchised. It's a sad song, but one we can all cry along with. Next, we slide into a surprisingly upbeat "Marrakesh Express," presented with a mariachi backing by The Dustbowl Revival. It's the most cheerful track on the collection and gives us a party we can all attend. I'll wrap up my comments with Gary Myrick delivering a pounding high-energy "Train Kept A-Rollin'." This cover is dark and smoky, bluesy, and filled with motion guaranteed to get you where you need to go.
And speaking of moving on, I have a flight to catch, but rest assured, there's more than twice as much great material here to entertain you than I can mention. Gotta run, I hear the conductor, I mean the gate agent yelling "All Aboard!" See you at the next station!
---