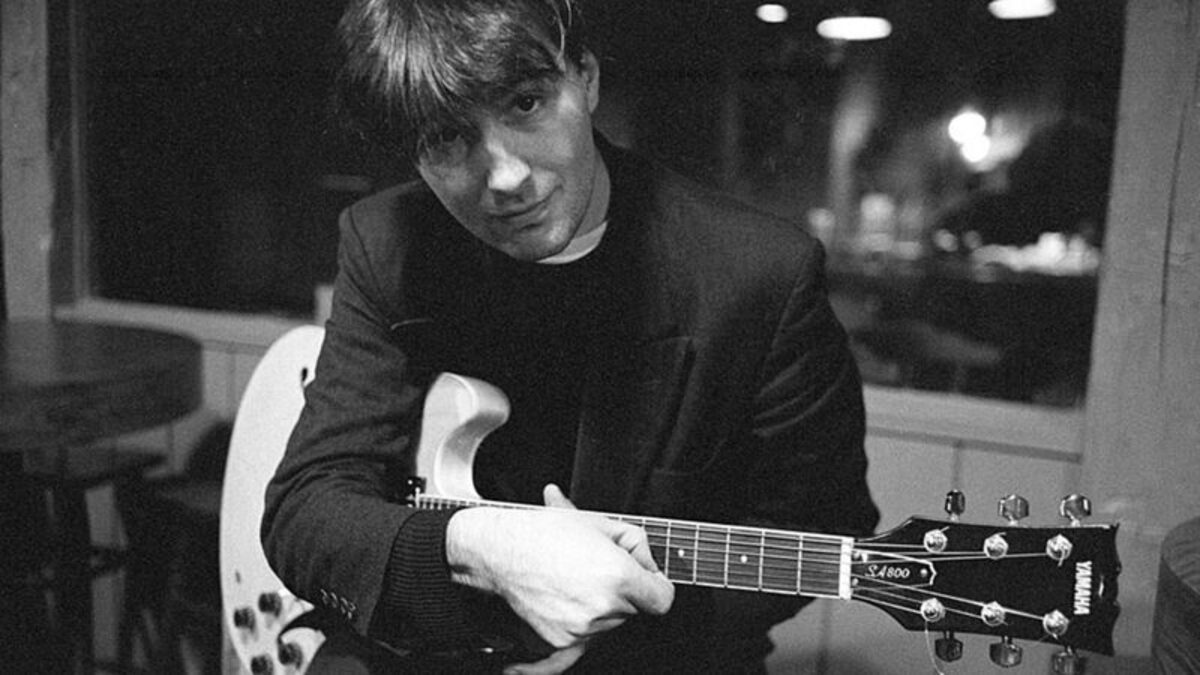 The Jazz Butcher Society
Remembering Pat Fish (1957-2021)
by Julius C. Lacking
Pat Fish, only somewhat more famously known as The Jazz Butcher, passed away a year ago today, October 5, 2021, peacefully in his sleep by all accounts. This was the day I learned I belonged to a secret society, one so obscure and scattered that it kept my own membership in its ranks a hidden fact for over 30 years.
Truth be told, I was not alone. All around me, people were realizing that this inexplicable, even solipsistic, obsession with an English musician whose heyday has long passed ("wow, that's some '80s shit, no?" exclaimed a friend) was in fact shared by many others. I would always be quick to profess my love for the Butcher, but I'd never done a full accounting of his music's constant presence in my life, from the near-daily playing of classics like "D.R.I.N.K." and "Just Like Betty Page" on my ukulele with morning coffee to the occasional urge to listen to something very specific like "Bicycle Kid" or A Scandal In Bohemia from start to finish. In the last few years, there was also Pat's own presence in my social media, which we'll get to in a bit.
Like many of my fellow secret society members, it all started in those heady days of alternative music. I was relatively late to the party, drawn in by the recent release of Big Planet Scarey Planet and its presence in the bins of the college radio station I had just joined. Digging into the back catalog revealed a few years' worth of releases, overall a shambolic mess, like someone broke two vases and they glued everything back up and ended with three. A significant portion of these records were on scrappy UK labels with little or no distribution in the US, a common occurrence at the time which made finding them an adventure of its own. Having to fit in trips to the indie record stores in a city you were visiting in order to scour the used and import bins for releases like the Jazz Butcher's was something that felt like a pain in the ass at the time, but which in retrospect was one of the most rewarding activities I ever took on.
This is my story, but it matches that of other members of the secret society. College radio, a record store performance, a cassette stolen from a girlfriend, the crossover connection with fellow Northampton bands like Love and Rockets and the Spacemen 3, some head-spinning accidentally attended live show, we all have had our separate introductions, but the relationship has been consistently the same.
There are many artists with a dedicated niche following, but what made The Jazz Butcher unique was the reciprocity. Long before MySpace roared into the scene in the Oughts, Pat Fish had one of the earliest fan-run websites out there, dating back to 1994. Prior to that, he had already established a far-ranging analog social network via phone call, mail, fax, what have you. He would play intimate mis-booked live gigs. He would play your wedding, and remember your spouse's name, and message you every year on your cat's birthday. A digital platform was just an easier way for him continue what he loved to do: engage with often-shocked but always appreciative fans on a very genuine and personal level.
Eventually, he made a home on Facebook, where he was known to personally friend anyone with a clever post or comment on the Jazz Butcher fan page, then like a picture of your houseplants or weigh in on your post asking about the best live album. This charm and engagement went far beyond tapping out some keystrokes now and then; Pat Fish was unusually generous with his time. The world was an endless buffet of creative opportunity for him, and he would easily engage in any project that caught his fancy, from adding a guitar part to a recording to trying his hand at writing a short story. He would deliver far and beyond what was promised, before you had a chance to wonder if you were being taken seriously.
In June 2020, like many other housebound musicians, he began streaming from his home, live from Fishy Mansions. The recording is far from perfect, and in fact is endearingly naïve. The phone vibrates whenever a text message comes in, making an unwanted arhythmic accompaniment to the performance. The fans are asking what that constant drilling sound is, but Pat and his feed wrangler, unseen in the camera, can't seem to figure it out, though they have some good hypotheses. Pat takes another sip of his pint. At one point, he asks how many people are watching, and is genuinely startled to hear it's over 300. A watcher has to ask about tips and donations before it occurs to the talent that this whole thing could be monetized. We get a glimpse of Camper Van Beethoven's "We Saw Jerry's Daughter," and the show closes with "Take The Skinheads Bowling" … all in all, a rousing success and a great start to a series of streaming shows.
I never got to see The Jazz Butcher live and in person, with the Conspiracy or otherwise. Opportunities were few and far between, but too many to justify missing all of them, and it'll remain an uncrossed item on my list. However, enough vivid memories were surfaced and retold by others in the wake of his passing that I can describe how it would have gone, in great imaginary detail:
We manage to catch up with the Butcher himself and some of the band before the show, purely by happenstance, and the next thing we know, we are all partaking in drinks, conversation, and some of that jazz lettuce. The show that night is amazing, we're standing a couple of rows back from the stage and they're playing all my favorites. Pat deals with some equipment mishap with wit and panache before diving right back into the thick of it. The stage is swirling with noise and mayhem when I feel an elbow gently nudging my ribs. It's Pat, a pint glass in each hand. He hands one over to me, and we wordlessly toast. He looks around at the crowd approvingly, before catching his own eye on stage and receiving a broad wink in return. The band starts rolling through the chords of the closing encore, and as we hear "Every day, I get up and pray to Jah…" from the stage, Pat laughs and melts away into the crowd. It was the best show. ◼
The Jazz Butcher's final album, "The Highest In The Land," was released posthumously in February 2022.
---