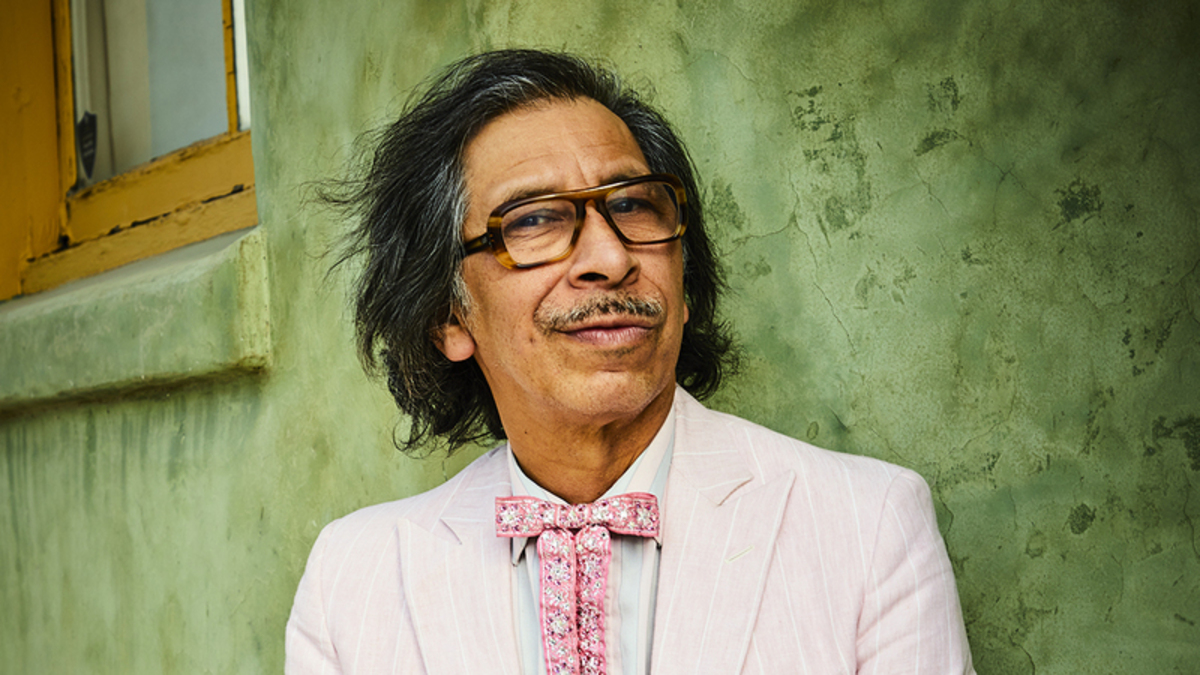 In a matter of years, Brian Tristan went from being the teenaged president of the West Coast Ramones Fan Club to the guy most of us know as Kid Congo Powers, guitarist of The Cramps, originator of The Gun Club, and member of Nick Cave & The Bad Seeds. Those days now long over, the queer, Chicano musician spent the past 15 or so years condensing that time period into 275 pages of text, whittling his memories into Some New Kind of Kick, his recently-released memoir.
With help from music journalist Chris Campion, the resulting narrative reads as a fascinating journey that traces the heart and tentacles of the first wave L.A. punk scene as it emerged outward from Hollywood and the glittery, gender-bending spectacle of glam rock.
• •
"We took our time in doing the work in uncovering all of the stuff. It was like we were putting together a puzzle," Powers explains. "I had a bunch of stories and we had to make it into one story. It was great for my record productivity because every time it got really uncomfortable or I wanted to throw it in the garbage, I'd be like 'I have to make a record and go on tour for a year'."
While anyone who's owned an early Cramps album undoubtedly recognizes his name, the book's initial draw may not be Kid Congo Powers himself, but the allure of the storied bands he was a part of. Yet, the fact that he is not quite the luminary his larger-than-life bandmates were is the very quality that makes New Kind of Kick most worth a read.
"The book is a lot about being a fan who went through the looking glass and became a musician," he says. It lovingly documents his early "idol worship" of David Bowie to his days as "The Prez" of the Ramones fan club and editor of The Screamers fanzine, where he was excited not just by the close interaction with the bands and the ability "to be involved with promoting their music," but the close camaraderie he finds in his fellow fans and squat roommates.
"The whole thing of doing the fan clubs and fanzines created a community of people. In some cases, we became a family. For that, I'm really grateful that these people are still in my life and we're still all fans. We still talk about music all of the time and go to shows and share what we're experiencing."
It's through this community that Powers experiences the freedom to first express his homosexuality, explore his creativity, and indulge his hunger for pop culture and a "burgeoning interest in all things freaky and weird." It's where he finds his identity and it's that perspective as a fan first, musician second that punctuates the memoir with the giddy feel of amazement that often lends a charming air of fairytale wonder to the story.
When he finally crosses over from Lux Interior and Ivy Rorshach's "fan-slave" (the "welcoming party who would escort them around town and suggest places to go") to being invited to replace guitarist Bryan Gregory, the moment is relayed with a pinch-me breathlessness. During his first gigs with the band, with only a year of guitar playing under his belt, he's sure he's going to be revealed as an imposter, responsible for ruining the sets, and kicked out of the band. It's these moments of self-deprecating candor, rare in musician memoirs, that make Powers's story an imminently relatable read.
"A lot of who I'm writing about are the kind of people that readers might know, types of people who may have a wider significance than just the actual people," he says. "These people, myself included, are people without much voice. They're Chicano people, queer people, self-starters, untrained people, unsure-of-themselves people, people with no confidence, and bull-headed people."
While Jeffrey Lee Pierce, Interior, Rorschach, members of The Bad Seeds, and other musician friends clearly contribute to his growth as a musician at different times, Pierce, Rorschach, and Lydia Lunch literally sit him down and show him how to play his guitar. It's his fellow fan friends who nourish his soul and support the parts of his identity that lie beyond musicianship, both engendering his sense of adventure and often saving him from its consequences. Because those friends are the constants in his life, many of the friendships formed during his teens and there for countless everyday moments through the years, their stories are often given equal time to those of the bigger, better-known names. In this way Some New Kind of Kick reads as a People's History of the L.A. Punk Scene, surfacing and fleshing out the stories of lesser known (and often female and LatinX) scene icons, unrecorded bands, and those whose contributions to documenting and shaping the scene have been lost to obscure corners of the Internet and crumbling, long forgotten fanzines — or worse, never captured at all. There are also plenty of stories with those who did make it, including members of The Runaways and The Go-Go's, and an especially amusing story about the time he took Siouxsie Sioux to Disneyland.
"My rule was to only write about people I love," says Powers, "and many of these people were the most hilarious people I knew. During that whole punk explosion time, any one day of our lives was just crazy! We were just seeking chaos and fun, while trying to find some answers, too."
All these things help Some New Kind of Kick avoid the often clichéd tropes that have become standard to many memoirs. The book's introduction by acclaimed queer music journalist Jon Savage puts a darker patina on Powers' story, speaking to a wider experience of being gay.
"Punk was not an ideal place to explore a sexuality that was still ill-understood, still taboo… Gay punks were double outsiders," he writes, later characterizing Powers's journey as a twenty-year battle against addiction and self-hatred. And, yet, there is little evidence in Powers's actual story to corroborate this. While heroin and alcohol are certainly part of the story, playing a more tragic role in Pierce's story than Powers's, they, like Reagan and AIDS, remain a matter-of-fact aspect of his journey acknowledged but not deeply explored in the memoir, important only as far as their mention engenders turning points in the story.
"I wanted to tell the story as-is, which was very hard to do," he explains. "When we were stealing cars, we were having fun! When I was getting into hard drugs, it was an adventure! If anyone asked now, I would definitely say to stay off the hard stuff, but I didn't want to write that in the book. I wanted you to be along with me as everything was happening."
If anything, Some New Kind of Kick reads like a joyous coming-of-age story that follows Powers's formative years as part of a "humongous," loving, and wonderfully "off-kilter" Mexican American family, where he was exposed to music, encouraged to pursue art, and felt like "being a weird kid meant that I fit right in!" While his homosexuality is never explicitly acknowledged by his family, there are hints that they know and accept him for who he is. When he discovers glam rock and Rodney Bingenheimer's English Disco on the Sunset Strip, he has "found a home" where he can "rock and roll and be as gay as a day in May, making out with old shaggy-haired types in a drunken stupor." The rest is history, with never a mention of struggle.
"The first wave of L.A. punk was a lot more inclusive. All freaks were welcome. And all races were welcome. Don't get me wrong, I'm sure there was homophobia and racism, but by and large, in my bubble that was not the case at all," Powers says. "After that initial teenage dream, I was just happy to be free. I wasn't really paying attention, but homophobia has always been there, gay bashing has always been there, and there's always a sense of threat. That comes from being Chicano, as well. Even though I now know better, there's always an awareness of being a second-class citizen. People deal with it in different ways and I dealt with my identity through music."
At 63, Powers is living a slightly more settled life in Tucson with his husband and cats, but is quick to emphasize that he has never stopped making music. In addition to a slew of records by Kid Congo & The Pink Monkey Birds, he has a small handful of solo albums and side projects to his name. The release of Some New Kind of Kick has been accompanied by Live in St. Kilda, recorded in Australia and with track listings that read like a soundtrack to the memoir, featuring Pink Monkey Birds originals and including covers of songs by The Gun Club, The Cramps, Suicide, and Powers's early childhood favorites, Thee Midnighters and The Shangri-Las. And to prove he's not slowing down or wallowing in the past, a second album, Summer Forever and Ever, was released at the same time by The Wolfmanhattan Project, his stompy, punky, psychedelic garage rock band with The Gories' Mick Jones and Sonic Youth's Bob Bert. He also sometimes contemplates writing a second book.
"There's a lot of stuff that got left out," he laments. "I feel terrible because I couldn't write about everything, especially AIDS and rock and roll and all the queer artists I knew who died before their time."
When he's not touring or creating, he's doing a lot of reading about the San Gabriel Valley where he grew up. Currently at the top of his book pile are media culture scholar Ricky Rodriguez's A Kiss Across the Ocean, an exploration of how Latino fandom and culture shaped British post-punk, and Brown Neon, Raquel Gutiérrez's collection of essays on art, queerness, and politics in the Southwest.
"These stories are really touching and informing for me and written so lovely," says Powers. "They put me in touch with my Chicano culture, something that was always there in me, but, you know, I was kind of off and running. There was this interesting dichotomy. We were into it and running from it. Ultimately, though, we end up running into it and immersing ourselves in it." ◼
Featured image by Luz Gallardo.
---