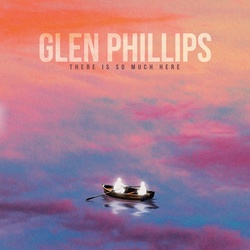 Glen Phillips
There Is So Much Here
Compass
Toad the Wet Sprocket may be reformed, recording, and touring again, but frontman Glen Phillips is still committed to his solo endeavors.
And on the evidence of There Is So Much Here, that's a very good thing indeed.
Phillips' fifth solo record is packed with the trademark melodies, acutely observed lyrics, and quality musicianship he's consistently demonstrated since his first solo effort, Abulum.
The mid-tempo rocker "Stone Throat" is a case in point: a memorable hook and riff that builds into an examination of the dynamics of a new relationship. It's a theme Phillips returns to throughout There Is So Much Here. In contrast to the post-divorce Swallowed by the New, Phillips has a more positive outlook and it shows on second track "I Was a Riot," which features a throbbing bassline, staccato rhythm guitar riff, and a beautiful melody.
"The Sound of Drinking" features Sean Watkins on guitar and finds Phillips in a more reflective mood, just as on the acoustic "Brand New Blue," which captivates with its beauty.
First single "Big Changes" is my pick for standout track and Phillips' reminder to himself to "take my head out of the sand." With a chorus as memorable as this one, it's unlikely he'll forget his own instruction.
"Centre of the Circle" and "Other Birds of Prey" are probably the closest to anything you'd find on a Toad record and raise the tempo somewhat before the epic closing track "Call the Moondust" sees Phillips take a 180° turn with a piano-based song that hints at the vast wonder of the universe.
It's a typically eclectic, melodic, and considered record which should please longtime fans of Phillips' solo work and Toad devotees alike.
glenphillips.com
---