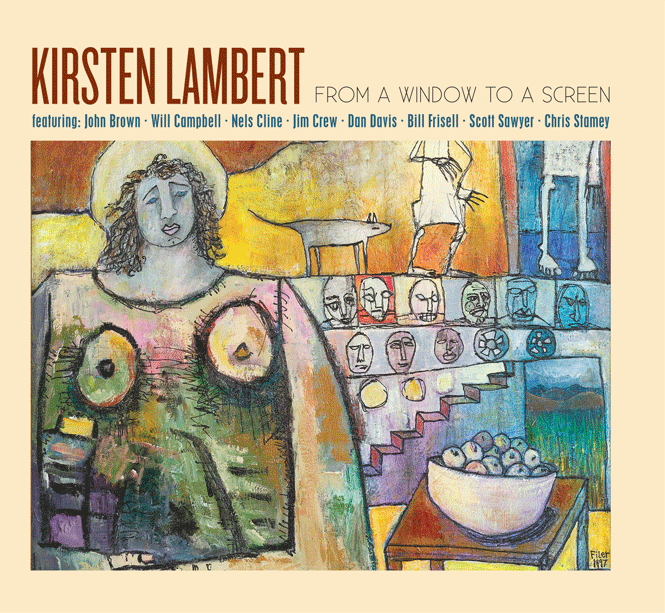 Kirsten Lambert
From a Window to a Screen
BellaJu Music
Kirsten Lambert has captured the film noir feel of a certain style of jazz. This is music for late nights in smoky rooms with men and women of dubious integrity.
One could easily make the assumption that Lambert and her producer, Chris Stamey, scoured deep tracks from Sara Vaughn and Nelson Riddle. From a Window to a Screen may feel like a "Great American Songbook" album giving a fresh spin to old standards, but that is not what's happening here. Chris Stamey wrote all 12 tracks, with the title track originally appearing on the dB's album Repercussions.
Lambert has a rich and emotive voice, perfect for plumbing the emotional depth of Chris's lyrics. For most of the songs, Kirsten chooses downtempo arrangements that work well with Stamey's post break up songs, like "Occasional Shivers" and the title track. "27 Years in a Single Day" has a mellow bossa nova feel. "There's Not a Cloud in the Sky" is the one really up-tempo shot of optimism on the album. While "27 Years" may be a meditation on a collapsed relationship, "Not a Cloud" testifies that better times do eventually come around.
It's worth taking note of the crew Stamey and Lambert assembled for these sessions. They are all North Carolina jazz players. Bassist John Brown is the director of Jazz Studies at Duke University. Will Campbell's saxes are the primary lyrical foil to Lambert's voice. Being well connected, Stamey was able to bring in heavyweight guitarists Bill Frisell and Nels Cline (Wilco) to add some electricity to an otherwise mostly acoustic session.
---