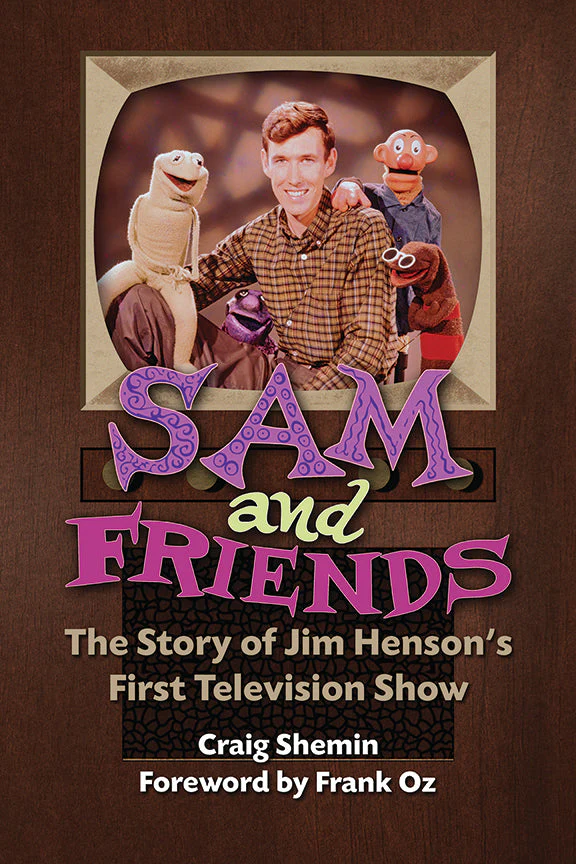 Sam and Friends: The Story of Jim Henson's First Television Show
Craig Shemin
Bear Manor Media
Jim Henson passed away back in 1990, and most of his fans are up to speed on his work on The Muppet Show and the numerous ads, movies, and spin-offs from this well-loved and amazingly profitable concept. But what's less clear is how Henson began, and that's what this this book delves into in exquisite detail.
The story of the Muppets creator begins with a reference to a television interview hosted by Orson Wells. It turns out Wells was blown away by by the Muppets, and agreed to cameo in The Muppet Movie. He proceeded to soliloquize for a while, and if nothing else, added a stamp of parental approval to the already popular felt puppets. Then we plunge back into the early days of Henson and his work at a Washington DC TV station. Here he created short skits to fill small blocks of time between ads and network shows. Eventually this led to creating clever ads that looked nothing like the then-constant pitches with a used-car salesman vibe. Occasional backstage photos appear in this book, and we get a glimpse into TV production when no one actually knew how to do it.
Henson's characters ranged from Pierre the Rat to Moldy Hay, a southern boy that reflected Henson's southern roots. There's a dozen more, all clever and useful in TV specific situations. His characters lip synced popular music, with humorist Stan Freberg a favorite of his. Spike Jones, Homer and Jethro, and even poet Ken Nordine of the Colors advertisements and album were fodder. The list goes on: Pogo, Phil Harris, and Danny Kaye were poached, and while you may not be familiar with these names, they were the comic geniuses of the mid century.
The back end of this book is a long and detailed listing of the TV shows Henson produced, along with cast lists, scripts, and notes. I'm old enough to remember actors like Danny Kaye and Phil Harris, and while comedy styles and executions have shifted, these were the heavy hitters of their day, and they heavily influenced what television and children's TV looked like. This book may be intimidating in size, but it's easy to consume in bite-sized tidbits. If you are thinking of comedy as a career, this is not a bad reference book. Yes, modern comics swear a lot more, but that's not essential to getting laughs. Henson's legacy certainly shows that to be true.
---